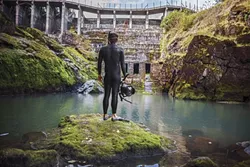 PHOTO BY BEN KNIGHT
DAMMED IF YOU DO: Biologist and underwater photographer Matt Stoecker produced the film with Patagonia founder Yvon Chouinard.
"As a teenager, I watched in amazement as steelhead trout the size of my arm jumped 5 feet out of the water, soared head first into Stanford University's Searsville Dam, then bounced off the concrete in defeat," recalls fish biologist, underwater photographer, and DamNation producer Matt Stoecker in his press statement on the film's website. "For over a century this unneeded dam has blocked these magnificent sea-run fish from returning home to spawn in the creek I grew up beside. I recognized that first day the destructive power of a single dam over an entire watershed. Since that day, two decades ago, I've dedicated my life to restoring free-flowing rivers."
DamNation follows America's love affair with dams, and how that love affair has soured as increased ecological awareness has compelled us to reevaluate these former triumphs of engineering and public works. Opening with Franklin D. Roosevelt's impassioned dedication of the Hoover Dam, juxtaposed with the demolition and removal of the Elwha Dam in Washington, DamNation is a testament to the immediate positive impact that river restoration can have on affected ecosystems. Directed by Travis Rummel and Ben Knight, the film's executive producer is environmentalist and Patagonia founder Yvon Chouinard. DamNation garnered the Audience Award in the Documentary Spotlight category at SXSW, where it had its world premiere on March 10.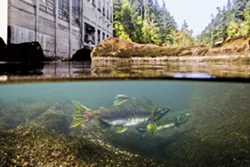 PHOTO BY MATT STOECKER
FISH OUT OF WATER: Washington state's Elwha Dam, now removed, blocks a pair of spawning salmon from continuing upstream.
Los Padres ForestWatch is hosting three screenings of DamNation, one in San Luis Obispo and two in Santa Barbara County. "This powerful film is prompting communities across the country to rethink their relationship with local watersheds," says Jeff Kuyper, executive director of Los Padres ForestWatch, in press materials. "We're thrilled to host screenings of this film throughout the Central Coast, and we hope that it will launch a dialogue about how we can best restore our local fisheries and the rivers that sustain them." The proximity of the Los Padres National Forest itself to several of these questionable barriers limits the access of native steelhead populations to natural spawning grounds. While DamNation spans the country from California to Maine, its theme and purpose have clear local applications.
Stoecker's stunning underwater photography, as well as the comprehensive historical view and genuine activism with which the film is imbued, make this far more than your standard-issue ecological guilt doc. And in case you're worried that DamNation has no levity to it, the youthful vibe and quick pace of the film will more than assuage your concern. Unconvinced by this article's unsparing use of "dam" puns? "Crack down on deadbeat dams," reads the profile image on the film's Facebook page. Dam straight.
WELL, I'LL BE DAMMED: "DamNation" screens on May 30 at 7 p.m. at The Palm in SLO. Tickets are $10. And, if you find yourself farther afield, Los Padres Forestwatch will also be hosting a screening in the Santa Ynez Valley on June 20 and in Santa Barbara on Sept. 20 as part of the Wild & Scenic Film Festival On Tour. For more information, visit the Los Padres ForestWatch website at lpfw.org or call 617-4610, Ext. 2.
"We thought making this film would be the best way to show the stunning beauty of a free flowing river," Stoecker goes on to say, "to experience the heartache of watching cultural sites be submerged under a reservoir, to feel the power of explosives blowing up a dam, and share in the joy experienced by those who have fought for decades to see their river run free for the first time."
So don't hold back—join Los Padres ForestWatch on Friday, May 30, at The Palm for their screening of DamNation. Rivers everywhere will thank you.
Arts Editor Erin C. Messer dams with faint praise at emesser@newtimesslo.com.