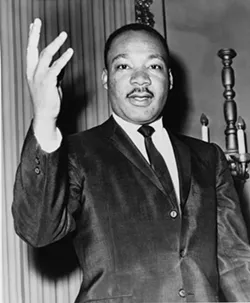 IMAGE SOURCED FROM WIKIPEDIA
KEEP HIS DREAM ALIVE: The life of Rev. Dr. Martin Luther King Jr. will be celebrated on Jan. 20 at Trinity Hall with music, video presentations of his speeches, and local speakers, with money raised benefiting the local food bank.
Is it just me, or did it seem like every time Rev. Dr. Martin Luther King Jr. opened his mouth, deep wisdom poured out?
"Darkness cannot drive out darkness; only light can do that. Hate cannot drive out hate; only love can do that."
"The ultimate measure of a man is not where he stands in moments of comfort and convenience, but where he stands at times of challenge and controversy."
"Nothing in the world is more dangerous than sincere ignorance and conscientious stupidity."
"Our lives begin to end the day we become silent about things that matter."
"In the end, we will remember not the words of our enemies but the silence of our friends."
"We must develop and maintain the capacity to forgive. He who is devoid of the power to forgive is devoid of the power to love. There is some good in the worst of us and some evil in the best of us. When we discover this, we are less prone to hate our enemies."
"A nation that continues year after year to spend more money on military defense than on programs of spiritual uplift is approaching spiritual doom."
"We must learn to live together as brothers or perish together as fools."
This Monday, Jan. 20, celebrates the Martin Luther King Jr. Holiday, and Sharing the Dream of San Luis Obispo County will be hosting its annual event, a fundraiser for the Food Bank Coalition of San Luis Obispo County, at Trinity Hall (6565 Edna Rd.) from 3 to 8 p.m.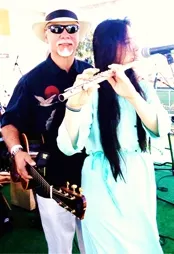 PHOTO COURTESY OF LOUIE & TALIA ORTEGA
SINGING FOR SOMEONE'S SUPPER: Louie & Talia Ortega are one of seven acts performing on Jan. 20 at Trinity Hall for the MLK celebration, which will raise money for the local food bank.
Musical performers include Louie & Talia Ortega, Greg Smith of The Eagles, Valerie Johnson & Al B. Blue, Eric Brittain, the Dave Miller Band, Mathias Clark & the Cry, Gerald & Betty Purify, and The Monroe.
In addition, video presentations of Dr. King's most memorable speeches will be screened, and local speakers will share their thoughts. A $10 donation is requested at the door, and dinner will be available for $10 a plate, catered by Bon Temps Creole Café. Beer, wine, and other refreshments will be available for purchase as well.
Proceeds from the event will be shared: 80 percent for the Food Bank Coalition and 20 percent for Sharing the Dream's operating expenses.
According to organizer Michael Lovegene Hedgecock, "Sharing the Dream has been celebrating Dr. King's vision of equal respect for all people since 1994 and looks forward to providing that equal respect in the form of food for those in need. Founded in 1989, the Food Bank Coalition distributed 400,000 pounds of food annually through 20 non-profit agency partners. Today, about 5.5 million pounds of food pass in and out of their doors each year, 48 percent of which is fresh produce. Today, the Food Bank is fortunate to have two warehouses to cover San Luis Obispo County, a main warehouse in Paso Robles and a second location in Oceano. Together these two warehouses give them 22,000 square feet of storage space, keeping their overhead at less than 6 percent, which allows them to turn $1 into $10 worth of food."
For more information about the Food Bank, visit slofoodbank.org. Learn more about Sharing the Dream at slosharingthedream.wordpress.com.
"I have decided to stick with love," said Dr. King. "Hate is too great a burden to bear."
And those, my friends, are words to live by.
Pinback, Pepper, and Giant Panda!
SLO Brew's laying down a full slate of talent this week starting with the return of Pinback on Thursday, Jan. 16 (7:30 p.m.; all ages; $16 presale or $18 at the door). Rob and Zack have been touring sans band since 2010, presenting their music in a more stripped down version, and as far as I know, that's what's happening at this concert, too. They're bringing their dreamy rock soundscapes to stage as a duo. Deathfix will open.

PHOTO BY DAVID MCCLISTER

COWBOY UP!: (Left to right) Jon Richardson, Les Lawless, Randy Rogers, Brady Black, Geoffrey Hill are the Randy Rogers Band, playing Jan. 19 at SLO Brew.
High-energy reggae act Pepper returns on Friday, Jan. 17 (7 p.m.; all ages), but this one was sold-out earlier this week. Sorry!
You can get your country fix when the Randy Rogers Band returns on Sunday, Jan. 19 (7:30 p.m.; 21-and-older; $18 presale ore $20 at the door). The quintet delivers a dynamic live show, featuring great narrative songs. "These songs are definitely true, and they're relatable to many different life situations that I've either gone through in the past or will go through in the future," said Rogers in press materials. "I just tried to create believable characters and relatable characters. I hear from fans that we really have helped them in real-life situations when they've applied the songs to their everyday life. That's what I strive for in the songs that I write." Wade Bowen opens.
Monday, Jan. 20, promises to be a real treat when the "In Roots We Trust Tour" comes to the Brew with Giant Panda Guerilla Dub Squad, The Simpkin Project, and The Expanders (7 p.m.; all ages; $10 presale or $12 at the door). If you didn't get tickets for Pepper, this collection of roots reggae performers ought to put a smile on your face.
Out of the shadows …
If you're looking for something awesome to see on Saturday, Jan. 18, watch Shadowlands perform at the Steynberg Gallery at 7:30 p.m. ($10 at the door). This newer act features SLO favorites Bob and Wendy, who've teamed up with Mark Davis and Karoline Hausted to form a haunting, gorgeous, emotionally expansive quartet whose music will melt your heart.
"Steynberg Gallery has booked Shadowlands for a monthly residency," said Bob. "This gives us an opportunity to perform the new songs that are gushing out of Wendy, Karoline, and Mark. At one of these shows, we will have the new EP, which is currently in production by Damon Castillo and the band. There will also be a short companion video by Barry Goyette that features the song 'Shadowlands' in addition to studio footage and interviews."
You're going to want to go back month after month and watch this group evolve. They're truly something special.
PHOTO COURTESY OF THE FINE ARTS QUARTET
SINCE 1946!: On Jan.17, The Fine Arts Quartet plays an all-Beethoven program at Cal Poly's Alex and Faye Spanos Theatre.
More music…
If you haven't checked out Luna Red's late night music, this might be a good week for it. Thursdays through Saturdays from 10 p.m. to midnight, the downtown eatery offers free music and great deals on food and drink. This week the Julian Temple Band plays Thursday, Jan. 16, the Tipsy Gypsies play Friday, Jan. 17, Jessamyn Lynn plays Sunday, Jan. 18, and Jody Mulgrew plays next Thursday, Jan. 23.
On Friday, Jan.17, The Fine Arts Quartet, called "one of the gold-plated names in chamber music" by The Washington Post, plays Cal Poly's Alex and Faye Spanos Theatre (8 p.m.; all ages; $38.40 to $47; call 756-4849). The group formed in 1946 and has more than 200 recordings! This marks the fifth concert in the Cal Poly Arts' six-recital Beethoven Cycle Series, which features all of the composer's string quartets. This time, hear Quartet in C minor, Op. 18, No. 4; Quartet in F minor, Op. 95, "Serioso;" and Quartet in B-Flat Major, Op. 130, "Liebquartett" (with Finale).
Did you want to see Red Molly on Saturday, Jan. 18? Because unless you already bought tickets, you're out of luck. The SLOfolks concert is sold out.
This Sunday, Jan. 19, witness the prowess of pianist Keith Saunders, whom Famous Jazz Artist Series producer Charlie Shoemake calls "leading jazz pianist of San Francisco," when he plays D'Anbino Wine Tasting Room in Paso Robles for two shows at 4 and 7:15 p.m. ($15 each or see both for $20; call 927-0567 for reservations). "Saunders spent much of his early career in NYC and was a founder of the exciting Hard Bop Quintet group, which was recorded extensively," added Shoemake. "For this concert he will be performing a solo recital, though series co-producers Charlie and Sandi Shoemake (vibraphone and vocals) will also appear."
PHOTO BY DANI BARBIERI
STRAIGHT OUTTA BROOKLYN: Brooklyn-based funk act Turkuaz brings their explosive live show to Frog and Peach on Jan. 21.
Brooklyn-based funk act Turkuaz (pronounced tur-kwahz) brings their explosive live show to Frog and Peach this Tuesday, Jan. 21 (9 p.m.; 21-and-older; free). The nine-piece band has energized crowds nationwide. They're hot and they know it! Check out this snippet from their band bio: "Credible bios are supposed to be objective and not full of superlatives and hyperbole, but it's hard to avoid gushing when the subject is a funk army of multi-instrumentals and singers that is part freight train and part Tyrannosaurus rex, who—even on an off night—can blow away a room on the basis of sheer physics alone." Yeah! Take that!
"American Guitar Masters: Celtic to Contemporary" features fingerstyle guitarists Peter Janson and Larry Pattis performing on Thursday, Jan. 23 (7:30 p.m.; all ages; $10), at the Experimental Theater of the Cuesta College CPAC as part of their 11-date California Winter Tour. These world-class performers will astound with their range, urgency, and rich sound.
Keep up with Glen Starkey via twitter at twitter.com/glenstarkey, friend him at facebook.com/glenstarkey or myspace.com/glenstarkey, or contact him at gstarkey@newtimesslo.com.