Several years ago, I titled my column about a comparative tasting of sparkling wines "Call me Bubbles," and that still remains true. I adore Champagne and California sparkling wines, and love to joke: Champagne—it's not just for breakfast anymore. I keep a few bubblies in my fridge at all times. One must, after all, always be ready for a celebration no matter how big or tiny the occasion: It's Tuesday, my husband Dan's home early, and I just cooked a Dungeness crab for dinner; it's perfect for Sunday brunch at the Gardens at Sycamore Mineral Springs or at home; or we're having a dinner party, which always starts with our favorite aperitif.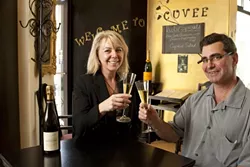 PHOTOS BY STEVE E. MILLER
DELICIOUS BUBBLES : Fran and Frank Radogna recently took over ownership of the Cuvée Champagne bar in Avila Beach.
That's why I was so excited about the opening of Cuvée Champagne Wine Bar in Avila Beach during the summer of 2011. This wine shop specializes in Champagne and California bubblies, and a few still wines, all available by the glass or bottle. Here, anyone can celebrate a special event with an outstanding Champagne that you probably couldn't afford by the bottle. But you'll enjoy it all the more when you only have to spend the price of a glass. And that's what you'll still find at the reinvented Cuvée Bistro and Champagne Bar.
Cuvée was closed down last Dec. 30, until it was purchased by Frank and Francisca "Fran" Radogna, who reopened it in late February with a grand opening on March 15. Starr Hall, a savvy social marketer and author, founded it and called Cuvée her dream business. I haven't spoken with Hall to ask why she sold it, but many locals complained of the inconsistent hours of operation at Cuvée. The new owners, on the other hand, are quite committed and plan on making it a destination for locals and visitors. I met the sociable Radognas at the grand opening, and they impressed me. Not only were they enjoying the party and introducing themselves to their guests, they were constantly busy working alongside their staff and smiling all the while.
A Chicago-based entrepreneur who's quite candid, Mr. Radogna gladly explained their story. They bought the wine bar sometime after he and Fran purchased an established 10-acre vineyard with an expansive house on the property, which they rent out as a vacation spot. Located in Paso Robles eastern hills, they named it Rad Dog Vineyards and grow cabernet franc, merlot, and malbec, which has always been sold to Tobin James Cellars for its James Gang Reserve. Frank was excited to note that he's planted a few experimental vines to make his own wine.
SPLENDID VARIETY : Pictured are selections from Cuvée's Spanish, Italian, American, and French plates.
He noted: "When the opportunity to buy Rad Dog Vineyards came along, it was my father who really encouraged us to take the leap of faith and follow our dream. It was after we got to know the area and its people that we decided to do more. About a year into our vineyard adventure, we learned Cuvée was for sale. Getting into the food industry has always been a dream, and Cuvée seemed like a perfect fit that we just could not pass up."
Frank and Fran consider themselves foodies who routinely cook and entertain friends and family. A self-described "wannabe chef," Frank was raised by his grandmother Nana Jennie and loved being her sous chef. After years of eating foods made from scratch, he disdained fast food, and his passion for food and cooking has never waned. Born and raised in Glendale, he moved to Chicago as an adult, but admitted Fran and he always planned on retiring in California. He met Fran while working in L.A. in the logistics and transportation industry; she lived in Chicago, and they maintained a long-distance relationship for two years. Fran was born in Uitgeest in the Netherlands where her family lives, and the couple was married there.
I asked Frank if he thought they could run Cuvée successfully while they were still living in Chicago. He immediately replied that it's not a problem; he's in constant contact thanks to the worldwide web. They have a second home in L.A., and their business travels often bring them to the West Coast. It also helps that they hired chef Mari Lenci, a professional caterer for 10 years who once owned and operated a small café in the Bay Area. She manages Cuvée and prepares the freshly made foods on their menu.

POP ON OVER: Cuvée Bistro and Champagne Bar is at 500 First St. in Avila Beach. For more information, call 595-2245 or visit cuvéechampagnebar.com.
"It's our hope that chef Mari's background in food and business as well as her passion to create quality foods will help us make this dream a reality," Frank explained. "Together with Laine Smith, our beverage specialist, they have already become family and we consider ourselves very fortunate to be part of this great team."
During my visit, despite the crowded opening party, I enjoyed the quality of the food served and the choice of wines available. There are more bubblies than still wines, but there's something in every price point to attract wine aficionados. The menu is divided into sections that reflect its native cuisine: Spanish tapas, Italian antipasti, French hors d'oeuvres, American appetizers, hot or cold panini, and desserts. They feature a section for young customers and coffee lovers, too.
"Fran and I love to travel and visit unique restaurants and try new dishes," Frank said. "We hope to create just that with the new Cuvée; a unique destination in Avila Beach that will compliment its other businesses yet offer something new. We cannot wait to see what our future will bring in our new hometown."

Contact Cuisine Columnist Kathy Marcks Hardesty at khardesty@newtimesslo.com.