I don't know if you've noticed, but it's wedding season. My fiancée Anna Robertshaw and I have been to no fewer than four weddings this summer, and we have one more to go … our own.
PHOTO BY GARY ROBERTSHAW
AH, LOVE! : Paramours Anna Robertshaw and Glen Starkey enjoy a moment listening to "Tonight You Belong to Me" sung by Dan Keller and Deidre Loy in this shot capture by the bride-to-be's father.
Are you married? Do you remember all the planning you had to do and money you had to spend to put on your special day? Our nuptials are fast approaching—Saturday, Sept. 1—and Anna spent about four hours just trying to figure out the seating arrangement for our 170 guests. Four hours for seating! Then there's dealing with the caterer, buying suits and dresses, groomsman and bridesmaids gifts, arranging hotel deals for out-of-towners, flowers, booze, umbrellas, a photo booth. Huff!
And then there're all the people we wanted to invite but couldn't due to space considerations and economics. What's a couple to do? Throw a kick ass party, that's what!
But how to do it on the cheap? Step one, get a free band! My longtime friend Tony Balbinot of The Cadillac Angels heard I was getting married and wrote to say he'd play the wedding for "beer and bridesmaids." Sweet! I wrote back and told him the date. Crap! They had a gig that day, how about a party? Sweet! We set a date—Friday, August 10—and to save me the cost of renting the Elks for our "Rockin' Pool Party," we decided to make it a lodge fundraiser.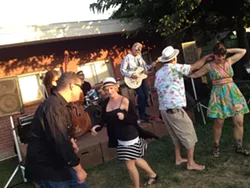 COLOR iPHONE PHOTOS BY STEVE E. MILLER
LET'S DANCE! : As the Cadillac Angels play in the background, Sherry & Mario Jiminez (left) and Kristie & Damon Haydu (right) cut a rug poolside.
I threw out the Facebook invite and soon had 99 "attending," plus it was open to lodge members and guests. I rented a P.A. for the band and got them some rooms at The Garden Street Inn. Anna put together three welcome baskets for the rooms.
My Best Man Keith Bond and I prepped a taco bar (cooking up 30 pounds of chicken and beef), and Anna and I—as well as friends Jeremy O'Kane and Sherry & Mario Jiminez, served up $2 tacos (about 235 of them!) over the course of the first two hours of the party.
The place was packed and things got off to a chaotic start since a 100-kid birthday party went from 1 to 5 p.m. complete with bounce house and waterslide, and we started at 5 p.m. Add in orientation for 60 new members and their spouses, rib night, a rehearsal dinner for another wedding, and a camera crew from KSBY doing a segment on the growing membership at the lodge, and you can imagine the scene.
COLOR iPHONE PHOTOS BY STEVE E. MILLER
VIPS! : (Left to right) Patty Thayer of the SLO Symphony, husband David Thayer of Aspect Studios, and Kevin Dale Harris of the SLO Little Theatre chat it up.
It was, I'm happy to report, an awesome party filled with dancing, drinking, shenanigans, and conversation with all my awesome friends. In addition to The Cadillac Angels, another highlight was Dan Keller (of Cuesta Ridge) and Deirdre Loy singing a ukulele rendition of "Tonight You Belong to Me," made famous by Steve Martin and Bernedette Peters in The Jerk. Now my biggest fear is this party is going to end up being more fun than our wedding reception!
And right about now, you're thinking, "Why the hell do I give a crap about your party to which I wasn't invited?"
Fair question, but Art Bash! is about writing about some event I went to, and this was it … unless you'd rather I tell you about how I busted up concrete and loaded it into a trailer on Sunday. That story doesn't have any skinny-dipping in it, but if it makes you feel better, I'm super sore.
And if you hated hearing about this party, just wait until I tell you about my bachelor party next week!
Glen Starkey takes a beating and keeps on bleating. Keep up with him via twitter at twitter.com/glenstarkey, friend him at facebook.com/glenstarkey or myspace.com/glenstarkey, or contact him at gstarkey@newtimesslo.com.