PHOTO COURTESY OF ARTS OBISPO
Looking at the assembly of handmade Valentines at ARTS Obispo—paintings, photographs, sculptures, and jewelry with a handful of less easily identified craft-type items in the mix—it's difficult not to ask, 'How did a blood-pumping organ come to represent love?' Though Hearts Obispo 4, ARTS Obispo's annual Valentine's Day exhibit, fails to answer this particular question, many of the artists took a more reflective approach to their work in this year's show.
"One thing I noticed is that the artists thought about it over the year and they've gotten really sophisticated about it," said Marta Peluso, Executive Director of ARTS Obispo. Last year, the Hearts Obispo exhibit expanded to include an additional space in the Creamery. Hanging the exhibit was a weeks long process. This year, the exhibit is confined to ARTS Obispo's own gallery. Artists were limited in terms of the number of pieces they could bring, which Peluso credits with creating a stronger show.
To gift your sweetheart with an original, handmade work of art, you needn't spend days immersed in a dizzying world of bad rhymes—however many matches you come up with for 'rose,' most of us simply lack the literary genius to craft an authentic and moving love poem. You needn't slay dragons. All you have to do is win a silent auction, which concludes during Art After Dark on Feb. 5 at 8:30 p.m.
The beauty of Hearts Obispo, besides being a one-stop resource for Valentines, is that the majority of the pieces represent a different view or type of love. The initial impression is mostly of hearts, as implied by the exhibit's title, but these symbolic organs are quickly replaced with birds, goats, bunnies, ice fields, and, of all things, a llama.
Carol Paulsen's pieces reflect a deep and abiding love for nature, passionately conveyed in an image of frothy emerald waves, titled "Big Sur Swell." Neighboring her piece is a more conventional depiction of love, a couple hugging in "Embraceable You."
ARTBEAT: ARTS Space Obispo's "Hearts Obispo 4" exhibit runs through Feb. 12. On Feb. 5, during Art After Dark, the silent auction will continue until 8:30 p.m. ARTS Space Obispo is located in The Creamery, #165.
That same wall also boasts a trio of Heidi Franscioni's pieces melding photography and encaustic painting. They included horned goats painted over with flowers, embellishments that arc in all directions across the canvas. Another depicts a bird, its beak buried in its plumage. And a nude woman.
Even cynicism has its place in the form of a giclee print of Mark Bryan's "Ship of Dreams." First displayed at Bryan's recent exhibit at the Steynberg Gallery, the painting was a dose of cotton-candy romanticism amidst a sea of political satire and glum apocalyptic visions. But the ship, bearing a troupe of young tutu-clad ballerinas towards a prince awaiting their arrival astride an elephant, is nothing more than an ideal, the ephemeral vessel conjured by the downtroddens' chorus "when my ship comes in."
Along with a diversity of approaches to the theme, many of this year's artists took a color detour as well, affording ARTS Space Obispo a welcome respite from pink and red. The only red to be found in Vincent Robles' "21 Times" is in the coloring of the high heels being worn by a yellow bunny sitting on a stool. The ground around the rabbit is littered with toy horse heads. Anyone who makes a point of attending each of ARTS Obispo's exhibits might recall similarly rendered bunnies in last year's April bunny exhibit, which Robles shared with fellow rabbit painter Jamie Dietze.
Shelley Kenny's functional sculpture "Love is not a Clock" features a large red heart pendulum swinging to and fro to time's cadence. The body of the clock is a mass of whirligigs and cogs and various other clock guts, turned inside out for everyone to see. Kenny's characterization is a chaotic love in which everything that's supposed to be inside is messily outside and assembled for public view. Rather astute, really.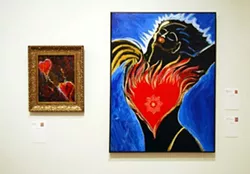 PHOTO COURTESY OF ARTS OBISPO
If you're looking to convey a racier kind of love, Peg Grady's sculptural "Strip Poker" may be right up your alley. A bra and panties, constructed from playing cards and black lace, are mounted against a background of wire and lace. Next to her painting of a young girl's dress and black dress shoes, and the painted reminiscence, "When I was young my mom told me that little girls are made of sugar and spice and everything nice," Grady's undergarments stand out as particularly lustful.
But the show's greatest anomaly—with the possible exception of Jamie Giannotti's endearing llama—is Sky Bergman's photo "Juneau Ice Fields, Alaska." The ice folds and splits into shades of blue and dirty white, not even the faintest trace of pink hearts about. It's another expression of love for nature, and, perhaps, the glacial direction that love can take.
That's love at Hearts Obispo—inexpressible, indefinable, a simple embrace, the neck of a furry llama, a necklace constructed from a scrabble tile, messy, lusty, and timeless. If you simply must be absorbed into the swapping of Valentines, handmade is better, and supporting local artist is best of all.
Arts Editor Ashley Schwellenbach is not and has never been a valentine. Send cynicism to aschwellenbach@newtimesslo.com.