A field of perfectly symmetrical squares and triangles of greens, browns, blues, and even purple nearly sing out Yosemite National Park's color palette.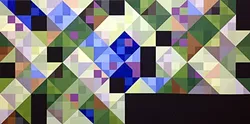 IMAGE COURTESY OF LESLIE LOVE STONE
THE ELEMENTS OF NATURE : Each of Stone's abstract pieces represents one of California's national parks, like Yosemite.
That was the intention of Paso Robles artist Leslie Love Stone, who visited each of California's nine national parks, where she matched the colors of the soil and vegetation at each site with a pantone color book to create a palette for her series of geometric abstractions, Intersecting California's National Parks. Stone is sporting a T-shirt that says "Wild at heart" and a green flannel as we walk and talk through her exhibit at the San Luis Obispo Museum of Art.
"This way of painting is a natural extension of my experiences and background," Stone says. "I wanted it to be deeply complex."
And indeed there are layers to Stone's park pieces. Within each painting is a hidden, coded message. If you happen to have a copy of the classic book The Last of the Mohicans by James Fenimore Cooper in hand and Stone's method of dark and light colors representing different numbers in mind, it's possible to decode a phrase. Each four-square block in a painting represents a pair of two digit numbers (page number and word count). The end result for the diligent detective is a quote from champions of the outdoors like John Muir, Henry David Thoreau, and even Theodore Roosevelt, who created the national parks system 100 years ago.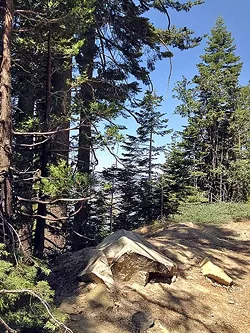 PHOTO COURTESY OF LESLIE LOVE STONE
OUT IN THE FIELD : Paso artist Leslie Love Stone went to all nine of California's national parks, including Yosemite, to create a unique color palette for each in her series of geometric abstractions, Intersecting California's National Parks.
If the intersection of carefully crafted logic and the arts is eyebrow raising for some, it's second nature to Stone, who was raised by a mom who was one of the first women to teach math at Duke University and a dad who worked as an engineer. Stone devoted the majority of her own career to working in finance as a bank executive before she had an "aha" moment.
"When I went through my sixth merger [at the bank I worked for], I thought, 'Perhaps the world needs less bankers and more artists,'" Stone said.
So in 2008 she left the world of money to pursue graduate studies in art at Claremont Graduate University, but the methodology and precision of her former life have carried over to her new one. Each painting of Stone's starts with a black canvas since black contains all of the three primary colors and, in a sense, all the possible paintings one could create.
Portions of Stone's paintings in the national park series are still black, with the colorful areas being where the information about each park lies. Death Valley National Park has the most brown, which represents dirt and rock, but just two blue squares representing water, whereas the piece dedicated to Redwood National Park is lousy with green squares representing lush vegetation.
PHOTO COURTESY OF LESLIE LOVE STONE
ART AND MATH COLLIDE : Each of Stone's pieces is precisely painted and holds a hidden message that can be deciphered with a copy of the book The Last of the Mohicans.
Prior to tackling this project, Stone had only been to three of the state's national parks. While the experience made the artist awestruck by the beauty and diversity within California, she soon picked up on rules that were common to all parks like low speed limits, no using firearms, treating animals as the wild creatures they are, and packing out any trash you bring in. While the places Stone's art has captured are beautiful, she also sees them as isolated wilderness zoos that we've created among the urban sprawl.
"If the entire country were a national park and we had to live by national park rules, it would be a better place," Stone said. "Wouldn't it be fantastic?"
THE COLORS OF CALIFORNIA: Leslie Love Stone's Intersecting California's National Parks exhibit will be on display at the San Luis Obispo Museum of art through Jan. 29. Stone will give a talk about her work at the museum on Dec. 3 at 2 p.m. The event is free and open to the public. Visit sloma.org for more information.
The mountains are calling and Ryah Cooley must go at rcooley@newtimesslo.com.