You've probably seen the signs smattered around yards and roadsides that say "Love SLO, March 19th."
You might also be wondering what that actually means.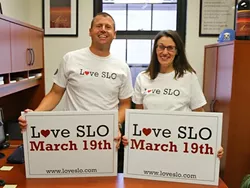 PHOTO BY DYLAN HONEA-BAUMANN
VOLUNTEERS WANTED: Chris Blake and Stephanie Buresh took the lead on bringing Love SLO to San Luis Obispo. On March 19, hundreds will participate in a day of volunteering throughout the community.
Stirring that curiosity was all part of the plan for the first annual Love SLO event that will recruit volunteers and send them throughout town to work on anything from gardening and gleaning to graffiti removal or giving manicures and pedicures to the homeless. The idea, said organizer Chris Blake, was to let the event take a life of its own.
"It bled up out of the dirt," said Blake, who intentionally stayed in the background and let the event's branding speak for itself. He said there's been a lot of good feedback from the community.
On March 19, Love SLO will gather participants together at the Mission Plaza for an 8 a.m. rally before sending them out into the community. Volunteers are asked to sign up beforehand through the website, loveslo.com. As of press time, about half of those volunteer projects were already full with closed registrations.
Project types are broken into three categories—classified as encouragement, manual labor, or those in need—and include activities like tree planting, gleaning, maintenance, providing services to the homeless, or visiting or supporting the elderly and public servants. There are a few projects with openings still available, like a campus cleanup at Bishop's Peak Elementary School, writing notes of gratitude for service men and women, CPR training, and sorting clothing donations for children and teens in need.
Blake picked up the idea from a growing list of other cities that hold similar events, all under the group Love Our Cities. These events happen in places like Fresno, Anaheim, Santa Clara County, Stockton, Merced, and Oildale. Blake, who's from the Central Valley, saw several cities there join that list, including his hometown of Modesto.
After pitching the idea around SLO, he received enough support and positive feedback that he decided to start one.
"It aligned with the flavor of the town," he said.
It didn't take much for word to get around—especially with the help of the Internet, which became the primary way people heard about this and then signed up.
"The power of social media is ridiculous," Blake said.
Love SLO is not necessarily trying to reinvent the wheel or step on the toes of other ongoing volunteer efforts, Blake said. Instead, it's looking to add a new approach and fresh excitement to the larger goal.
"There's a great opportunity to do a big day and fun day where the community comes together and has this great energy and maybe facilitates people to come serve for the first time," Blake said.
He hopes that that will just be the first step for many participants.
"Maybe for someone this will be a one-time thing, but if that person came down and volunteered for the first time to the City Farm or Prado Day Center, maybe it inspires them to continue to do that work," he said. "It's a way for them to get exposed to the beautiful work that's happening here day in and day out."
Fast fact
The San Luis Obispo Downtown Association invites children and their families to "hop" along the Bunny Trail to collect goodies and treats from participating businesses at the SLO Farmers' Market the evening of Thursday, March 24.
Staff Writer Jono Kinkade wrote this week's story. Send your strokes and plugs to strokes@newtimesslo.com.
-- Melody DeMeritt - former city council member, Morro Bay