I'm going to admit something crazy to you right now. I've been jealous of a dog. Yes, I have considered myself to be in competition with an animal that considers day-old floor cheese an absolute delicacy. It happened a few years ago, just after I met my soon-to-be husband. He adopted a little scruffy terrier of a rat baby called "Mavis," and subsequently, I lost my ever-loving marbles.
Don't get me wrong—I now love Mavis for the grubby, bitchy little munchkin she is, but back then, I wouldn't trust her as far as I could throw her (and that would have been pretty far; she tops out at 10 pounds, soaking wet).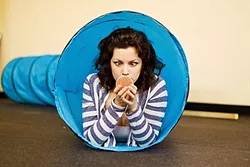 PHOTO COURTESY OF SLO LITTLE THEATRE
MAN'S BEST FRIEND? : Madeline Moeller plays a happy-go-lucky dog that inadvertently aggravates a couple's marital issues in SLO Little Theatre's thought-provoking, funny production of 'Sylvia,' opening Aug. 21.
The main conflict was this: She was getting all the attention. First thing in the morning, I would hear my beloved cooing sweet nothings to Mavis, who had gradually worked her way into the bed. We'd go to McCarthy's for a drink and folks would ask about Mavis, who had already become "Queen of Facebook."
Because we adopted the dog from our neighbor and New Times music columnist Glen Starkey, a wide swath of locals were already enchanted by this aging, bristly-furred mutt with the white mohawk and matching mustache (she looks a bit like Gizmo from Gremlins).
It was a long journey toward understanding and acceptance, and I'm now proud to say that Mavis and I enjoy a friendly "sister wife" relationship that I wouldn't trade for the world.
SLO Little Theatre will tackle a similar—if more dramatic—situation in its newest play, Sylvia, opening this Aug. 21 and running through Sept. 6. Written by A.R. Gurney, the production centers on Greg (played by David Norum) and Kate (played by Kristen Saunders), a long-married couple who have moved to Manhattan after 22 years of raising kids in the suburbs. Both husband and wife see their lives changing as empty nesters—but in very different ways. In the middle of all of this soul searching, there is a panting Sylvia the dog, played by 20-something actress Madeline Moeller.
Last week, I sat down with Director David Carey Foster, a veteran Central Coast and Los Angeles actor, in the theater's cozy rehearsal space. One of my first questions—naturally—was: "So, how did you costume the role of the dog?"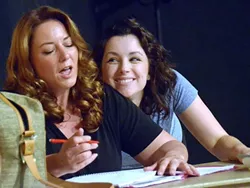 PHOTO COURTESY OF SLO LITTLE THEATRE
WIFE V. DOG : Sylvia the dog (played by Madeline Moeller) and Kate (played by Kristen Saunders) learn how to live together.
As it turns out, there is very little costume to be had. Instead, Moeller becomes the dog through uncanny mannerisms (when Greg stops petting her head, she'll nudge her master's hand and whine eerily).
"It's more about the spirit of the dog," Foster said. "There will be a collar, yet not much else that says, 'dog.'"
Moeller picked her own breed—a Labradoodle—the same hypoallergenic variety that resides in the White House.
The show is certainly about mid-life crisis, yet Foster would rather swap that tired old term for "mid-life nexus."
"Kate has a very clear idea of what she wants her life to be now without the constrictions of kids, and she has this idea of teaching Shakespeare at the junior high level," Foster said. "Greg's been in the same job for years and years and is entering this classic mid-life nexus, questioning what he is doing. He's no longer inspired."
WHO'S WALKING WHOM?: Sylvia runs Aug. 21 through Sept. 6. Performances are on Thursdays, Fridays, and Saturdays at 7 p.m. and Saturdays and Sundays at 2 p.m. Tickets are available at slolittletheatre.org or call the box office at 786-2400. All performances take place at the SLO Little Theatre, 888 Morro St. in San Luis Obispo.
When Sylvia enters both their lives, Greg feels a renewed adventurous spark—not unlike the charge that spurs many an extramarital affair.
"That is what makes it interesting," Foster said. "Traditionally, the role is played by a young 'vixen' type, which adds another element to the show. When the wife looks at the dog, she sees a young vixen trying to take her husband away. Everyone sees what they need to see in Sylvia."
Poor Sylvia! All she really wants is a belly rub.
The cast is small: Ernest Roberts plays multiple roles of differing genders.
King City actor Norum plays the hapless, disconnected Greg, who is looking for deeper meaning in his life. The former Monterey County undercover narcotics officer has certainly seen his fair share of the human condition, and he brings that knowledge to SLO Little Theatre's intimate stage.
"You're able to do very small subtle things here at SLO Little Theatre, and the audience can see that," Norum said. "It really keeps you on your toes."
Norum has been married (in real life) to his loving wife for more than 35 years. The actor said the play successfully details the ups and downs of a long-term relationship.

HOT DIGGITY DOG!: The Little Theatre will be partnering with Woods Humane Society in various ways throughout the run of the show, including publicizing dogs available for adoption at the shelter. Find out more at woodshumanesociety.org.
"It just about fits our lives," Norum said. "My kids have been out of the house a bit longer than Kate and Greg's, but it's the same idea."
Hilariously, Norum just finished a production where he plays a man who has fallen madly (and physically) in love with a goat. In comparison, Sylvia is far less risqué. That being said, this play is not a "family friendly romp," as there's some rough language.
"There is good clean romance in this play," Norum said. "Whether Greg had found theater or a hobby that took him away, it's all the same thing. He's reached a point in his career where he's disconnecting from everything."
And although Sylvia acts as the perfect lightening rod for this martial discontent, she may also be the key to Greg and Kate's survival.
"In the end, Sylvia helps bring Greg and Kate back together," Norum said. "They fight their way through, but they find common ground. It's about perseverance with relationships."
Hayley Thomas is giving Mavis a belly rub at hthomas@newtimesslo.com.