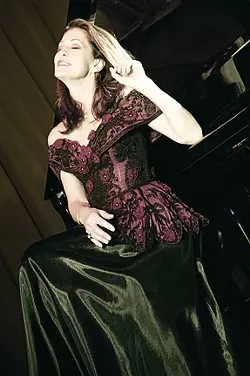 PHOTO COURTESY OF AXIS ARTIST MANAGEMENT
THE DELTA LADY ON PIANO:
"Well, I just got home from New York City, Kris and Rita done it all," croons Willie Nelson on "Devil in a Sleepin' Bag." "Raw perfection there for all the world to see/Lord, I heard an angel singing in that Philharmonic Hall/Rita Coolidge, Rita Coolidge, cleft for me."
Coolidge, the Grammy award-winning angel of whom Nelson sang, brings her sexy vocals to Arroyo Grande's Clark Center on Dec. 12 at 7 p.m. in her concert A Rita Coolidge Christmas.
Covers like "(Your Love Has Lifted Me) Higher and Higher" and "We're All Alone" brought her fame in the '70s. In '83, her single "All Time High," from the James Bond flick Octopussy, reached the No. 1 spot on the Billboard charts.
Of both Scottish and Cherokee heritage, the singer rocked a pretty rad look to boot, all headbands and feathers and flowing blouses.
Still smokin' at 65, Coolidge will perform some of her all-time hits at the Arroyo Grande venue. She'll also devote time to her take on several Christmas classics, such as "a bluesy rendition of 'Silent Night'" and a reading of The Night Before Christmas.
She will also perform a few numbers with the Arroyo Grande High School Choir.
"I wanted to include the town in the show," Coolidge said of the decision to share the stage with young vocalists.
"Any advice for youngsters seeking a career in music?" New Times asked in a phone interview, since we were on the topic.
"If you have a passion for anything else, do that," Coolidge answered wryly. "It's a really hard business. … It wasn't as hard when I started!"
Buy tickets for A Rita Coolidge Christmas at clarkcenter.org, call 489-9444, or visit the Clark Center Box Office at 487 Fair Oaks Ave. in Arroyo Grande.