You can turn your back on a person, but never turn your back on a hangover, especially when it's waving a razor-sharp hunting knife in your eye. These were the Hunter S. Thompsonesque thoughts throbbing through my head as I struggled lamely to pay attention to the goings on of New Times' weekly editorial meeting last Thursday.
CHRISTOPHER GARDNER
FEAR AND LOATHING IN PASO ROBLES: Gonzo journalist Glen "Cocky� Starkey prepares to enter into the belly of the beast — aka Busi's — to reveal the sordid details of a night of binge drinking.
#As I looked around at the sagging faces of my co-workers, all of whom had joined me on a torturous four-hour pub crawl the night before, I knew we all had the same knife to our eye. Drinking is fun. Waking up the next day? Not so much.
Tomorrow (if you're reading this on St. Paddy's Day), millions of Americans will go mano-a-mano with their hangovers, a feeling like being wrapped in a syrup-soaked blanket while the sound of a thousand jet engines scream through layers of thick gauze. Why do we do this to ourselves? I tuned out managing editor King Harris' bleating and began to search my mind, slowly piecing together the series of last night's events that seemed to conspire against me.
In honor of the then-upcoming indulgence that is Saint Patrick's Day, we decided to bar hop from Paso Robles to SLO, chartering the super-swank rolling disco The Galaxy, Stardust Limousines' flagship, a 22-seat party van replete with state-of-the-art sound system, 42-inch flatscreen TV, and fully stocked bar. All told, 16 of us staffers and friends, including The Shredder, set off on this little adventure, and I should have known straight away what kind of a night it would be.
"I'm skipping my court-mandated A.A. meeting for this,� said The Shredder.
Were we retarded for embarking on a night of binge drinking on a Wednesday? My pal Keith Bond seemed to think so. He took one look at the limo and said, "This is like the New Times short bus!� Yes, it was going to be that kind of night.
Our hostess was Susie Martin, co-owner of the limo company. Her husband Ken was behind the wheel. Dressed in an aqua blue haltered cocktail dress, matching boa, and fuzzy black slippers, Susie sashayed around the bus building drinks for my companions.
As she handed a vodka and soda to my friend Jenny Anthony, Susie said, "This is kind of weak, honey. There's no consistency on the bus. It depends on the bump or the curve. It could be weak or it could be really strong.�
Then she handed me a bucket of Jameson's Irish Whisky — neat. Bump or not, there's no way to pour straight whisky weak.
"This is enough whisky to wash my car,� I said.
"It is?� replied Susie sweetly. "I don't know. I don't drink.�
"You don't drink?�
"I've never had a drink in my life.�
"What? You've never had a drink of alcohol in your life?� I asked incredulously.
"No. I'm here to show you that you can have a good time without … .�
Then something about blah, blah, blah. I don't know. I stopped paying attention as the warm whisky burned down my throat, washing over my mind like a whispered promise. I turned my attention to Jenny, whose black-and-white zebra-striped top foreshadowed the exotic animalistic night to come.
"Where are we going first?� asked my bud Terry Joseph, an Australian who's been known to throw back a rum and coke or two.
v"I don't know. Somewhere in Paso.�
"What? I thought you did this before.�
"We did — three years ago.�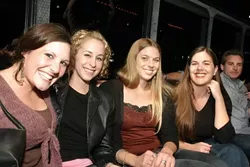 CHRISTOPHER GARDNER
PARTY GIRLS (LEFT TO RIGHT): Kerry Moore (sales), Lorna Kreutz (Kerry's rommmate), Dora Mountain (production), and Kirsten Blake (sales) get comfy on The Galaxy, the rolling disco party bus from Stardust Limo.
#"You did this before but you didn't plan it? You've got to have a firm hand in these things, like our oppressors during the colonization of Australia.�
Man, the progeny of criminals sure are pushy!
When we did this pub crawl back in 2002, we had meant to start in Arroyo Grande and go all the way north to San Miguel. We barely made it back to San Luis after only hitting four bars. I wasn't going to pretend to control the roiling monster that is 16 party animals set loose on a bus with an open bar and no worries about driving home. I'd rather herd cats.
The Galaxy pulled up in front of Busi's (pronounced boozy's), one of Paso's most venerated watering holes. Jenny and Terry's fiancée Kathy Zurbach headed straight for the Ms. Pacman tabletop arcade game. Kerry Moore, a New Times sales associate, adjusted her cowgirl hat to a jaunty angle and made me wish for a mechanical bull. How far away was Big Bubba's Bad BBQ? Too far, unfortunately.
The party was starting and everybody was a couple drinks in, feeling giddy and flirty and funny. New Times graphic designer Dora Mountain's piercing blues eyes were twinkling. My friend Larissa Collins, despite being in the middle of a three-month toxin flush (no alcohol, sugar, etc.) broke down and had a glass of red wine. New Times staff writer Jeff Hornaday's wife Franziska, normally a teetotaler, had a vodka and cranberry — "Um, yeah!� Associate Editor Kat deBakker, a woman so stoically dedicated and conscientious she carries a red Sharpie around to correct grammar and punctuation mistakes on signs, actually smiled at me. Put up a freakin' historical marker! Booze, sweet booze. It raises your confidence level, lowers your inhibitions, and makes guys like The Shredder drop his drawers and sit on an abandoned toilet parked behind a bar in Atascadero … we'll get to that later.
After Busi's, we made the short walk down the block to the Pine Street Saloon. Jenny and Dora, who had never met before tonight, started chatting each other up. Both girls stand nearly six feet tall and are drop-dead gorgeous. Guys were walking into walls and trying to pry their jaws off the floor. By morning, Jenny would find a note from Dora that read, "Jenny, you're fun. Call me, Dora. 867-5309.� Okay, that's not her real number. Simmer down, boys.
One of the nice things about Pine Street is its selection of salty snacks and processed meat products.
"I love that jerky,� said Staff Writer Abraham Hyatt, pulling out a wad of bills.
"What'll ya have, natural or unnatural?� joked bartender Leo Pisciotta.
"I'll have the unnatural.�
Meanwhile, Johnny Cash sang "I Walk the Line� over the jukebox, reminding me of how happy I was to not be driving. By this time, not a one of us would pass a field sobriety test.
I asked Leo if he owned the joint.
"No, Pat French does. And she runs this place with an iron fist. If you say the f-word, you're out of here.�
"So if I say it you'll kick me out?�
"I won't, but she would.�
"Fuck.�
Yes, I was living dangerously.
I took a straw poll. Should we have another round here or get back on the bus and head to Atascadero?
"Free drinks on the bus!� screamed Kat.
We climbed aboard. Then I noticed Franziska looking at us curiously.
"Are you drunk?� I asked her.
"I've never been drunk,� she replied. "I want to mean what I say.�
"But that's the whole point of getting drunk. You have an excuse!�
The music was thumping. People who were sitting demurely on the ride up were now laying all over each other, laughing and dancing in the aisle. The bus bounced and rolled.
"I never thought I'd ask this,� said Abraham, "but please, god, are we in Atascadero yet?�
CHRISTOPHER GARDNER
HOSTESS WITH THE MOSTESS: Starkey's friend Keith Bond is highly impressed with the bartending skills of onboard hostess Susie Martin.
#Atascadero offers a wealth of bar choices, but when you've got a rag-tag bunch of increasingly intoxicated partiers who are beginning to act inappropriately, there's really only one place to go: the über-tony new Carlton Hotel. Looking positively aghast, the workers in the bar started stammering about how they were about to close. I could see the fear in their eyes, panic creeping up their collective spines. I'm sure we looked like a cross between the drunkards in early Irish novels and a team of yuppies. That's okay, I thought. The Carlton looks vaguely like a corpse laid out in a very expensive coffin. Or like that bar in "The Shining.�
"What's the occasion?� asked the staid-looking bartender.
"It's Wednesday,� said staff writer John Peabody. "Give me a round of kamikazes.�
The bartender started mixing and pouring, pouring and mixing. A row of tall shot glasses lined the bar like sinister houses in a suburban housing tract — each one harboring a secret.
"That'll be eighty-four dollars.�
Peabody whipped out his credit card.
"I just took out a loan to buy these.�
When the bill comes next month, I'm sure regret will drain Peabody's blood, but for now he said, "I'm on a roll! I bought everybody shots. I'm kind of big pimpin' tonight.�
"Expense it out!� I yelled. "Steve Moss loves to pay for stuff like this!�
Abraham raised his glass and yelled loudly, "Here's to New Times for bringing us all together here.�
"Oh, you're from New Times,� spat the bartender drolly, "that explains it.�
We were all out of our minds. I had abandoned taking notes, and what notes I had taken progressed from legible to some kind of cryptic runes — squiggly lines dancing across my notepad like Paleolithic graffiti. We stumbled en masse across the street to Terry's, a dive bar that embraced us as the rogues we had become. Soon The Shredder would find his way into the abandoned toilet, falling prey to photog Chris Gardner's camera.
Things get fuzzy after that. I'm pretty sure I made a pass at Kerry (I'm a sucker for a hot girl in a cowboy hat), and Dora, and Jenny, and my married friend Larissa, and Kathy, and Kat. I may even have made a pass at Gardner, but I was blinded by the flash of his camera.
On our way back down the grade I heard Larissa tell her husband David, "You should probably have a glass of water.�
"You're probably right,� said David as Susie walked up and asked him if he wanted another drink. "Yeah, I'll have a whisky and coke.�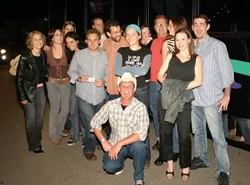 CHRISTOPHER GARDNER
READY TO LET THE GOOD TIMES ROLL (LEFT TO RIGHT): Lorna Kreutz, Kerry Moore, Dora Mountain, Kat deBakker, John Peabody, Abraham Hyatt, Jeff and Franziska Hornaday, Larissa Collins, Glen Starkey, Jenny Anthony, Kathy Zurbach, Terry Joseph, and Keith Bond (in front) prepare to set off on a four-hour pub crawl.
#I don't actually remember it, but we apparently made it to McCarthy's. I probably watched the Saint Patrick's Day countdown clock ticking off the days, hours, minutes, and seconds before the green beer starts to flow. I probably drank a beer and some Jameson's. I probably slipped off a bar stool and landed in a pile of laughter. I probably did a lot of things, but I don't remember.
Booze will do that to you.
"Okay everybody, that's it for this week's meeting,� said King Harris, awakening me from my memories of last night.
"I feel like shit,� said Peabody, and I couldn't help but smile as I remembered — albeit vaguely — The Shredder squatting inside the bowl of the abandoned toilet.
Glen Starkey says, don't drink and drive. Contact him at gstarkey@newtimesslo.com.