M. Ward is without a doubt one of the most successful formerly local acts to make his way in the national music scene. Back in the mid-'90s when he was a college student here, his trio Rodriguez with Kyle Field (Little Wings) and Mike Funk were the stars of the scene. Their 2000 album, Swing Like a Metronome, which was produced by Jason Lytle of Grandaddy, was a revved-up experimental mix of jazzy guitar, folk, neo-psychedelia, and lo-fi indie rock.
Like many local performers of that era, Ward pulled up stakes and headed to Portland, which he still calls home. He went on to become a part of the super group Monsters of Folk, and to work with Zooey Deschanel as part of She & Him, as well as Norah Jones and Bright Eyes among others.
Since his Rodriguez days, he's recorded nine solo albums and five She & Him records. His 2012 album A Wasteland Companion climbed to 21 on the U.S. Album charts!
With a rustic and smoky tenor and a fiercely independent approach to music and recording, he's bent a number of genres to his will, aggregating alt-blues, alt-folk, and alt-country sounds into an atmospheric, moody amalgam. This Friday, Oct. 27, at the Fremont Theater, see Ward live (7 p.m.; all ages; $27.50 presale at ticketfly.com or $32 at the door). Ward communicated with New Times via email.
Photo Courtesy Of M. Ward
PORTLANDIA M. Ward, who lived in SLO Town in the '90s, plays the Fremont Theater in support of his new album More Rain, on Oct. 27.
New Times: Hey Matt. Long time no see. Do you miss SLO Town?
M. Ward: Yes. I miss the weather—the sun with the occasional deluge of rain and I miss being able to walk everywhere—I remember being able to skateboard to work at the record shop. Those days are gone. I remember spending hours at the private, dimly lit desks in the Cal Poly library reading James Joyce, thoroughly confused but feeling OK with it.
NT: Why M. Ward and not Matt Ward or M.S. Ward? (His middle name is Stephen.)
MW: M. Ward was a nickname from certain friends when I was younger—it kind of stuck—when it came time to put a name on the side of the jewel box for my first CD, I was reminded of that.
NT: Tell me about how you learned to play guitar.
MW: I'm still learning, but in high school I spent gratuitous hours alone with my acoustic guitar. I bought a 4-track and started writing songs and learning Beatles and Daniel Johnston songs and Sonic Youth and Joni Mitchell tunings.
NT: I've heard you only record analog. True? Why?
MW: Analog sounds more like the records I spend most of my time listening to, which mostly means music pre-1990.
NT: You've collaborated with a number of artists including Neko Case for her The Worse Things Get, The Harder I Fight, The Harder I Fight, The More I Love You album. Is it hard to let go of control and be a contributor rather than take the lead?
MW: Riding in the passenger seat has always been just as rewarding as the driver's seat. I'm lucky to be friends with a lot of talented people, so it's a pleasure to see how they tackle songs and song production.
NT: On your newest, More Rain, you get a lot of help from some very well known performers, including backing vocals by Neko Case, k.d. lang, and The Secret Sisters, plus guest appearances by R.E.M.'s Peter Buck and Scott McCaughey, and Joey Spampinato (Keith Richards, Eric Clapton, Chuck Berry, NRBQ) among others. How do you corral these major players to help out?
MW: Meeting new people normally happens by accident through mutual friends, like most people I guess. I met k.d. a few years ago in Portland through Gus Van Sant. The world is a small place, especially the Portland music world.
NT: Any thoughts about a Volume 4 for She & Him?
MW: It's hard to say, but I have a hunch Volume 4 will happen someday, but there are no plans right now for recording.
NT: What can we expect for your SLO show? Do you have a full band? Will you concentrate mostly on your newest, More Rain, or draw from your catalog? Will you be calling Mike Funk, who still lives locally, up on stage for a drum solo?
MW: I'll have my usual band of misfits from Portland and Los Angeles with me on this tour. They are the very best I could find, and I find that they are the very best. The set list is a mix of new songs and old songs and shameless covers. I'm excited to see Palehound [which opens the show] play and to get back to the great Fremont theater where I used to watch movies, and yes.
Did you hear that, Mike? Bust out your drumsticks! This should be a great night of old friends and new fans.
Also coming up from Numbskull and Good Medicine Presents is The Steel Wheelers next Thursday, Nov. 2 (7:30 p.m.; 21-and-older; $10 presale at ticketfly.com or $12 at the door). The acoustic act says their mission is "to fuse the personal with the universal, the deeply rooted past with the joys and sorrows of everyday existence."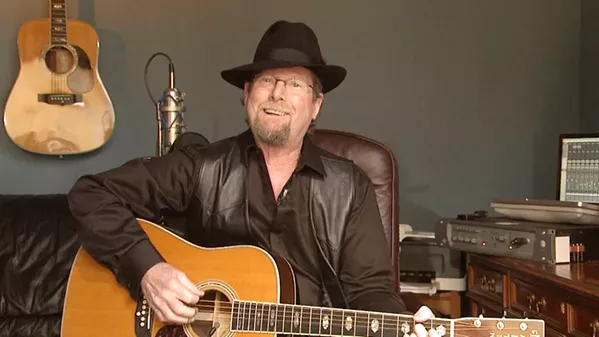 Photo Courtesy Of Roger Mcguinn
ROCK STAR Roger McGuinn, founding member of the '60s folk rock group The Byrds, plays the Clark Center on Oct. 27.
Solo Byrd
Roger McGuinn—co-founder of the legendary group The Byrds, which had hits such as "Mr. Tambourine Man" by Bob Dylan, "Turn! Turn! Turn!" by Pete Seeger, "Eight Miles High" by McGuinn and David Crosby, "So You Want to Be a Rock 'n' Roll Star" by McGuinn and Chris Hillman, "Jesus Is Just Alright" by Arthur Reynolds, "Ballad of Easy Rider" by McGuinn, and a whole bunch more—plays the Clark Center this Friday, Oct. 27 (8 p.m.; all ages; $35 to $42 at 489-9444).
With six decades under his performing belt, McGuinn has dozens of recordings, including solo albums, collaborations, his Folk Den collections, and an autobiographical one-man show, Live From Mars. He's one of the fathers of '60s folk rock and a Rock and Roll Hall of Famer! Also this week at the Clark Center, check out Waipuna on Saturday, Oct. 28 (7 p.m.; all ages; $25 to $55 at 489-9444). Featuring Kale Hannahs, David Kamakahi, and Matthew Sproat, neo-traditional Hawaiian music group Waipuna will stretch the Hawaiian music genre.
Hot jazz and cool bands
The Basin Street Regulars Hot Jazz Society hosts their 41st annual Pismo Jazz Jubilee—a three-day music festival with five venues and 25 bands playing music from the '20s and '30s, swing, Dixieland, New Orleans, and big band dance music, this year on Friday, Oct. 27 through Sunday Oct. 29 (visit pismojazz.com/jubileebythesea.htm for information and tickets).
Photo Courtesy Of The Crescent Katz
AMERICA'S MUSIC The Crescent Katz (pictured) is one of 25 acts playing five venues during the Pismo Jazz Jubilee, Oct. 27 through 29.
There are literally too many shows to list here, but the music runs continually all three days at four Pismo venues and one in Arroyo Grande, and features performers such as the Crescent Katz, Bob Schulz and His Frisco Band, Cornet Chop Suey, the Rag Bone Saints, Sue Palmer's Motel Swing Orchestra, the Creole Syncopaters, the Midiri Brothers, and so many more. And don't even get me started with all the scheduled collaborations between the various band members! Just go online and see all the choices!
This weekend-long party also features great food, wine, libations, and dancing at every venue. Your daily or weekend pass allows you to move freely from venue to venue. Get your hot jazz on!
Halloween blues
The SLO Blues Society hosts the Alastair Greene Band on Saturday, Oct. 28 (8 p.m.; 21-and-older; $25 at Boo Boo's, Cheap Thrills, or at the door), for a Halloween themed party (and costume contest) at the SLO Vets Hall. Catalina Eddy and the Blue Keys will open.
Photo Courtesy Of The Alastair Greene Band
RIPPIN'BLUES The Alastair Greene Band plays the SLO Vets Hall on Oct. 28, during a SLO Blues Society Halloween Bash.
Greene is a ripping blues guitarist whose been part of the So-Cal blues scene for two decades, delivering a mix of blues, Southern rock, and jam band sounds.
Greene formed his band in 1997, but he continues to perform with the Alan Parsons Live Project, Mitch Kashmar, Franck Goldwasser, Shari Puorto, and other Southern California bands.
Born in Santa Barbara, Greene was "inspired to pursue music as a career by his grandfather, the lateChico Alvarez, who played trumpet as a member of theStan Kenton Bandin the '40s and '50s," according to his bio. "He received a scholarship to the Berklee College of Music in Boston, and then returned to Southern California to begin playing with blues and rock bands in the early '90s."
This dude's got a soulful guitar sound and a rich bluesy voice.
Music heals
A while ago, Maestro Michael Nowak and Orchestra Novo presented a special performance that featured artwork by Grizzly Academy cadets that was created as the cadets listened to the same piece of music. Now Nowak is mounting the Co-Creation Project II, The Music Inside, this time collaborating with Central Coast senior centers serving Alzheimer's and dementia patients.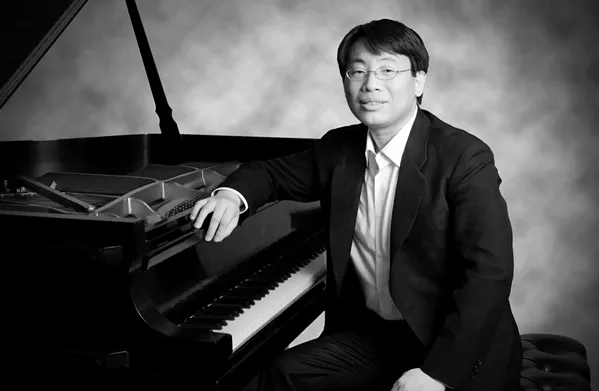 Photo Courtesy Of Chih-long Hu
MUSIC THERAPY Pianist Chih-Long Hu joins Orchestra Novo on Oct. 29, for the Co-Creation Project II, which mixes music and art created by Alzheimer's patients, at the Cuesta College CPAC.
Faure's "Pavane" was played for patients at three facilities, and the artwork they created will be projected onto a screen as the orchestra and special guest pianist Chih-Long Hu performs, on Sunday, Oct. 29, at the Cuesta College CPAC (3 p.m.; all ages; $40 at orchestranovo.com). The concert also includes Beethoven's Piano Concerto No. 5, Emperor.
Nowak decided this second collaboration should include dementia sufferers after he learned that Diana Sheridan, principal bassoonist for the SLO Symphony, had been afflicted.
"She was such an active member of our music community, a wonderful musician and a super person," Nowak recalled.
He contacted the facility that had cared for Sheridan, Sydney Creek in SLO, which liked the idea and decided to participate, as did Ingleside in Atascadero and Casa Rosa in Arroyo Grande.
"I presented the idea as a way of reaching people in a different way," Nowak added. "With Alzheimer's, how the music affects them can conjure up a creative skill set that remains on a connective basis."
Nowak's read the research on the connection between music and memory, and he couldn't be more pleased with the artwork created.
"We have around 50 pieces, some really remarkable, some absolutely stunning stuff," Nowak gushed. "There are some very evocative abstract pieces that are off-the-charts cool and some basically very pretty pictures of flowers or trees. It's amazing how music can unravel these spirits that have been covered up for a while."
Nowak hopes to continue his series, mentioning other underserved groups such as returning veterans, CMC inmates, and those with Down Syndrome or autism.
"The truth is music is about the last thing to go in a human being, and it's probably the first thing we develop, from the rhythm of our mother's heartbeats and her singing to us," Nowak said. "It's quite remarkable that despite mental impairments, people who can't communicate at all, when they hear music can suddenly start talking."
More music ...
If you're still trying to figure out your Halloween festivities, you may want to hit the Monarch Club at Trilogy in Nipomo, which is hosting a '60s Rock 'n' Roll Halloween Bash with Unfinished Business, on Friday, Oct. 27 (7:30 p.m.; all ages; $15 presale at brownpapertickets.com or $20 at the door). According to bandleader Ed Miller, it's a "beautiful venue and room, full no-host bar, restaurant on the premises, and plenty of parking." Expect to hear classics such as "Monster Mash," "Spooky," "Bad Moon Rising," and more. There's also a costume contest!
Photo Courtesy Of Bitchfits
'WE'RE BITCHES PLAYING MISFITS' Bitchfits, the all-female L.A.-based Misfits tribute act, plays a four-band punk show at Skip Gibson's on Oct. 27.
Estrogen-fueled punk rock will rain down on Skip Gibson's this Saturday, Oct. 27 (8 p.m.; all ages; $15 at the door), when LA's hottest all-female Misfits tribute act the Bitchfits headlines a show that also includes local hard rockin' heroines Hot Tina, as well as Platinum Disturbia and Uber Death. Hot Tina is calling for attendees to wear Halloween costumes, and their favorite will be awarded with some sweet Hot Tina swag!
Avila Beach Golf Resort hosts the Autumn Jam this Saturday, Oct. 28 (noon to 5 p.m.; all ages; free), with Próxima Parada, Bear Market Riot, and Micki & Casey. Three great acts, food available from the Grilled Cheese Incident food truck, a full bar, snack vendors, lawn games, and free! Did I mention free?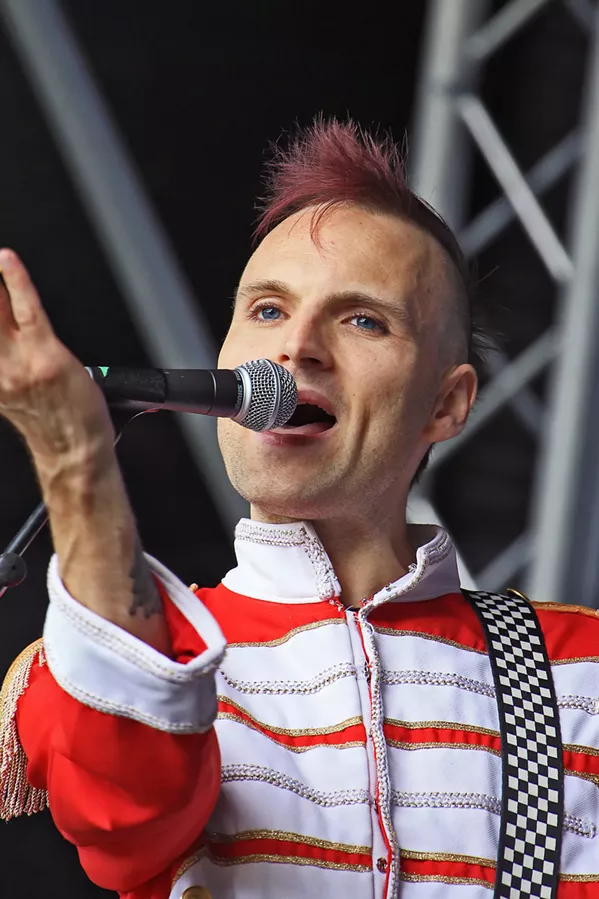 Photo Courtesy Of Dj Robinson
HE'S A DANDY U.K. rocker Baz Francis, frontman of the band Magic Eight Ball, brings his solo act to Frog and Peach on Nov. 1.
Baz Francis, frontman of the band Magic Eight Ball, is hitting the road solo in support of his new album Face That Launched A Thousand Shipwrecks, and he'll make a stop at Frog and Peach this Wednesday, Nov. 1 (10 p.m.; 21-and-older; free). The UK-native now calls LA home, and his new solo endeavor has a definite David Bowie vibe. He's already played dates in Holland, Spain, Finland, Turkey, Macedonia, Egypt, Hungary, Iceland, and the UK, and for the rest of the year he'll be touring the U.S. and Mexico. This is quality lyrics-driven rock!
Mark your calendar!
The ninth annual New Times Music Awards is coming up next weekend, on Friday, Nov. 3, at the Fremont Theater (6 p.m.; all ages; $10 presale at ticketfly.com/event/1581442).
Vying for Best Live Performance are rockers 33RPM, Americana act The Creston Line, Gypsy jazz ensemble The Tipsy Gypsies, hip-hop/funk collective Word Sauce, and EDM band Tropo.
The event opens with percussion group The Bucket Busters followed by youth category performer Amelia Fleming, aided by her sister Rio Fleming.
Bronze Newties statuettes will be award for the winners in the Rock/Alternative, Country/Folk/Americana, R&B/Blues, Hip-Hop/Reggae/World, Open, Best Songwriter, and Album of the Year categories as well as second and third place winners, Readers Choice, and Youth Category winners.
Come support our local music scene. Δ
Keep up with New Times Senior Staff Writer Glen Starkey via Twitter at twitter.com/glenstarkey, friend him at facebook.com/glenstarkey, or contact him at gstarkey@newtimesslo.com.