Women gathered beneath the barely visibly full moon, swathed in a layer of fog on the night of March 31. Sitting in a circle on colorful blankets, candlelight danced across 20 or so faces that dipped between shadows and the glow of flames.
Photo By Jayson Mellom
CIRCLE OF SISTERHOOD Women gather behind the Tamed Wild Apothecary in Arroyo Grande to welcome the full moon, set intentions, and enjoy
They laughed and talked, sipping red wine and new moon tea with nettle leaf, preparing to harness the power of the new blue moon and spring season.
Smoke swirled around Shelby Bundy, who held a burning bundle of sage. She spoke about purifying the space and tools, as well as the reason for this full moon gathering on the pavement behind her shop in Arroyo Grande—Tamed Wild Apothecary.
"It's a good way to check in with what we're looking for, what it is we're wanting to let go of, and to honor the women who came before us," Bundy said.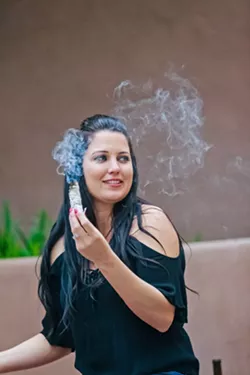 Photo By Jayson Mellom
WITCHY WOMAN Shelby Bundy, owner of Tamed Wild Apothecary in Arroyo Grande, demonstrates how to sage and purify oneself during a full moon ritual.
One by one, each woman filled a bowl with water, herbs like chrysanthemum and holy basil, a chicken feather, and a lit floating blue candle to symbolize all four of the elements. While holding a turquoise-colored agate stone egg, they thought of what they wanted to bring into their life. Placing the oblong gem in the water alongside a piece of light pink rose quartz, they wrote their intention on a scrap of paper and let it burn, watching as the ashes sank to the bottom of the bowl.
Angela Kendrick of Arroyo Grande attended her first Tamed Wild full moon ritual in January while working through a time of loss. She already had an affinity for crystals, and that winter night, they talked about letting things go and buried sage outside.
"My father had just passed away the night before," Kendrick said. "It was a great place to be in a positive environment. It was very peaceful"
These women are just a few of many who have been called to the light of the full moon, to take their power back into their own hands in a divisive and turbulent time in the country following the 2016 presidential election.
Witches. Magic. Wiccan. Pagan. Faith. Bundy isn't too attached to labels, simply preferring to bundle the herbs, crystals, and tarot cards that her store stocks under the term, "Earth-based spirituality."
Regardless of what you call it, though, the spirituality resonates with women near and far. After opening her shop about a year ago, Bundy decided to start offering monthly subscription boxes to get her products out in the world. At first, herbs, crystals, and ritual magic were shipped to about 20 subscribers. Now, Bundy and her team of 14 employees ship boxes to 6,000 people each month across the nation and globe. With a fulfillment center in the United Kingdom and a new warehouse in Atascadero, Tamed Wild's smudge kits, along with crystals, herbs, and moon card decks are also sold at Urban Outfitters across the country.
"It's kind of broad and it's for anybody," Bundy said. "There are a lot of different spiritual paths and lifestyles, even that are based in old world tradition be it pagan, Wiccan. It's for people that are looking to the Earth as a whole for spirituality, for medicine, for guidance."
From the Earth
Raised by Southern Baptist parents in Lodi in California's Central Valley, Bundy never thought her future job would include talking about finding the right goddess to identify with, and now her desk at Tamed Wild's warehouse in Atascadero sports the title, "Boss Witch," in gold, loopy letters.
"This whole thing was a big no-no," Bundy said.
Then a few years ago, her daughter was having trouble at school and Bundy was told she likely had ADD (attention deficit disorder). She wasn't so sure about the diagnosis, but Bundy knew she didn't want to give her daughter traditional medicine.
"I started looking for alternatives and that's how I fell into the herbs. I started making her teas and tinctures and tonics," Bundy said.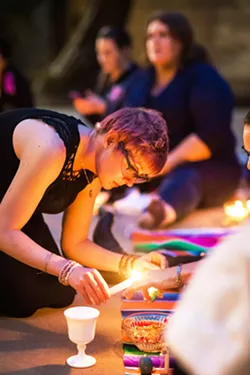 Photo By Jayson Mellom
MANIFESTING Women light candles in order to burn intentions written on scraps of paper at a full moon ritual in Arroyo Grande.
She would whip up combinations of calming herbs like skullcap and lavender for when her daughter was having hyper days. It turned out Bundy's daughter didn't have ADD at all. She was completely deaf in one ear. She simply couldn't hear and was spacing out. Still, by then Bundy had seen what herbs and a little magic could do.
"I started looking into things, and once you fall into the herbal world, it leads to the crystals and the metaphysical and the spiritual side," Bundy said. "It's all one community. It was an awakening and realizing, 'Oh, this makes sense to me.'"
So Bundy, who was working in cosmetology doing eyelash extensions at the time, decided it was time for a change. In January 2017, on the heels of America electing Donald J. Trump as president, Tamed Wild Apothecary opened its doors to the village in Arroyo Grande. In March 2017, Bundy started mailing out subscription boxes filled with items like ritual incense, Palo Santo, and handmade leather journals. She wasn't quite ready for how quickly things would take off from there.
"I think we hit it at the right time," Bundy said. "I think it was something that was rising and we didn't realize it.
A little magic
Penny Harrington, owner of the Ruby Dragon Metaphysical Shop and Healing Center in Morro Bay vividly remembers the day after the presidential election in 2016.
"People came into the shop and were sitting and crying," Harrington said.
Harrington and her staff jumped in to teach people how to ground and soothe themselves in uncertain times, recommending stones like the light blue angelite or black tourmaline for anxiety. Since then, Harrington said business in the metaphysical and spiritual industry has been booming. In the sleepy tourist town of Morro Bay, the months between Christmas and summer are usually a slow time of year for retail shops. This March, Harrington said, her sales were up 30 percent—$4,000—from March of 2017. And while in years past, Harrington needed just one employee to man the shop, now there are so many customers that she has two people on the clock during store hours.
"It has been steadily building for a while, but it took a big jump after Trump was elected," Harrington said of the interest in alternative healing. "It hasn't slowed down. It's just busy, busy."
Along with the new administration came a resurgence in feminism across the country, with the rise of things like the #MeToo movement and the Women's March in response to Trump's "grab them by the pussy" comments that ushered in an already building wave of resentment for feminism and political correctness from the right.
The way Bundy sees it, it makes sense that women would search to see themselves represented in spirituality as well.
"I think it comes from a rise in feminism and a rise in women," Bundy said. "The difference between the Earth-based spiritualities and a lot of the Catholic or Christian-based spiritualities is that they're very masculine driven, and the Earth-based spirituality has a goddess and a god and they have the masculine and feminine in everything. There's a balance. I think it's gotten to a place where women are saying, 'Where am I, and where am I represented in the realm of the divine?'"
Connecting to spirit
AnnKathleen has been working as a Tarot card reader on the Central Coast for more than 10 years and also has seen a rise in people searching for something.
"I think troubled times always bring people to some sense of either going back to church or looking for answers," AnnKatheen said. "I've seen a lot of people who have bigger issues with what's going on and they don't know how to make a connection with the feeling of 'how do I live with this?"
Photo By Jayson Mellom
MAGICAL TOOLS Crystals, sage, journals, Tarot cards, and more tools designed to connect people to their own spiritual path can be found at Tamed Wild Apothecary in Arroyo Grande.
AnnKathleen is quick to tell people one thing: "I'm not a fortune teller. Everybody can do this. Not everybody wants to do this, but everybody can. We all have the same abilities. We all have the connection to spirit and the divine."
Instead, AnnKathleen, who also teaches meditation and works as a mentor, tries to see what is through Tarot cards, which date back to the 1490s, when the Duke of Milan commissioned a special deck of cards for a game played by the nobility. Tarot cards weren't used as a divination tool until around the 1700s.
On a Friday in March, I sit down across a table from AnnKathleen at CovenTree Olde World Market in Santa Maria to see what the cards have to tell me, feeling simultaneously excited and apprehensive.
AnnKathleen's favorite deck at the moment is the Wild Unknown deck, a popular set for its creative artistry. After chatting for a few minutes, she reaches for that deck and hesitates, picking up another instead.
Photo By Jayson Mellom
REBIRTH A bowl filled with water, herbs, a feather, and a floating candle represents all four elements. Women then contemplated their intentions while holding an agate stone egg, which was dunked in and out of the water to symbolize the birth of their intentions as the spring season and full moon begin.
"These really like you," she says of the whimsical, flowing Shadowscapes deck. "I almost didn't bring it. I was sitting there and I said, 'Ugh, stop yelling at me. OK, I will take you.'"
She has me cut and shuffle the cards, put the deck on the table and place my hands over the cards while thinking about what I want to know. She then takes the cards and lays them out in a Celtic cross formation.
One by one, as the cards are unveiled, there seems to be a theme of fire, fours, and reversed cards. Given that I'm a Sagittarius, AnnKathleen says this makes sense.
The Four of Cups reveals my current state, which is "a bit melancholic," AnnKathleen said. There's a bit of "if only." My connection to higher self is represented by the Four of Wands, reversed.
"You've kind of lost some faith in your connection to source," she says.
The Knight of Pentacles in reverse represents my everyday life. Upright, this card is usually about patience and perseverance.
"But in reverse, it kind of means there is more of a block in the movement forward," AnnKathleen said. "There is something you really, really want to do."
Photo By Jayson Mellom
HEALING HERBS Tamed Wild sells custom blends of herbs and teas to treat common maladies like tummy troubles, anxiety, or sleeplessness.
In my recent past, she sees sickness in the Strength card, in reverse (again). I have been hit with more than my fair share of cold and flu this year.
"Physically, you've been a little worn out," she says. "Take care of yourself, build yourself back up physically. More water. Maybe add in some extra B vitamins, some B12, some B6."
Looking to the future, she draws the Hangman, in reverse.
"I love the hangman in reverse because it means get off the tree and go do it," AnnKathleen said. And finally my challenges are represented by the Hermit in reverse and the Page of Wands, meaning that I should fight the urge to be alone and get ready to learn new things, respectively.
"Find a way to enjoy yourself in the midst of others," AnnKathleen advises.
Having my Tarot cards read leaves me feeling a little naked, like the time my best friend read my diary in middle school, but it also brings back the giddy fun of tween sleepovers. That lightness is part of the appeal of Tarot, according to AnnKathleen.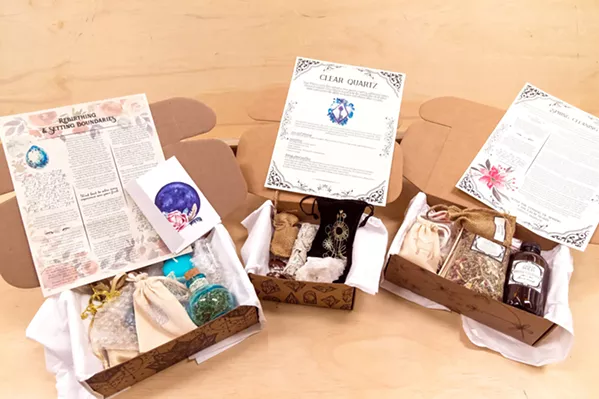 Photo By Jayson Mellom
SNAIL MAIL Boxes filled with crystals, herbs, spells, and more are shipped out to 6,000 subscribers each month from Tamed Wild Apothecary's warehouse in Atascadero as well as their international fulfillment center in the United Kingdom.
"I use this as a platform to lead people into self-work; it's the carrot," AnnKathleen said. "'I want to give people a sense of inspiration to know they have the power to make any kind of change in their life no matter how challenging it may appear. That isn't the whole story, there's more to it."
As smoke mingled with mist beneath the barely visible light of the new blue moon on March 31, Bundy led women of Christian, agnostic, and Wiccan faiths—or even a mesh of a few of those—through the ritual of welcoming it. She understands the idea of there being something more within the spiritual realm. To her, the recent shift of some women toward magic, Earth-based, female-centered spirituality is just everything coming full circle.
"We're re-creating this cultural tradition of woman who used to gather," Bundy said. "It's just normal everyday women. ... A lot of people that are finding this path are calling it an awakening, not something new that they're discovering, but more of a remembering. And I think maybe that last election sparked that."
Arts Editor Ryah Cooley is casting spells at rcooley@newtimesslo.com.