Sometimes a baby grand piano is the elephant in the room. A while ago, Los Osos resident Jody Mulgrew decided he was done recording at home, so he sold his baby grand, some of his guitars, and decided to take a breather.
That's when the songs started flowing out of him. Suddenly he started to record again. What did it all mean?
"I don't know! Maybe that all goals are self defeating," he said. "The minute I decided I was done, the universe started messing with me. I was actually talking to a friend about this, and I was thinking that clearing out space, letting the piano go, letting some of the guitars go, I suddenly had space to record. You know, when there's a grand piano in the room, there's a tendency to put grand piano on every song, but the first song I recorded, 'Lord Krishna,' I recorded with just voice and guitar. I was in my pajamas—no pretense, no expectations—but hearing it play back, I was, 'Yeah, that works.' I came to the recording process without anything to prove."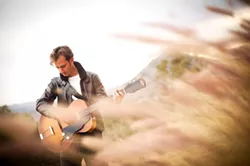 PHOTO BY BRITTANY APP
COME ALL YE FAITHFUL : Jody Mulgrew will present album release concerts for his fan-funded, NTMA-winning new album Rocket Ship on Nov. 18 and 19 at Steynberg.
The results are remarkable. Mulgrew's nine-song album, Rocket Ship, won top honors out of a very strong field of contenders for Album of the Year in this year's New Times Music Awards, beating out acts like The Red Skunks, Mother Corn Shuckers, Jade Jackson, One Time Spaceman, and Deathbear—all of whom delivered worthy records.
How does it feel?
"I feel really good about it," Mulgrew said. "It's nice to get recognition, and to share recognition is cool."
Mulgrew is quick to point out that several of the album's songs are co-written, and that the album was only possible thanks to kickstarter.com, an online resource that lets fans and investors fund projects.
"Before this, I hadn't won any award. I can't make that claim anymore. The coolest part was the day after New Times Music Awards I got to teach at Shell Beach Elementary and show them the award."
Mulgrew brings his music to schools throughout the county. In fact, he was on a break from teaching in Cambria when we conducted this interview over the phone.
"It's fun to have something to share, to show the kids you're up to something more than teaching music and show them there's something they could do with music," he said.
Despite his talent and burgeoning career, Mulgrew loves teaching. In Cambria, he'd just taught the kids "This Land is Your Land" by Woody Guthrie.
"I never get tired of those songs," he said. "Not only are they learning that song, but there's a message waiting to percolate in them, waiting to pop out at the right moment."
One of the great things about Mulgrew and his music is his expansive faith in humanity, not only in the wide-eyed kids he shares music with, but in the whole wide world. It's a faith strengthened by how his new album came together.
"Without the kickerstarter.com campaign, I wouldn't have been able to make this record, which is another cool part of the whole thing, getting to share the success with the people who backed the record—it's like every bit of recognition is something I get to share back with them," he said. "Without them, I wouldn't have had the money to mix, master, and manufacture the album and get it out there. As an artist, it's like, 'Wow, you really care!' Once you open it up like that, all of a sudden you're invested by those people's energy, and it's not just your baby, because it also belongs to the guy who pledged $10, or the guy who gave money if you promised to sing at his kid's birthday. This sort of thing is good for a songwriter because it's easy to get stuck in your head and get really precious about your work."
Much of the money came from Mulgrew's extensive e-mail fan base, but he also received money from people he didn't know.
"My goal was to raise $2,000 to fund the mixing and mastering. I knew if I got that figure, I could have it professionally done, but I ended up raising $3,500, which was above and beyond," he said. "I was able to get it out in a timely fashion—three weeks later the record was at my doorstep."
The album is available to download for just $10 on Mulgrew's website, jodymulggrew.com, but he's also got two album release shows planned at Steynberg Gallery for Friday and Saturday, Nov. 18 and 19, at 7:30 p.m. Tickets are $15 and seating is limited, so I recommend reserving your tickets by calling 547-0278.
What can listeners expect at these shows?
"The show's going to be exciting," Mulgrew said. "The first thing I was to say is how supportive Peter Steynberg has been over the years. He's going through a re-permitting process, which is one reason we're keeping the shows intimate and putting a cap on it. I've got Dan Seeff on upright bass—he's a total pro from L.A.—and Jennings Jacobson on drums, who's been with Damon Castillo all these years. It's really appropriate he's on board because the first recording I did as the Johnny Starlings I did with him at Laurel Lane Studios.
"We've also got two great openers: Ranchers for Peace, which is Charles and Ray Duncan, who have really catchy music that's socially aware and features great harmonies. And then Erin Inglish will be there for Friday night. I'll play stuff off the new record, some new material—I've been writing tons—and some old Johnny Starlings stuff. There'll be something for everyone."
So what does all this mean for Mulgrew's career?
"I'm really optimistic. I'm getting the track 'I Will Not Fall In Love With You Again" played on the Krush, so I'm really optimistic about the record and song—everyone seems to be drawn to it, and it feels so good getting the stuff out there," he said. "This is my first solo album, but it's also the first where I collaborated with other writers. 'I Will Not Fall In Love With Your Again' and 'Rocket Ship' are a couple I ended up collaborating on, and I ended up with songs that were above and beyond what I could produce by myself. If there's a lesson I've taken away from all this it's about sharing—sharing writing duties, sharing with fans who are committed about getting the record made."
And speaking of the Steynberg …
PHOTO COURTESY OF CAFÉ MUSIQUE
GIVING BACK : The amazing Café Musique (with Inga Swearingen, not pictured) will collaborate on a fundraiser for the Steynberg Gallery in Cal Poly's Spanos Theatre on Nov. 20. Don't miss this one!
"Peter and Estelle Steynberg have been burdened with unplanned business expenses for their gallery-café," noted Café Musique's Dwayne Inglish. "They had to bring their building up to code, and although the city was reasonable, the financial hit was significant. With this wacky economy and the already precarious existence that small businesses have to endure, we decided to help. They've done so much for us and the SLO music and art scene that we felt it was an opportunity to give back a little. We're not trying to put the city in a bad light. All businesses are subject to city building codes, but this stuff caught Peter completely by surprise."
Café Musique and Inga Swearingen to the rescue!
On Sunday, Nov. 20, Inga Swearingen and Café Musique are holding a fundraiser for the Steynberg Gallery at the Alex & Faye Spanos Theatre on Cal Poly's campus at 7 p.m. ($27 tickets; call 756-2787).
"Since 1999, the Steynberg Gallery has been a cultural icon in San Luis Obispo and has played a significant role in supporting the artistic and music communities," Dwayne added. "Owners Peter and Estelle Steynberg have devoted countless hours in pursuit of their passion, and the gallery is the crowning result of their devotion. This includes the production of countless concerts featuring musicians from far and near.
"Café Musique and Inga have a very special spot in their hearts for the gallery, and, being longtime favorites of Peter and Estelle, it seems like a natural fit for this first-ever collaboration between the performers," he continued. "Please come support them in giving back to this treasured San Luis Obispo jewel!"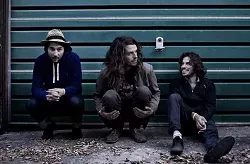 PHOTO COURTESY OF GOOD OLD WAR
FOLKTASTIC : New acoustic folk project Good Old War appears Nov. 17 at SLO Brew.
Brew me a river
Good Old War hits SLO Brew on Thursday, Nov. 17 (8 p.m.; all ages; $10), with Me & LP opening. According to the band's bio, "Seldom do band members rebound gracefully after their main musical effort falls apart, but Keith Goodwin (vocals/guitar) and Tim Arnold (drums/vocals), members of the once up-and-coming progressive rock band Days Away, have managed to do just that, pulling a 180 with their sound to a great degree of success in their new acoustic folk project Good Old War. Rounding out the trio is Dan Schwartz (guitar/vocals) from the Americana-tinged six-piece band, Unlikely Cowboy."
Get your dancing shoes on for the carnival-inspired sounds of SambaDa on Saturday, Nov. 19 (7 p.m.; 21-and-older; $8 presale or $10 at the door). Led by a Brazilian transplant, this act throws a huge party every time they play. Think of it as a Mardi Gras warm-up.
Punk rock heroes the Swingin' Utters return to the Brew on Wednesday, Nov. 23 (8 p.m.; all ages; $12 presale or $13 at the door). Originally formed in the late '80s, they brought a new wave of aggressive music to the growing Bay Area punk scene. Imagine a British '70s punk act that's been influenced by traditional American country and folk, as well as Irish and reggae.
Get Cosy
"Charming" is the best way to describe Cosy Sheridan, and "quirky" is the best way to describe her music, like the opening track "Higher Financial Reform" from her new album The Horse King, on which she reminds people, "If we're going to make sense of higher finance we need to separate the men from the boys, we need a hand on the nozzle, someone menopausal who knows how to take away the toys. A simple little feature any third grade teacher already knows how to do. Boys and girls pay attention, and don't trust your pension, to someone younger than you."
PHOTO COURTESY OF COSY SHERIDAN AND TR
HEAR HER ROAR : Hear Cosy Sheridan and TR Richie play two SLOfolks concerts: Nov. 18 in Coalesce Bookstore and Nov. 19 at Castoro Cellars.
You can hear Cosy Sheridan at two SLOfolks concerts: Friday, Nov. 18, at 7 p.m. in Coalesce Bookstore ($20; call 772-2880) and Saturday, Nov. 19, at 7:30 p.m. Castoro Cellars ($20; 238-0725).
Sheridan's been called "one of the era's finest and most thoughtful singer-songwriters." Her arrival on the national stage at the 1992 Kerrville Folk Festival and Telluride Bluegrass Festival announced a rare new talent: She won the songwriting contests at both!
Now, nine albums later, she's continued to deliver wry, insightful, and topical songs that have been featured on Car Talk and Dr. Demento. She's appeared on The Jerry Lewis Muscular Dystrophy Telethon, The Putamayo Folk Festival at Carnegie Hall, and opened for Joan Rivers.
See Cosy Sheridan with TR Richie, and Dana & Susan Robinson.
Wake up, SLO Town!
Patrick Hayes of the Dead Volts is one of those quiet, behind-the-scenes music makers, the guy who invented the Twang N Bang shows, so when he sends me info about one of his new endeavors, I know it's going to be good.
"We're hosting two pretty damn great singer-songwriter guys at Creekside Brew on Saturday, Nov 19," he said. "They're on a duo-solo tour of the West Coast, so we're doing the acoustic thing with them. Michael Dean Damron of the wonderfully named I Can Lick Any Sonofabitch in the House has put out a few solo records already. Shane Sweeney has just put out his first solo album, The Finding Time, on Last Chance Records. Shane is in the somewhat unjustly named Two Cow Garage, which is probably the best rock'n'roll band out there right now. Like most great bands, they have thus far been ignored in SLO. Last time they played here the audience was me, Eddy Numbskull, and about four other people. Really too bad, as they are very well received elsewhere and have toured with Drive By Truckers, the Hold Steady, and a bunch of other splendid bands."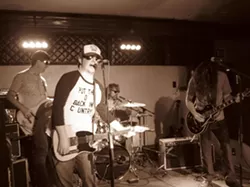 PHOTO BY CHAD NICHOL
LIVE WIRES : Dead Volts play Creekside Brew on Nov 19, with two excellent singer-songwriters (Michael Dean Damron and Shane Sweeney, not pictured).
The Dead Volts will be doing as close to an acoustic set as they can muster, and Cody St. James—the new guy in Mother Corn Shuckers—will open the show at 9 p.m.
The traveler
The music of Sedona-based Brandon Decker has been best described as "desert folk, white boy-gospel," and in October he released his third record, the seven-song EP Broken Belts, Broken Bones, which is why we'll have the pleasure of his company again when he tours through the county to promote the new record.
PHOTO BY AMY ROLLO
DESERT MAN : Sedona-based Decker plays Nov. 20 at Sculpterra, Nov. 21 at the Spot and Frog and Peach, and Nov. 22 at Kreuzberg.
Clocking more than 150 shows a year, he's a committed musician who's determined to spread his message to the masses, one gig at a time. "Not confining his shows to music clubs alone, Decker is known to play free shows in cafes, farmers markets, and on street corners alike," according to his press materials. "In the midst of traveling 50,000-plus miles in his Dodge Caravan, he has self-released three albums on his own local record label, Mescal Porch Records, and, in July, delivered his first-born son in his kitchen to boot. It's safe to say, Decker is amongst the hardest-working touring songwriters you've never heard of."
See him Sunday, Nov. 20 at the Songwriters at Play showcase at Sculpterra (1 p.m.; all ages; pass the hat), Frog and Peach on Monday, Nov. 21 (10 p.m.; 21-and-older; free), and Tuesday, Nov. 22 at the Songwriters at Play showcase at Kreuzberg (6:30 p.m.; all ages; pass the hat).
And while we're on the subject …
In addition to Decker, Steve Key's Songwriters at Play also has Claudia Russell play the Porch on Thursday, Nov. 17 (6:30 p.m.; all ages; pass the hat). The award-winning multi-instrumentalist along with husband Bruce Kaplan of the Folk Unlimited Orchestra will share the featured set with Wisconsin newcomer Katie Dahl.
PHOTO COURTESY OF THE SWINGIN DOORS
SONGWRITERS AT PLAY! : Ted Waterhouse and Ynana Rose of the Swingin' Doors are but two of many performers playing Nov. 21 at the Spot.
And on Monday, Nov. 21 (7 p.m.; all ages; $10), the Spot welcomes a Best Of concert. "A typical Songwriters at Play showcase has just one featured artist, but all of the performers will share the featured spotlight," said co-organizer Bonnie Nelson. "It's a celebration of local music, which includes Steve Bernal, Amber Cross, Gary Garrett, Shannon Savage, Karen Tyler, and Ted Waterhouse & Ynana Rose of the Swingin' Doors. Oh yeah, and Decker will make an appearance.
More music …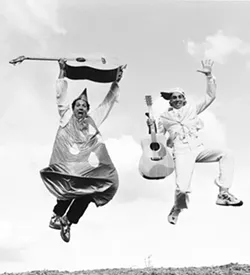 PHOTO COURTESY OF SLUGS N ROSES
GET SLUGGED! : Slugs and Roses play the SLO Down Pub on Nov. 17.
Doug Dirt and Airy Larry of the Banana Slug String Band are Slugs N Roses, and they'll be playing acoustic music of the Grateful Dead, Bob Dylan, Dan Hicks, Sly Stone, John Sebastion, and the Banana Slug String Band at 7 p.m. in the SLO Down Pub on Thursday, Nov. 17. With 30 years playing together, these guys have a lot of rabbits to pull out of their collective hats.
The California Honeydrops, who were once again voted Best Bay Area Band, hit Frog and Peach this Thursday, Nov. 17 (10 p.m.), where they'll perform blues, gospel, second line New Orleans jazz, and early R&B.
Three talented jazz musicians—Jim Conroy (guitarist and singer), James Bianchi (accordionist), and Clint Iwanicha (bass player)—will play jazz classics from Duke Ellington to Thelonius Monk at the Morro Bay Art Center on Friday, Nov. 18, from 7 to 8:30 p.m. Tickets (limited to 60 people and available at the door starting at 6:30 p.m.) are $10. CDs will be sold after the performance.
Adam Levine and Friends play Friday, Nov. 18 at D'Anbino Vineyards & Cellars Tasting Room (8 to 10 p.m.; $10 or $5 for club members). "As a studio musician, Adam Levine plays guitar, composes, and produces music for TV, film, and recording projects," according to concert organizers. He's the jazz guitar instructor for the National Guitar Workshops and performs with his eclectic group Human Nation.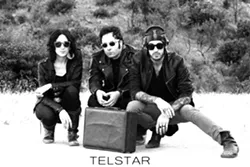 PHOTO COURTESY OF TELSTAR
ALL STARS : Comprised of members of the Mars Volta and Butch Walker and the Black Widows comes Telstar, playing Nov. 19 at Frog and Peach.
The Barflyz will entertain the crowd at D'Anbino on Saturday, Nov. 19 (8 to 10 p.m.; $10 or $5 for club members). This cabaret-style quintet features seasoned professional musicians who perform with the biggest names in the business.
The LookOut Kids, which features Travis Warren of Blind Melon, plays the Frog and Peach on Saturday, Nov. 19, with another L.A.-based band called Telstar, a retro rock band fronted by Eva Gardner (original bass player in the Mars Volta, Pink, and Veruca Salt) and Chris Unck (Butch Walker and the Black Widows). This act has a real distinctive and fun sound—British Invasion meets biker bar rock.
On Sunday, Nov. 20, the Famous Jazz Artist Series at the Hamlet celebrates its 20th anniversary. Since the series began in November of 1991, there have been more than 500 concerts featuring some of the greatest jazz musicians in the world. For this anniversary concert, the featured artist will be former Count Basie trumpeter Bob Summers, accompanied by Luther Hughes on bass and Darrell Voss on drums. Series co-producers Charlie and Sandi Shoemake will also appear. There's a 4 p.m. show for $15, a 7:15 p.m. show for $12, or see both for $20 (927-0567).

Keep up with Glen Starkey via twitter at twitter.com/glenstarkey, friend him at Myspace.com/glenstarkey, or contact him at gstarkey@newtimesslo.com.