New Times What is the ultimate in holiday music?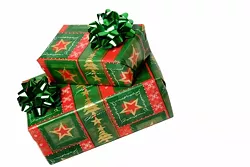 GET YOUR DÉCOR ON: New Times talked with local experts about holiday music, movies, and decorations. Below find inspiration, gift ideas, and a "think outside the box" approach to all that is Christmas.
Boo Boo Records Assistant Manager and counter jockey Frank Hayes The classics—the Louis Armstrongs, the Dean Martins, the Bing Crosbys. Those are the ones that you have heard all of your life. They are filled with the holidays. You can have new artists rehashing the same old Christmas songs, but it's not the same as hearing Bing Crosby sing White Christmas.
New Times Exactly. During the holiday season are people buying holiday CDs?
Hayes Oh, absolutely. What I notice is people coming in and saying, "My grandmother used to play this record all of the time, and I'm looking for it."
New Times Break it down: what CDs do you recommend for Christmas Eve, Christmas Day, and New Year's Eve?
Hayes For Christmas Eve there is a great selection called Hipsters' Holiday. It is a fantastic collection: it has Eartha Kitt's "Santa Baby" and Louis Armstrong. It's more on the jazzier side. Michael Buble's EP Let it Snow is fantastic for Christmas Eve. For Christmas Day I would recommend the Ultra Lounge Christmas Cocktails—there are three parts to those. Vince Guaraldi, The Charlie Brown Christmas, is always great background music. Another great album that's perfect for Christmas Day is the Blue Hawaiians, Christmas on The Big Island. It's loungey, real smooth, not really distracting because Christmas Day you are spending time with family and you want the ambience, but you don't necessarily want to be distracted by it.
New Times New Year's? What are you rockin' out to?
Hayes Any great mix of classic songs. Eighties, nineties. You have your standards, like "Auld Lang Syne." Any party tunes would be perfect for New Year's. It's less of a holiday and more of a straight-up celebration.
New Times If Bing Crosby and Nat King Cole duked it out, who would win?
Hayes Bing. I mean, White Christmas.
Boo Boo's is located at 978 Monterey Ave. in SLO. 541-3181.
New Times What are folks renting during December?
Hollywood Video Manager Jason Forbes They seem to be focusing on the classics: A Christmas Story, A Christmas Carol, It's a Wonderful Life. But the dominant is Batman's The Dark Knight. It's crazy. And Mama Mia.
New Times What do you recommend to someone who seems undecided?
Forbes The classics, because that is what I enjoy. This year we received extra copies of all of the holiday classics. I do recommend The Ultimate Gift and I am David even though they are non-holiday films. Love Actually is popular around this time of year, too.
New Times White Christmas or Holiday Inn?
Forbes I haven't seen Holiday Inn and I haven't seen White Christmas in a long time.
Hollywood Video is located at 900 Rancho Parkway (near Festival Cinemas movie theater and Trader Joe's) in Arroyo Grande and they are open on Christmas. 481-8507.
New Times What does The Dollar Tree sell during the holiday season?
Dollar Tree Manager Rick Bell Christmas paper plates, napkins, decorations, gifts, the whole gamut.
New Times Is the holiday season your busiest time?
Bell Oh yes.
New Times What is your fastest selling item right now? Do you have any recommendations for customers?
Bell Anything in our seasonal line. We sell a lot of poinsettias and flowers, garlands [artificial]: That is probably the biggest thing people come to Dollar Tree for, along with gift wrap. Something you would find at Michael's but for only a dollar.
New Times Could someone decorate their home and tree for under $50?
Bell Oh, definitely. In fact, it's interesting because this year is the first year I learned that Dollar Tree has customers who have local businesses and even some people who have realized that they can decorate for $20-$30 and they don't have to worry about storing it all year. Especially if they're limited on space. They come in and purchase new decorations each year. Yes, you definitely can.
The Dollar Tree is located at 1400 Grand Ave. in Arroyo Grande (in the Applebee's shopping center). 489-4268.
---
Christy Heron isn't going home for Christmas and is kinda sad. Give her an IV of eggnog at cheron@newtimesslo.com.