It's 8 p.m. on a Monday night in Paul Brown's Laguna Lake house, and it looks like a nuclear bomb blew up in his living room. Couches are upended, furniture smashed against walls. Cords and cables crisscross the floor like some impossible-to-follow treasure map.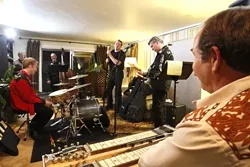 PHOTO BY STEVE E. MILLER
PRACTICE MAKES PERFECT : The Bangin' 58's work through some songs in singer Paul Brown's living room.
# The author of this disaster is SLO City Councilmember and Mother's Tavern owner Paul Brown, who looks remarkably like Bob Parr, the father of the animated family from the 2004 film The Incredibles. He's all broad forehead and chin, with his features eyes, nose, and mouth crowded into the middle of his face.
Packed into the cramped space are Brown and five other men with equipment set up around them: amps and speakers everywhere a drum kit on an area rug a standup bass a fiddle a guitar a pedal steel. In the center of it all is Brown, the hulking 6-foot-6-inch giant whose thick head, with hair piled into a pompadour, nearly reaches the ceiling. To top it off, Brown's wife Jane hovers in the background taking requests for water while her five-month-old Australian shepherd Theodore sniffs around the barely contained chaos.
Soon the guitarist begins to count off, moving the neck of his ice-blue Telecaster in time with his beat, all the other men watching intently, counting along, and then kapow! The six move as one entity, ripping into a western swing song that plays out like a sonic ballet, fiddle dancing with guitar, pedal steel pirouetting around a bass line, drums chugging across the song like a runaway freight train. Just then Brown, a sloppy grin on his face, launches into the lyrics of Wayne Hancock's "Juke Joint Jumping": Well the stars are shining in the East Texas air, and another 15 minutes and I'm gonna be there. It's been a long drive, but everything's gonna be all right. I'm on the Gladewater Highway going juke joint jumping tonight.
It's just another band practice night at Brown's house, where for the past four months he's been putting his new band, The Bangin' 58's, through its paces. Right about now you're probably thinking, "The Bangin' 58's? Never heard of them."
You're right. You haven't.
They don't have any recordings. They've won no awards. They've never even played a single freaking gig in public yet! So what in hell are they doing on the cover of New Times?

Weird genesis
Most bands start when a few likeminded individuals decide to get together and jam, noodle around a bit in the garage, see if there's a musical spark. After all, that's how The Beatles and The Rolling Stones got their start a bunch of adolescent nobodies playing music for the fun of it.
That's not the story of The Bangin' 58's.
"I've been thinking about doing this band for about five years," said Brown, who also helms the successful jump blues act Sugar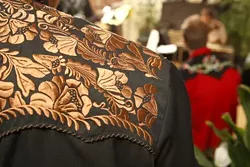 PHOTO BY STEVE E. MILLER
COWBOY UP : Band organizer Paul Brown searched online to buy embroidered western shirts for every band member to help form the as-yet-unknown-band's image.
# Daddy Swing Kings, a phat horn-driven ensemble that's played gigs at the famed Brown Derby in Hollywood, among other tony clubs.
"Starting [the new band] had a lot to do with timing," said Brown, a successful nightclub owner who for five years abandoned his business to join the National Guard so he could work with troubled kids at Camp San Luis' Grizzly Academy. "It seemed right last February, and we finally had our first practice in April."
The "we" were five high-caliber musicians Brown hired to play in his band, and believe me, it was his band right from the start. He picked the 80 songs the band was hired to learn (the list has since grown to 150), and he did something even more unorthodox: He paid the band members to practice. Each musician got $30 for showing up for three hours, which means for the past four months, Brown's been coughing up $150 every time they gathered.
"When people are getting paid to show up and practice, they feel like they're being valued, that they're getting compensated for their work," Brown said. "I think these guys would be involved even if they weren't getting paid [to practice], but I wanted them to know their time is being respected. As we've been getting closer to our first show, we've had to practice more often, and if they're getting paid, it's easier for them to explain to their wives why they're gone four nights a week."

The boys in the band
When New Times first attended a practice back in June, Brown had local music legends Jim Stromberg playing drums and Gary Drysdale on guitar. Both have played with a veritable who's who of local music ensembles, but the shaggy-haired Stromberg was more of a rock and jazz drummer. He eventually quit the band because, according to Brown, it didn't seem like a good fit. Accountant-looking Drysdale, on the other hand, was never going to be in the final band. He was basically standing in for Greg Timmons, The Bangin' 58's' eventual music director who had moved out of town four years ago to work in Seattle but was contacted by Brown, who offered him the job of general manager of Mother's Tavern so he'd return to town to help with the new band.
"I don't think this would work without Greg," Brown's quick to admit.
Timmons played with Monte Mills back in the day, not to mention tons of other bands. He's a world-class guitarist who's been in the music industry for decades.
PHOTO BY STEVE E. MILLER
THE MAGIC BOOK : Every member of The Bangin' 58's got a copy of the band's songbook, which has the lyrics and music notations for all 150 of the band's songs.
# Mother's Tavern's long-haired sound engineer Russell Green was the band's fiddler back then, but he was replaced when he decided to take a two-month job doing sound for some Euro band on a U.S. tour.
"I think Russell wants to be included," Brown said, "but you can't just leave for two months and expect everyone to wait for you. He understood that. The new plan is, he's going to be our soundman, and on some songs he'll come on stage to play or add a second fiddle from the sound booth."
Rail-thin blondy Matt Gittelson is the new drummer, the youngest guy in the B-58's but a veteran of bands like Peter Will, LuLu and the Cowtippers, and The Jerome Washington Express among others. Allan Dick, who for years played with Monte Mills and the Lucky Horseshoe Band, is the new fulltime fiddler. Dick looks like the only real cowboy in the band, a worn piece of leather who, though retired, still has a full head of hair and is yoked like a lean-mean high school wrestler.
The guys who have been there from the beginning are doughy, affable bassist Michael Dias and pedal steel player Bob Hamilton, whose bushy mustache makes him look like a police chief or a fire captain.
They might seem an unlikely combination for a band playing western swing, rockabilly, and cowpunk, but throw some western shirts on 'em and set 'em loose on stage and they'll unleash a tightly coiled set of the finest Country Gold AM Radio songs you haven't heard for half a century.

Those f@#*ing ads!
The first ads and posters began showing up in early August. It was just a big black field with a few words "Ask We Dare You" over what appeared to be a State Highway 58 sign with bullet holes and a tire track across it. If you looked closely at the bottom, there was a website, www.Bangin58s.com, but if you went to the site, all you got was the same damn ad and a place to leave a message or get on a mailing list.
A week later, new posters went up and almost identical ads appeared, reading "Who Are Those Guys?" And under the highway sign, "Two Big Shows, 9 P.M. & 11 P.M." But where? What date? What the f@#*!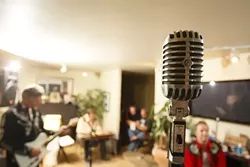 PHOTO BY STEVE E. MILLER
OLD SCHOOL : Singer Paul Brown belts out the band's tunes on a vintage-looking microphone, all part of the band's tightly controlled image.
# Last week, posters and ads revealed a bit more: "Badges We Don't Need No Stinkin' Badges," followed by "Two Big Shows, 9 P.M. & 11 P.M., Wednesdays, Starting Aug. 29th." Okay, better, but where? Where's the freaking show, dammit!
Well, this week you know. Every Wednesday night, The Bangin' 58's will play two shows at Mother's Tavern, and Brown, the "genius" behind the exasperating ad campaign, said he plans to keep the cover low: $5 at the door.
"I look at this band as an investment," Brown said, "which is why I've been willing to spend money up front and pay the guys to practice, because it's going to benefit me and my club in the long run. It's been 20 years since anyone has done music like this around here on a regular basis. I think the time is right."
True enough, the closest thing to The Bangin' 58's is Monte Mills and the Lucky Horseshoe Band, which used to have regular gigs at McLintock's in SLO. Those were wild drunken nights back in the '80s, with girls receiving free band T-shirts if they changed out of their tops behind a sheet on stage.
Brown thinks his band is waaaay better.
"This band has great musicianship, great tunes," he gushed. "We can mix it up with a western swing song and then a Johnny Cash tune. It's going to be more than just music. It's going to be a real show that engages the audience. For this thing to work, we've got to play songs people recognize, and once it takes off and people like it, we'll bring in some original tunes later."
As is it, Brown is already tweaking some of the cover songs' lyrics to fit his needs. On one, "Panhandle Shuffle," which lists off towns in the Texas panhandle, Brown has changed the song title to the "West Coast Shuffle" and replaced the Texas towns with California towns.

Paul Brown, the early years
Brown's early years seem to have perfectly prepared him for this moment. He grew up in Santa Ynez with a country-music-loving mother and a preacher father, so it was either gospel or country he heard at home.
PHOTO BY STEVE E. MILLER
TWIN ATTACK : Bob Hamilton's pedal steel guitar gives The Bangin' 58's an authentic western swing sound.
# "My mom has a story she likes to tell about when I was about four years old," Brown recalled. "We were in a grocery store and she was pushing me up and down the aisle in the cart, and up one aisle I'd be singing 'Give me cigarettes and whiskey and wild, wild women,' and then down the next aisle I'd break into 'Jesus loves me this I know, for the Bible tells me so.' I can't imagine what people thought of our family."
In high school, Brown got into the likes of Randy Travis and Dwight Yoakum.
"I didn't like country music, but I like that," he said. "Anything that was juke joint stuff, that got people revved up to have fun. For me, music has to first make me happy to want to perform it."
Today Brown mentions performers like Hank Williams III, who plays country music more in the vein of his iconic grandfather Hank Sr. than his father Hank Jr. Brown also like Wayne Hancock, another contemporary reviver of western swing.
When it came time to find the songs for The Bangin' 58's, Brown headed to Boo Boo Records and began buying up albums in earnest. He eventually made practice tapes for all the band members to listen to so they could get an idea of how the songs should sound, and Brown also created bound song lists with lyrics so the band members could make notations on what key to play in, who took solo leads, any time changes, and song intros and exits.

What's in a name?
Brown spent a lot of time racking his brain over the band name. At first he came up with the Rising Western Sons.
"The guys in the band said it made them sound so old," Brown laughed, "so I said, 'Well, if you don't play like an old man, maybe it won't matter.' Then I came up with Double Down. I looked it up on the Internet, and there were already three other bands called Double Down. Lame! Then for about 30 seconds I entertained the idea of Seats About 40, which is a reference to the B-52's song 'Love Shack.' Finally, I was like, 'What's this band really about?' It's the type of music you find in those AM stations in the middle of nowhere, those stations you run across by accident and you're stoked to find. I got to thinking about driving my Galaxy convertible to Vegas, and how Highway 58 goes from Santa Margarita all the way to Barstow, and the music we'd pick up along the way. Okay, the 58's, but the what 58's? Jumpin'? No, I thought, that sounds too much like a jump blues band name. The Rockin' 58's? That sounds too much like B.B. Secrist and His Rockin' 88s. The Rollin' 58's? No, that wasn't right either, and then I finally came up with The Bangin' 58's. Perfect!"
Brown actually contacted the same company that makes highway signs and paid to have them create two metal signs for him, which he promptly spray painted "Bangin'" across the top of, then took 'em out and ran over 'em and shot 'em up. Bang bang! Look at us, we're freaking rednecks! Yes, this band is armed and dangerous.

Ready for primetime
If you go to Mother's Tavern on Aug. 29 for the debut appearance of The Bangin' 58's, you'll be seeing a well-oiled machine. You'll be hearing mind-bending fiddling, dizzying pedal steel, rip-roaring guitar licks, all tacked down by a Swiss watch-like rhythm section a band so tight you'd be hard-pressed to slip a razorblade between the notes.
So what's this nobody band doing on the cover of New Times? Getting ready to blow your cowboy boots off, pard. Yee haw!

See the band
The Bangin' 58's, SLO County's newest (and probably only) rockin' western swing-abilly band, play every Wednesday night at Mother's Tavern, with shows at 9 and 11 p.m. The cover's $5. Visit www.Bangin58s.com for more info.
---
Glen Starkey wears Lone Ranger Underoos. Offer to be his Tonto at gstarkey@newtimesslo.com.