PHOTO COURTESY OF BURZYSNKI
BOARD HEADS : When: Thursday, March 18, 4 p.m. Where: Palm Theatre. Length: 85 min. Why: This documentary provides a comprehensive overview of most board sports practiced today: surfboarding, snowboarding, kiteboarding, windsurfing and wakeboarding. It is visually stunning, filled with shots of wind and waves, along with spectacular action shots. And there's a human interest angle as well, with stories of board heads who use their sport of choice to better the world.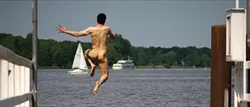 PHOTO COURTESY OF BOMBER
BOMBER : When: Sunday, March 14, 1 p.m. Where: Park Theatre. Length: 84 mins. Why: This feature film is subtle, nuanced, spectacularly acted, thoughtful, and uproariously funny. It is a road trip movie at its finest, about an English couple and their sensitive, artistic son, who they don't quite know what to do with.
Even the most dedicated cinephile would find it difficult to watch every single independent film presented by this year's San Luis Obispo International Film Festival, primarily because screenings take place at multiple locations simultaneously. New Times
is here to help you navigate the overwhelming array of options—documentary about an aviatrix flying legend or feature film that boasts both English accents and nudity? The following films come highly recommended.
PHOTO COURTESY OF BURZYSNKI
BURZYNSKI : When: Saturday, March 20, 12 p.m. Where: Downtown Cinemas. Length: 108 mins. Why: In the '70s biochemist Stanislaw Burzynski made a discovery that could completely change the way the medical industry fights cancer. Instead of assisting him as he began treating, and curing, cancer patients, the FDA began a campaign to destroy his practice. If you are interested in cancer treatments, in learning more about the FDA's priorities and loyalties, this is the documentary for you.
The San Luis Obispo International Film Festival runs March 12 to 21. Tickets to an individual screening cost $7 for students and $9 general admission. A movie fanatic pass costs $50 and provides admission to six screenings, a movie star pass costs $90 and provides admission to all screenings excluding special events, a $125 movie patron pass provides admission to all screenings and a limited number of special events, and a $250 movie mogul pass allows entry to all events and screenings. To purchase tickets and film passes visit slofilmfest.org.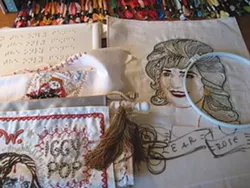 PHOTO COURTESY OF HANDMADE NATION
HANDMADE NATION : When: Thursday, March 18, 7 p.m. Where: Pavilion on the Lake. Length: 65 mins. Why: Watching a film about people who challenge the limits of creativity in their everyday lives is inherently inspiring. This cleverly made and contemporary documentary features artists and crafters who make just about anything you can imagine, both as a conscious effort to resist and subvert consumer culture and because they find it impossible to ignore their creative impulses. There's even a printmaking music video, which is really just about as cool as it gets.
Arts Editor Ashley Schwellenbach has a time machine, but she's not sharing. Send popcorn and candy to aschwellenbach@newtimesslo.com.