The sight and thrill of harnessing kinetic energy is enough to keep surfers chasing after waves for a lifetime.
While the beauty of the ocean's power and copper wire from the walls of a home seem like an unlikely combination, local surfer and electrician Cass Holuk found a unique way to repurpose materials formerly used to wire electrical outlets.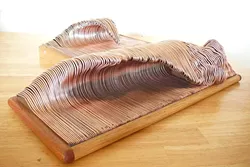 PHOTO BY CASS HOLUK
IN THE CURL: In nature, no two waves are ever exactly the same. Holuk captures this in his one-of-a-kind pieces.
"During the recession I didn't have a lot of work, so I had a lot of time on my hands," Holuk said. "I was bored out of my mind thinking, 'What can I make?'"
As a result of sheer boredom, Holuk gave birth to a distinctive form of upcycled wave art. By using copper wire found in wall outlets (he uses 12/2 Romex), Holuk creates wave structures. He's been creating freestanding sculptures for the last eight years. He is also the ecologically conscious owner of Cass Holuk Electric and sees no shortage of material for his craft. All the materials used for the sculptures once had a functional past life.
"One day, I was getting ready to recycle some wire," Holuk said. "It was so shiny and beautiful looking, I thought, 'Wow, there's something I could do with this.'" Holuk said.
A pile of used 12/2 Romex looks like trash—a mess of wires. To Cass, that chaotic entanglement was an opportunity. Once the rubber insulation is stripped away, a glistening wire of russet is revealed beneath that can be polished up. After the wire is straightened with a hammer, it's ready to be bent and manipulated to form different shapes.
PHOTO COURTESY OF CASS HOLUK
TOP TO BOTTOM: Cass Holuk surfs at his favorite spot, Jeffreys Bay in South Africa, 1990.
The presence of surfing in Holuk's life is obvious, from the boards resting in his yard to the surf footage playing off the VCR in the living room of his quaint Cayucos abode. After finishing high school in Atascadero, Holuk moved to Cayucos in 1978 so that he could be closer to the ocean. Before owning his electric business, Holuk worked nights as a bartender at various places in Morro Bay and The Cayucos Tavern so that he could utilize his days for surfing. So, finding motivation from the green, salty barrels that roll toward shore comes naturally for Holuk.
All of the different waves Holuk has surfed throughout the world and locally have influenced his artwork. Right Hander, for instance, is a sculpture of a right breaking wave that features the lip of the wave hitting the "water." Conversely, Left Hander mimics a left breaking wave and includes 193 different pieces of wire that stretch to a total of 189 feet and 4 inches.
Other pieces include bookends and a sculpture that resembles a reef break in Cayucos called Mouse Rock.
Holuk uses this tool called a jig that he made to form wires progressively one by one. The jig holds the copper in place, which helps to guide the wire into different shapes.
"Each wire is bent similarly but just a little bit different than the next," Holuk said.
The straightened and shined copper is then lined up and mounted onto a wooden platform until a peeling wave is visible.
"Working straight through it would probably take me 60 hours to complete one wave," Holuk said.
SURF-A-HOLUK: Cass Holuk's unique sculptures can be found for sale at the Cayucos Collective at 123 North Ocean Ave. Visit

cayucoscollective.com

for more information.
Holuk's artwork is driven and inspired through religion as well as surfing.
"I'm a Christian so the only reason I am able to do all of this is through God," Holuk said. "He gave me the hands and the skills to be able to do the things I do."
Holuk's art is currently for sale (prices range from about $300 to $400 per sculpture) and displayed at the Cayucos Collective art shop in downtown Cayucos.
"The guys over at the Collective were really stoked when I brought in my art," Holuk said. "They really motivated me to make more."
New Times Intern Kat Schuster encourages beachgoers not to try surfing—it's no fun at all. Send comments to Arts Editor Ryah Cooley at rcooley@newtimesslo.com.