Some stories, no matter how often retold, just never lose that sparkle. Rudyard Kipling's The Jungle Book is one of those tales.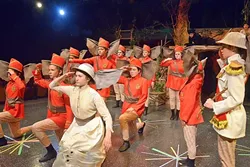 PHOTO COURTESY OF JAMIE FOSTER PHOTOGRAPHY
IN A MILITARY STYLE : The disciplined, marching troop of elephants led by Col. Hathi (Eliana Nunley, far right) stole the show on opening night of 'The Jungle Book' on July 15.
From the old-school Disney animated movie to the most recent CGI-laden film this year, we, like Mowgli, just can't seem to leave the jungle. Tigers, bears, and humans all sang and danced their way through the classic coming of age story at the SLO Little Theatre's opening night of The Jungle Book on July 15. About 20 young actors from the theater's Academy of Creative Theatre program graced the stage, many taking on multiple roles.
The stage transformed into an ivy ridden wilderness of multiple levels, perfect for climbing creatures. The show began in a way I hadn't seen before: with a portrayal of Kipling (Maren Ritterbuck) as a boy being picked on at boarding school and later getting notes from Professor Harris (Jed Authier) on a very preliminary draft of The Jungle Book. We're then taken into the very world Kipling created, where of course the young man-cub Mowgli's (Ritterbuck) jungle life is in danger. He's wanted (preferably dead) by the man-hating tiger Shere Khan (Elizabeth Tharp) because humans are the worst with our fire and guns. Even though sweet, young Mowgli would never hurt his jungle family, it's no longer safe for him to stay with his wolf pack, so the wise Bagheera (Samantha Mucciacito) offers to take the less-than-willing man-cub to a nearby man village.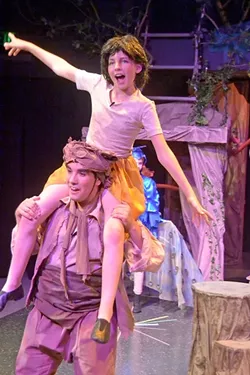 PHOTO COURTESY OF JAMIE FOSTER PHOTOGRAPHY
FORGET ABOUT YOUR WORRIES AND YOUR STRIFE : Going against Bagheera (Samantha Mucciacito) the panther's advice, Baloo the bear (Jed Authier) attempts to raise the man-cub Mowgli (Maren Ritterbuck) as his own bear cub.
The animal costumes are wonky and take on the spirit of their intended creatures, rather than going for the super detailed realistic approach. Think elephants in red British army uniforms with floppy gray fabric ears and wolves in long hooded cloaks (with pointy ears of course).
The easygoing, wise cracking Baloo (Authier, who ends his run with the Academy of Creative Theatre with The Jungle Book) provides a good comedic foil to the pristine and properly played Bagheera. Dance crazed, banana throwing monkeys attempt to kidnap Mowgli to learn the secrets of man, a group of Beatles-esque vultures explain the importance of friends, and a group of militaristic, marching elephants (a show favorite) led by the forever shouting in a funny voice Col. Hathi (Eliana Nunley) and his slightly out of step baby elephant son (Serafina Regusci) eventually come to our hero's aid.
Amid all the hijinks, Mowgli is kicking and screaming the whole way to the man village, reluctant to leave behind the only family he's ever known. That is, until they near the village and he is swiftly entranced and lured by the siren song of a girl cub who is fetching water from the river for her family. Without a thought of his former life, the dazed Mowgli follows the pretty girl back to the village, where he presumably goes on to become a man, get married, and have a family of his own. As Kipling writes, "But that is a story for grown-ups."
TIGERS, BEARS, AND HUMANS: OH MY!: 'The Jungle Book' is showing through July 31 at the SLO Little Theatre. Tickets range from $15 to $20. Visit

slolittletheatre.org

for tickets and more information.
Ryah Cooley's got the simple bare necessities at rcooley@newtimesslo.com.