The second member of a married couple discovered traveling in a car with their teenage daughter and a decomposing body has taken a plea deal.
Darwin Keith Alaskari, 59, pleaded no contest to one count of willful harm or injury to a child Oct. 31, according to records from San Luis Obispo County Superior Court. The plea deal dropped that charge from a felony to a misdemeanor, and dismissed a second misdemeanor charge for drug possession. The plea deal comes after proceedings in Alaskari's case were halted so he could undergo a mental health evaluation.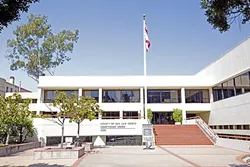 File Photo
A BIZZARE CASE A husband and wife who were found driving to Big Sur with their teenage daughter and decomposing body in their vehicle will get four years probation after making separate plea deals in SLO County Superior Court.
Alaskari and his wife, 50-year-old Sherri Lynn Boggess, were arrested in August after SLO County Sheriff's Office deputies discovered the decomposing body of 83-year-old Donald Eugene Cunningham wrapped in a sheet and black plastic in the back of an SUV the couple had been occupying in Cayucos. Inside, they found Cunningham's body, Alaskari, and Boggess. Investigators said they also found the couple's 13-year-old daughter in the vehicle along with narcotics and drug paraphernalia.
Investigators said that Cunningham was a longtime acquaintance of the couple, described as transients from the Bakersfield area, and indicated that they had been transporting his body to Big Sur or an out-of-state location for a burial.
Boggess took a similar plea deal in September, pleading no contest to one misdemeanor count of willful cruelty to a child. Court records indicated that Boggess was sentenced to four years of probation and will be required to take a mandatory parenting class. Alaskari will be sentenced on Nov. 30.
The results of an autopsy performed by SLO County's former contracted medical examiner Gary Walter stated that Cunningham died of a heart attack and that he suffered from coronary artery disease. A toxicology report revealed that Cunningham also had morphine in his system at the time of his death. Walter listed acute morphine toxicity as a "significant condition" that contributed to the Cunningham's death, but said it was not the underlying cause.
The county ceased using Walter's services in September after months of criticism over his handing of high-profile death investigations and revelations that he was facing possible disciplinary action from the California Medical Board in connection with a 2016 DUI arrest. Walter was replaced by Dr. Joye M. Carter, who now serves as the county's full-time forensic pathologist.