Ballet Theatre of SLO is performing the romantic holiday story of a true love who makes all other true loves look bad. That's right, the guy who famously gifted his love with golden rings, French hens, leaping lords, milking maids, calling birds, etc. while other men were out doing last-minute shopping has moved beyond simple holiday carols. He's now the subject of a holiday ballet.
PHOTO by BARRY GOYETTE
ONE LUCKY TRUE LOVE : Evelyn Kroeker dances the role of the young woman whose true love gives her a long and unusual list of gifts.
# This is the third year that Ballet Theatre of SLO will perform The Twelve Days of Christmas, and each year Artistic Director Theresa Slobodnik envisions her lavish tribute to the holidays a little differently. Ballet Theatre of SLO assumed responsibility for holiday entertainment when the Gilbert Reed Ballet dissolved, ending their annual tradition of hosting A Christmas Carol Ballet in conjunction with American Dance of SLO. The first year after Gilbert Reed retired, American Dance of SLO had a mournfully uneventful holiday season. Studio owner Lissa Beck decided that American Dance of SLO would participate in a holiday show the following year, and she came up with the concept of a show based on "The Twelve Days of Christmas." Slobodnik, an instructor at American Dance of SLO and artistic director of Ballet Theatre of SLO, wrote the script for the performance.
Because she's heard many different stories about the famous carol's origins, Slobodnik gave rein to her imagination, making the true love a sailor who's overseas during World War II.
"His true love was sad because she didn't think he'd be home for Christmas, but then he comes home for Christmas and he has all these gifts for her," Slobodnik described.
Prior to writing the script, Slobodnik had danced and taught dance but had never had the opportunity to contribute to a show's content. When it came to conceptualizing the days of Christmas through movement, Slobodnik put a lot of thought into the reasoning behind the gifts.
PHOTO by BARRY GOYETTE
A MERRY CAROL : Dancers of all ages and skill levels have worked together to create a winter spectacle that is undeniably sweet.
# "For a partridge in a pear tree, we have a pas de deux (dance for two people), and the guy is the pear tree and the girl is a partridge," Slobodnik said. "The thing about a partridge is that it can't fly very high, so the tree comes over and he keeps trying to help the partridge fly."
The true love wants to express that they can help one another, just as the tree helps the partridge fly and the partridge adorns the tree. The dance for the two turtle doves is also a pas de deux, meant to express the sailor's desire for peace after playing a role in the war.
The three French hens have been envisioned differently each year, and this year the dancers will be dressed as French maids. Four calling birds signify the importance of communication in a relationship. The five golden rings represent the proposal, and the sailor gives his love 11 pipers piping because one of the reasons his fiance e first loved him was because of his skill as a musician.
Each of the show's two acts will begin with a festive winter-themed dance, the first evoking a winter storm to Vivaldi's "Winter Concerto." The second act opens with Slobodnik's interpretation of Giacomo Meyerbeer's "Les Patineurs" (The Skaters). Slobodnik added "Les Patineurs" the second year because the first showing of The Twelve Days of Christmas was so successful. She incorporated the concept of skating into the show by having the returned sailor's fiance e throw him a skating party to welcome him home. And, of course, it wouldn't be a skating party unless Santa made an appearance, dancing to Lionel Hampton's "Boogie Woogie Santa Claus." Before the young true love couple can return to their present countdown, "Les Patineurs" explodes into a winter wonderland, complete with elves, carolers, romantic couples, a sleigh, reindeer, and the jolly boogie-woogie Saint Nick.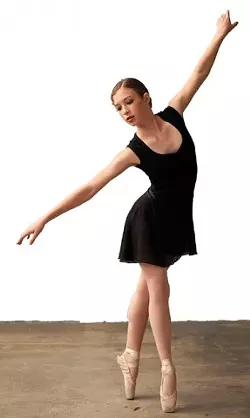 PHOTO by BARRY GOYETTE
ONE WOULD-BE SKATER : Wes Krukow is one half of a romantic couple in "Les Patineurs."
# The show will feature dancers of all ages and skill levels, all of whom are taking their roles in the performance seriously. While rehearsing, one of Slobodnik's younger classes urgently questioned whether their toes should be pointed or flexed while they made snow angels.
Financing a holiday extravaganza is no easy task, but Friendship Through Dance a nonprofit organization that benefits American Dance of SLO alleviates some of the costs. Also, Ballet Theatre of SLO and American Dance of SLO re-use costumes whenever possible. Older dancers pass down costumes to younger performers, just as younger dancers inherit roles when older performers take on more challenging ones.
Each act is about 45 minutes long with one intermission, the plot is easy to follow, and the winter pageantry should dazzle even the sternest Scrooge.
"I always tell the kids, 'This is the present you give to the audience,'" Slobodnik said.
---
Arts Editor Ashley Schwellenbach dances like she skates. Mock her lack of grace at aschwellenbach@newtimesslo.com.