It was August 1963, and I was a college junior. I had a summer job in New York City, and each day I took the commuter train with my father. On one such trip, I looked at the New York Post and was surprised to learn that college students had gone down south to help with Negro voter registration and literacy projects.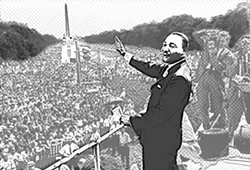 Later that week, my father told our family about a big march that would draw people from all over the country to Washington, D.C., to protest the government's lack of action in challenging segregation laws. My reaction was, "Let's go!"
My dad said we could join the local NAACP chapter on a bus. Worry began to gnaw at me: Would there by any other white people going? Would they be thinking, "I bet they have a Negro maid (we did)?" I kept these doubts to myself, not wanting to dampen my father's enthusiasm for the trip and besides, I really wanted to go.
When we arrived at the gathering place, there was a tangible buzz of excitement, and yes, we were the only white people. But right away, a tall man came over to greet us: "I'm Jim Johnson," he said, shaking my father's hand. "We're so glad to have you joining us on this important day. Now let me introduce you to some other folks." And by the time we boarded the bus, we were on a first-name basis with the NAACP contingent.
At first, snoring was the only sound. But as we pulled out of the Holland Tunnel into New Jersey, we were amazed to see the highway lined with people waving signs: Go tell it on the mountain! God speed. We're with you in spirit. Freedom now! We shall overcome. My eyes watered. My throat choked up. I turned to look at my father, and he, too, was tearing up.
It was the same scene all along the route: New Jersey, Pennsylvania, Delaware, Maryland, and on into D.C. Signs, waving, cheering. If there was opposition, and I knew there must be, it wasn't visible that morning, just this groundswell of togetherness, the coming together of a country that had been through so much violence in the past decade.
When we got close to the Washington Monument, the streets were jammed with buses from all over the country. Our NAACP group settled in one grassy spot, and spent the day talking, eating, and listening to many, many speeches. The atmosphere was a mixture of carnival and church. People sang and were sung to by Mahalia Jackson, among others. Such civil rights leaders as Whitney Young, Roy Wilkins, and John L. Lewis spoke, and the marchers responded with clapping, foot stamping, and cheers. Vendors sold pop and hot dogs.
Late in the afternoon, I was thirsty and left our group to buy a Coke, and also to get an idea of who was at the March: labor unions; men and women neatly dressed in work clothes, and others in their Sunday best; farm kids from the South wearing overalls; college kids; old people; Negroes, whites, and Native Americans.
Sipping my Coke, I caught the sound of a resonant voice. Many times the speaker was interrupted by shouts of "That's right! You tell them!" But when Dr. Martin Luther King began to speak of his own children and of future generations, there was silence.
"I have a dream that one day on the red hills of Georgia, the sons of former slaves and the sons of former slave owners will be able to sit down together at the table of brotherhood. I have a dream my four little children will one day live in a nation where they will not be judged by the color of their skin but by the contents of their character. I have a dream today ... ."
The beauty of his words and his voice stunned me. I have to admit that I cried, and I wasn't alone. I made my way back to our group and joined hands with them as we sang the Civil Rights Movement's anthem: "We shall overcome, we shall overcome, we shall overcome someday. Deep in my heart, I do believe, we shall overcome someday."
This wasn't the first time I'd sung the song of hope, and it wasn't the last. It was, however, the one occasion in which the "we" wasn't only the assembled thousands at the Washington Monument, not only the many people who had lined the highway to cheer us on, but every person in the U.S.A. who knew what was right and what had to be done. And that felt like a whole.
---
Judith Bernstein is a Paso Robles resident. Send comments to the editor at econnolly@newtimesslo.com.
-- Judith Bernstein - Arroyo Grande
-- Judith Bernstein - Arroyo Grande
-- Judith Bernstein - Arroyo Grande