PHOTO BY BRIAN P. LAWLER
LEADER OF THE PACK: Music Director Scott Yoo is both a renowned conductor and performer. He began playing violin at age 3 and has since conducted all over the world, in places as varied as Chicago, London, Mexico, and Japan.
Back in January, Slate magazine made a bold declaration: "Classical music in America is dead."
The author's reasons included the genre's niche appeal, lack of funding, and perceived inaccessibility, as well as the scourge of any self-respecting American: "fancy clothes." Yes, it would seem that classical music is now among the ranks of vaudeville and competitive walking as forms of obsolete entertainment in the United States.
But that's not entirely true.
Now in its 44th year, Festival Mozaic is not only defying extinction, it appears to be thriving. The Central Coast's celebration of music has been steadily rising in reputation and popularity since its founding in 1971. What originated as a strictly local and simple tribute to the works of master composer Wolfgang Amadeus Mozart has transformed, under the tutelage of music director Scott Yoo, into an international and increasingly diverse affair.
This summer's festival alone boasts 24 public events, featuring 64 musicians from five different countries, spanning 12 venues, and lasting 10 days. It's an impressive showing and, as Yoo told New Times, "This year is the strongest yet."
Indeed, the options for this year's program nearly overwhelm. If you like Bach, you can hear him in the halls of Mission San Luis Obispo de Tolosa, amid the scenic vistas of Shandon's Chapel Hill, or at an intimate dinner in a private Cambria home. If you like Beethoven, that's cool. He's there, too—in SLO, at the United Methodist Church, the Museum of Art, and at the Performing Arts Center. Even if classical music isn't your particular fancy, you can catch one of the Fringe performances and enjoy the eclectic beats of the Los Angeles Percussion Quartet or instrumental arrangements of Frank Zappa and the Grateful Dead.
Yes, there is a lot—a lot of music, a lot of people, and a lot of planning.
According to Executive Director Bettina Swigger, organizing an event of this caliber requires year-round planning.
"I find the San Luis audience to be sophisticated and open to new things, so we aim to surprise them," she said.
Discussions can begin as early as the previous summer, when both Swigger and Yoo chart the overarching goals and themes that will carry over into the piece selections and choice of featured artists for the next festival and their shorter WinterMezzo series.
PHOTO BY BRIAN P. LAWLER
BELLS ON A HILL : One of Festival Mozaic's many venues includes Shandon's picturesque Chapel Hill, just east of Paso Robles. The private, Mission-style building was constructed out of fragments from Hearst Castle and, on July 19, will feature the baroque music of Bach, Corelli, and Geminiani.
"Every year we try to do something a little different," Yoo said. "This year was around duality or musical mirrors, so we tried to program pieces where two actors either complement or compete against each other."
Enter Emily Daggett Smith and Katrina Walter.
Walter, a young flutist, was recruited—as were most of the artists for Festival Mozaic—by Yoo at another event for classical music.
"It's the life of a musician, we play all over," she said. "When I first came, they had me and the principal flutist play the Brandenburg Concerto. It was the most fun, and it's not usual to have such great players and such great people."
This summer will mark Walter's fourth with the festival, and she'll be playing alongside harpist Julia Smith Phillips as part of the Mozart performance at the mission. It's one of three Mozart pieces set for that evening that will showcase the kind of duality Yoo described. Another is Sinfonia Concertante featuring violinist Emily Daggett Smith.
"I love Mozart," Smith said. "And this is such a gorgeous piece. It's a dialogue between the violin and the viola, and it's really fun in that way, as the two instruments are talking to the orchestra."
Yes, Smith met Yoo at another festival. This one was in Seattle, though she'd already heard about his time spent teaching and conducting musicians in Colombia. And, like Walter, Smith exemplifies the type of young, upcoming, and enthusiastic performer cultivated by Yoo and Festival Mozaic in general.
"There's a real energy to this festival that many of the others don't have," festival donor Samantha Curran said. "There is a tremendous change that Scott and Bettina are bringing, with a lot more young people. You know, there's a saying: There are angels and assholes. Well, Scott leaves the assholes at home. The audience participates, questions are asked, and the musicians are just so open, nice, and accessible."
Participation, questions, accessibility, young people? These are not the usual markers of the classical music set. Despite that, many of the festival's participants agree that the genre retains a certain type of social stigma.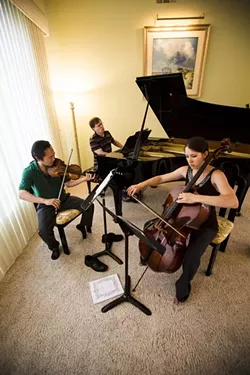 PHOTO BY HENRY BRUINGTON
THREE'S HARMONY: Scott Yoo (left), John Novacek (middle), and Madeleine Kabat (right) rehearse one of Russian composer Georgy Sviridov's piano trios at the home of festival sponsor Samantha Curran.
"I think it is just the culture of the concerts," Smith said. "I have been to countless performances where people have been shushed. I've recently started playing house concerts because you can see people having some fun. It's really not the music. The music—it is thrilling and, especially chamber music, is a visceral experience that has nothing to do with age."
In the choices of performers, types of events, and overall attitude, Festival Mozaic seems to actively reject this kind of stuffy atmosphere so often associated with the black-tie, symphony-going elite. The concerts aren't relegated to indoor orchestral halls; the organizers make an effort to highlight young, emerging talents; the musicians, directors, and events are tailored toward public openness; and, they make education a priority just as much as entertainment. With four types of events, ranging from intimate chamber music to outdoor picnics to free, behind-the-scenes rehearsals, this festival is the antithesis of the image classical music has developed in this country. They dare to be flexible, and they dare to be fun.
For as much as Festival Mozaic is about the music, it's also a sprawling and inclusive social event. Because this is a nonprofit organization with a "skeletal" crew of only three full-time staff members, the event relies heavily on the donations, aid, and willingness of individuals. And when you speak to these people—the fans, volunteers, staff, and performers—they can't help but gush about its cooperative and charitable character.
SLO county resident Libbie Agran first attended the event around 20 years ago when it was still a limited, Mozart-focused engagement.
"When Yoo became the director, it wasn't just the music that changed," Agran explained. "The music was always wonderful, but now it has this incredible mix of musicians. I think it's built a lot of bridges to other communities. Because of Scott's enthusiasm, you have all these new people, and you get to see all the sides of humanity. Conversations will just start, and there's just that sense of life, flow, and excitement."
Agran soon asked how she could help with the festival. She voluntarily agreed to become a donor and has increased her contributions every year since, due to what she cheerfully described as "the wonderful synergy of people."
There's a close-knit feel among both audience members and the performers that Swigger likens to "a summer camp for adults." A few days before the festival begins, the performers will fly in from their respective regions. For countertenor Nick Zammit, that's Texas. For violist Eriikka Nylund, that would be the far reaches of Stockholm. And for Katrina Walter, it's just up the 101 in the Bay Area. Once in town, they converge for a series of preliminary rehearsals and the added bonus of free time spent on the Central Coast.
PHOTO BY HENRY BRUINGTON
INTERNAL REFLECTION : Pianist John Novacek will be performing pieces by composers Dmitri Shostakovich and Georgy Sviridov as part of the festival's Notable Encounters series, which aim to inform and entertain with interactions between the musicians and the audience.
"It's almost like a vacation with a lot of work," Walter said. "It's such a pleasurable experience because we all hang out, go to lunch together, and the artists are fans of each other's work."
The feeling among the attendees is mutual. Curran began just as a casual patron. As a Juilliard-trained pianist, she first fell in love with the high-quality music, and she's since become not only one of the event's most dedicated donors, but also a board member and gracious host for rehearsals, dinners, and the occasional musician.
This is the kind of dedication you also find in the production of the event. There are more than 200 donors in addition to a legion of around 50 annual volunteers who schlep chairs, wine, merchandise, and sometimes instruments to the tops of hills and through the vaulted hallways across the disparate locations used during the festival. They go to these lengths—the fundraising, physical labor, and endless planning—because Festival Mozaic fosters a personal connection unlike many of its ilk.
"I feel lucky that we are in a community that supports a very fine orchestra, a fine festival, and a fine opera company," Yoo said. "You can count all the American cities that support all three of those, and we're very privileged that the people here are so committed to the arts. Nobody's out to make money. We don't discriminate on age, race, creed, or anything. Our goal is to bring the best concert to the most people."
Part of this goal includes an overall approach that embraces access, public education, and the novelty of change. Since his tenure began, Yoo has only repeated a piece once. And though there are some standards, he seems to prefer the rare and unusual. Take, for instance, the oboe d'amore. It's somewhere between an English horn and a standard oboe, but hardly anyone plays it. Robert Walters does, and Yoo has invited him to play Bach alongside Zammit as countertenor—a voice type usually associated with the castrati of Baroque-era opera. These are atypical choices and ones that have made Yoo's stewardship of the festival both dynamic and illuminating. He doesn't want these instruments, these artists, or this music to remain rare and unusual. He wants the festival to both electrify and explain.
Last year, Agran was at the final concert of Festival Mozaic at the Performing Arts Center. Seated in front of her was a group of kids, ranging in age from 10 to 13.

SUMMER SERENADE: Festival Mozaic runs July 17 through 27. For a full list of events and information regarding ticket prices, concert venues, and the music, go to festivalmozaic.com.
"I was blown away by these children," she said. "The were mesmerized by the music and the orchestra. They kept commenting on the players, and I thought how important it is to expose children to this type of music."
And this is why Festival Mozaic has continued for 44 years and grows stronger with each series. Along with more children, last year saw the event's audience increase in size by eight percent, while the attendance for the most recent WinterMezzo event broke records. The festival endures because those who produce, patronize, and perform know that the music endures.
"I play classical music because it is still one of the finest achievements of Western civilization," Yoo said. "It survives century after century. The stories that those pieces tell are still relevant and more resonant today than ever. The human story doesn't change because we have Twitter or Spotify. The stories are still the same and these pieces are more eloquent than most."
Jessica Peña swings to string quartets at jpena@newtimesslo.com.