I imagine that if your middle name were Anuheake'alaokalokelani you'd probably shorten it to, say, Anuhea, which is what the Hawaiian-born pop singer born Rylee Jenkins did. She was supposed to play SLO Brew a few months ago, but her entire tour bus got the flu and she had to cancel. Now the self-taught singer-songwriter and guitarist is returning to SLO Brew this week.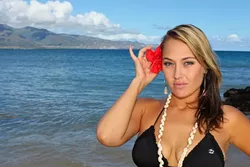 PHOTO COURTESY OF ANUHEA
ANUHEAKE'ALAOKALOKELANI : Don't worry. You can call Hawaiian pop singer by her short name, Anuhea, playing May 31 at SLO Brew.
Judging from her stuff on YouTube, she specializes in love songs, and the music itself frequently has a light reggae flavor to it. For instance, she collaborated with Jamaican singer Tarrus Riley on "Only Man in the World," which debuted at No. 6 on Billboard's World Music chart and peaked at No. 4 on the iTunes Reggae Chart.
Even though she has no major label support, she managed to sell more than 500,000 digital downloads and more than 100,000 physical albums, largely thanks to her incessant touring, playing around 200 shows a year. According to her biographical materials, she's currently the most played artist on Hawaiian radio.
PHOTO COURTESY OF EVA BENEKE
GUITARISTA! : Coalesce Bookstore and the Central Coast Guitar Society present a night of classical guitar with German-born guitarist Eva Beneke on May 31.
See Anuhea at SLO Brew on Friday, May 31 (doors at 7:30 p.m.; all ages; $13 presale or $15 at the door).
The Brew also will be host to the return of B-Side Players on Thursday, May 30 (doors at 8 p.m.; all ages; $10 presale or $12 at the door). The 10-piece Latin global funk act delivers soulful dance tunes filled with thumping percussion and sassy horns.
And on Saturday, June 1, you can see Poor Man's Poison (doors at 7 p.m.; 21-and-older; $10 presale or $12 at the door) with The Mother Corn Shuckers opening. That's a lot of down home countrified Americana for 10 buckaroos!
PHOTO COURTESY OF GRANT LANGSTON
BLUE STEEL! : Grant Langston and The Supermodels play Vines on the Marycrest on June 1.
More music …
Hop on over to Boo Boo Records at 5:30 p.m. on Thursday, May 30, to hear the Cadillac Angels perform a free in-store mini concert to promote their newest CD, Deluxe Accommodations. It's a tasty new collection of songs, many of which will remind listeners of Chris Isaak.
Coalesce Bookstore and the Central Coast Guitar Society present a night of classical guitar with German-born guitarist Eva Beneke on Friday, May 31, at 7 p.m. ($20; call 772-2880). Beneke was born in East Berlin and began her studies at the Berlin University of Arts with Martin Rennert. Her success there led her to the Franz Liszt Hochschule in Weimar to study with Thomas Müller-Pering, one of Germany's most influential guitarists. In 2012, Eva received a doctorate with honors from the University of Southern California in Los Angeles where she studied with Scott Tennant, Pepe Romero, and jazz-guitar legend Bruce Forman.
One of the world's best trumpet players, Mike Vax, will be the guest soloist for Cal Poly's Jazz Night at 8 p.m. Friday, May 31, in Harman Hall of the Performing Arts Center's Christopher Cohan Center. The Stan Kenton Orchestra, the Navy Commodores, the Army Jazz Ambassadors, and the Clark Terry Big Band are but four of the ensembles in which he's been a featured soloist. He's so in demand, in fact, that he's appeared on 75 albums and played with the likes of Freddie Hubbard, Don Ellis, Louie Bellson, and Gene Krupa. He's also recorded 20 of his own albums and leads several big bands and smaller jazz ensembles. Tickets cost $12 or $14 for the public and $9 or $12 for senior citizens, students, and Jazz Federation members (call 756-4849).
Actor and stage director Josh Machamer will be the guest artist at the Cal Poly Symphony Spring Concert at 8 p.m. Saturday, June 1, in Harman Hall of the Performing Arts Center's Christopher Cohan Center. The university's 75-member symphony will perform "Music and Word," and two major works in the program will draw their inspiration from the art of storytelling. Machamer will narrate Sergei Prokofiev's "Peter and the Wolf." The symphony will also perform "Scheherazade," a masterwork by Nikolai Rimsky-Korsakov. Tickets cost $12 and $14 for the public and $9 and $12 for senior citizens and students (call 756-4849). 

Joe & Vicki Price, a husband and wife blues duo, play Friday, May 31, at D'Anbino Tasting Room, bringing an 8 p.m. show of upbeat, straightforward blues ($10 admission; $5 for Record Club members).
Grant Langston and The Supermodels play Saturday, June 1 (1 p.m.; all ages; free), at Vines on the Marycrest. Langston grew up in Hartselle, Alabama, listening to the likes of Hank Williams Jr., Jerry Reed, Conway Twitty, Merle Haggard, and gospel quartets. He moved to Los Angeles and released his first album, All This and Pecan Pie, in 2000. Since then, he's released five more and toured the United States and Europe. One of his songs just appeared on HBO's True Blood. Special guests include Don Lampson, John Roy Zat, and Roscoe Wyatt.
PHOTO COURTESY OF RICHIE BEGIN
RICHIE'S RETURN : After a 34-year absence, former Park Hotel front man Richie Begin has returned to the area and will play June 1 at D'Anbino's Tasting Room.
If you remember the Park Hotel Band that was popular in SLO in the early to mid-'70s, then you go back further than me. Its founder and singer Richie Begin recently returned to the Central Coast after a 34-year absence. "Hey, I wrote a song and played drums on Monte Mills' debut album," Begin revealed. "My song was called 'Get Outta My Way!' Park Hotel played almost every Central Coast saloon and outdoor concert from SLO to Cambria and back. Aethel Red's was our headquarters, the Irishman, Marsh Street Annex." Nope, I don't remember any of those places. "I spent the next 35 years in Santa Cruz as entertainment columnist for Good Times magazine, and lead singer and leader of the Cool Jerks, a nine-piece funk band that headlined Bay Area clubs and Tahoe casinos." You can check out Begin on Saturday, June 1, when he plays a free 2 p.m. show at D'Anbino Tasting Room.
If you want to get some late-night dancing in, Novo Restaurant and Lounge is launching a summer late-night lounge on Friday and Saturday, starting Saturday, June 1. Called Beleza Nights at Novo, the restaurant will morph into a club from 10 p.m. to 1 a.m. and feature outdoor DJs, a dance floor, two bars, bottle service, and a late-night food menu. "As downtown San Luis Obispo continues to seek its identity in late-night entertainment, Novo believes it can provide a caliber like no other by combining a classy social environment, great food, and enjoyable music with beautiful surroundings," said the restaurant's GM, James Borland. "I can't wait to see a whole new crowd in downtown SLO and experience the excitement in seeing people laughing, eating, drinking, and genuinely enjoying each other's company at Beleza Nights." Local DJs Malik Miko and Manuel Barba will be spinning.
Tune into Coast to Coast radio on Saturday, June 1, from 10 p.m. to midnight and you'll hear Grover Beach resident Merrell Fankhauser talking about his new album Area 51 Suite. "This is a big break as they have close to 4 million listeners, so a lot more people will hear about Area 51 Suite!" Fankhauser said.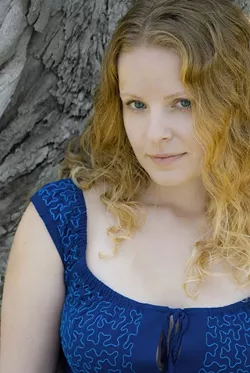 PHOTO COURTESY OF ALICE WALLACE
TAKING THE LEAP : Alice Wallace has quit her job and committed to music full time. See her June 2 at Sculpterra Winery.
Lynne "Clide" Holcombe of South Carolina is touring with her new album Songs From a Book of Memories, playing at Sculpterra Winery on Sunday, June 2 (1 p.m.; all ages; free). "My music consists of experimental, nostalgic, and often whimsical Americana music based out of the foothills of the Blue Ridge Mountains in South Carolina," Holcombe wrote in an e-mail. "Banjos, ballads, and a bit of bluegrass. I'll be traveling as a duo at the time." Orange County-based singer-songwriter Alice Wallace will also perform. "I've had a pretty big year, as I recently quit my full-time job to concentrate on my music career," Wallace said. "So I've been playing shows non-stop since March, and this summer will only prove to get even busier with tours scheduled as far as Colorado and Wyoming. I'm excited to be coming back to the Central Coast."
Zongo All-Stars, voted Best Local Band in the New Times reader poll this year, plays the Baywood June*Fest on Sunday, June 2 (2 to 7:30 p.m.), with Erin Inglish, Café Musique, and the Cayucos Elementary Steel Drum Band. The free show happens at the Back Bay Inn, and food and beverages will be available for purchase from the Back Bay Café and Baywood Pizza (no outside food and beverages allowed).
Cal Poly's a cappella ensemble Take It SLO presents its spring concert at 2 and 6 p.m. Sunday, June 2, in Room 218 of the Davidson Music Center on campus. The 10-member student ensemble will sing popular songs arranged by the students, including selections from the group's latest CD, which will be available for sale at the concerts. Admission at the door is $7 for the public and $5 for students.
The outdoor music season is upon us, and the Grover Beach Parks & Rec department is entering the 10th year of its Sizzlin' Summer Concert Series and Farmers Market on Sunday, June 2, in Ramona Garden Park from 3 to 6 p.m. Critical Mass kicks off the series.
Harpist Aurora Denny will present a concert of favorite selections from around the world, including traditional Celtic tunes, classical selections, and lively Latin American pieces, on Sunday, June 2, at 5 p.m. in St James Church (14th and Oak streets, Paso Robles). Stay for a reception after the event and meet Denny and her harp!
The Painted Sky Concert series presents Jude Johnstone & Her Band in an intimate concert on Sunday, June 2, at 7:30 p.m. in the Harmony-based recording studio. Johnstone's songs have been recorded by the likes of Bonnie Raitt, Johnny Cash, and Trisha Yearwood, but she's a very fine performer in her own right. The evening celebrates the release of Shatter, her newest recording. Rodney Crowell said of the new album, "Jude Johnstone examines heartbreak and loss with such tender resignation that I wept in acknowledgement of its artful simplicity. A lesson in melodic grace delivered by as fine a singer-songwriter as any I know." Tickets cost $20 at Boo Boo Records, Cambria Music Box Shoppe, or by calling 927-8330.
Nathan Fox plays Bon Temps Creole Café on Monday, June 3 (6:30 p.m.; all ages; free). The Berklee College grad says his songs encompass these three words: feel, love, and soul.
On Tuesday, June 4, Ian McFeron returns for a free Frog and Peach show at 8:30 p.m. McFeron is touring in support of his new album Time Will Take You, which was produced by Doug Lancio (Patty Griffin). The College of Music grad has placed his music in several films, and his most recent CD is I'm All Done. This is the Seattle-based performer's seventh studio record, and it includes two of Ryan Adams' Cardinals (drummer Brad Pemberton and pedal steel player Jon Graboff), as well as Nashville and Seattle players Micah Hulscher on piano and organ, fiddler and harmony vocalist Alisa Milner, and bassist and harmony vocalist Norman Baker.
The Cal Poly Music Department student production ensemble RSVP will stage productions of "RSVP XVIII: Jonah's" at 8 p.m. Tuesday and Thursday, June 4 and 6, in the Performing Arts Center Pavilion. 

This is the 18th season of the transmedia series "celebrating electroacoustic diversity and compositional risk," according to press materials. "Transmedia refers to storytelling in the digital age, weaving together separate plot threads by way of traditional and new media outlets." Tickets cost $14 (call 756-4849). 

∆
Keep up with Glen Starkey via twitter at twitter.com/glenstarkey, friend him at facebook.com/glenstarkey or myspace.com/glenstarkey, or contact him at gstarkey@newtimesslo.com.