---
ST. PADDY'S DAY, 5:30 A.M.
A line of 200 people had gathered by 5:30 a.m., and those at its end waited until 9 a.m. to get into the 49-person-capacity bar.
#

PHOTO BY GLEN STARKEY
---
Ah, McCarthy's! Is there a dirtier, smellier, more rat-holish bar in all of Christendom? About 200 revelers four times capacity were lined up around the block by 5:30 a.m. on St. Paddy's Day to gain admittance into the popular SLO Town pub. Those at the end of the line finally managed to squeeze in about 9 a.m. as more line formed continuously behind them all day long, into the night, and up to the 2 a.m. closing time the next morning.
What accounts for this tenacity, this loyalty, this single-minded pursuit of camaraderie? What indeed!
McCarthy's is simply the most storied, best loved, most revered watering hole in downtown SLO. It's not the oldest that honor goes to Bull's. It's not the biggest that would be Downtown Brew. It's certainly not the most beautiful a toss-up between Mother's and Black Sheep. No, McCarthy's has that intangible something that attracts a certain clientele: the serious drinker.
Teetotalers among us scoff at the notion, dismiss these drunken few, condemn and judge. But the regulars of McCarthy's are shameless revelers. If you want to sit at home and watch TV, away with you, for life is short, and tonight (or this afternoon hell even this morning), we party!
And party they did. A group of eight men in matching green "Team Drunk" T-shirts were first in line on St. Paddy's Day, having closed the bar down the night before and when ushered out after "last call" simply turned around and got in line for the 6 a.m. "first call." Idiots? Perhaps, but let's give these eight their props as the hardest of the hardcore: Albert Dujos, Brian Treese, Jake Wackerman, Michael Wackerman, Dan McMonegal, Jeff "The General" Aranguena, Brian Corsiglia, and Cody Borden. We salute you!
We also salute longtime regulars such as DeAnn Troutner, she of knee socks and pixyish gray hair and relentless generosity and Dora Harter, who first came to McCarthy's in 1959 and started the bar's collection of horse figurines that collect dust along the shelf above the bar. Dora, who will turn 86 on April 1, was accompanied by her daughter Becky Murphy. Dora, we salute you!
We also salute those who came, conquered, and passed on fellows such as Duffy Wheaten, who tended bar at McCarthy's until he was 89. Duffy's familiar "What'll ya have, pal?" was a welcome sound, one honed from a lifetime of tending bar. He used to "do the circuit" back in the day: summers in Michigan and winters in Palm Springs. He'd load up his motorcycle and cross the country twice a year. He also dated Ava Gardner and made a delicious bloody mary both worthy of bragging, something Duffy never did.
The place's namesake, Joe McCarthy, a former professional wrestler who hit the mats under the moniker the Red Devil, began the bar around 1955 and passed in 2000. He had co-owned a place called The Gold Room, which sat where Ann's clothing store resides on the corner of Monterey and Morro streets. The Beehive Cafe was connected to the Gold Room, and patrons could grab a bite to eat and then enter the bar through an adjoining door. After a rift with his partner, Joe decided to open his own place. One Sunday, with the help of his patrons, he moved his bar up Monterey and into the Court Street location. A dozen or so men simply lifted the 20-foot bar and carried it up the street.
On Monday, March 19 of this year, at about noon, McCarthy's served its last drink at its 1019 Court St. location. Then a dozen or so men lifted the 20-foot bar top off the bar, hoisted it over their heads, and marched it down to its new location at 600 Marsh St. (stopping for drinks, of course, at Bull's, Frog and Peach, Marti's, Mothers, and The Library on the way bar moving is powerful thirsty work).
The new location, which should open in about two months, boasts double the occupancy of the old one (100 vs. 49), plus it will have a 30-capacity patio for smokers and al fresco drinkers. The question on everyone's tongue is, "Will it be the same?" The simple answer is, "No, of course not." But the real question should be, "Will the patrons be the same?" Here the answer is resounding: "Yes!" For McCarthy's enjoys a level of loyalty commanded by few establishments.
Simply put, McCarthy's is the real thing, and move or not, it will continue to sling drinks and provide a meeting place that transcends age, occupation, income, everything because everyone's welcome at McCarthy's.
Let's finish with an Irish toast: "Here's to a long life and a merry one. A quick death and an easy one. A pretty girl and an honest one. A cold beer and another one!"
---
VISIONARIES OR IDIOTS?
Team Drunk, a group of eight guys with matching T-shirts, were first in line on March 17, having closed the bar down after last call only to immediately line-up for admittance at 6 a.m.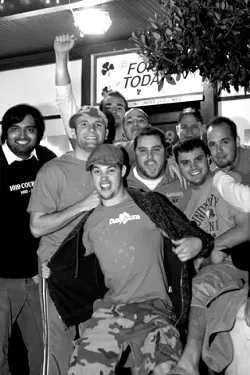 #
PHOTO BY GLEN STARKEY
---
THE END OF AN ERA
After more than five decades in the same location, McCarthy's was forced to move from Court Street when building owner Quaglino Properties refused to let the beloved bar return after a pending earthquake retrofit.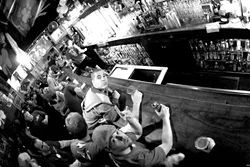 #
PHOTO BY JESSE ACOSTA
---
REVELERS REVEL
The good times rolled throughout the day on St. Paddy's, with hundreds of patrons funneling through the pub to get one last drink at the old location.
#
PHOTO BY GLEN STARKEY
---
OLD BUT NOT OUT
Dora Harter stopped in for one last drink. She first visited McCarthy's in 1959 and is credited with starting the bar's figurine horse collection.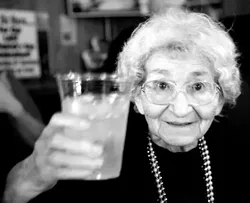 #
PHOTO BY JESSE ACOSTA
---
ONWARD AND UPWARD!
About a dozen employees and bar regulars hoisted the 20-foot bar on their shoulders and marched it to McCarthy's new location, opening at 600 Marsh St. in a couple months. Dozens of other patrons followed the procession, which stopped for beverages at Bull's, Frog and Peach, and The Library.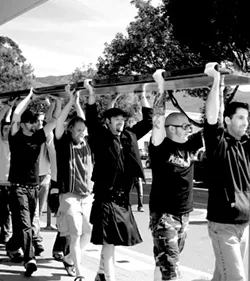 #
PHOTO BY GLEN STARKEY
---
****Jameson!.jpg in production DO file****
THE DRINK OF CHOICE McCarthy's sells more Jameson Irish Whisky than any other bar in the United States. More than 65 bottles were emptied on St. Paddy's Day alone.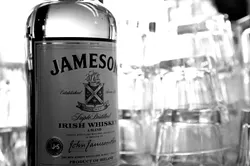 #
PHOTO BY JESSE ACOSTA
---
Glen Starkey has been a McCarthy's patron for 24 years. Buy him a round at gstarkey@newtimesslo.com.