Three members of the SLO County Board of Supervisors shot down plans to open a brick-and-mortar medical marijuana dispensary in Nipomo, citing concerns from local law enforcement over the facility's potential impact on crime.
"For me, I have to side with law enforcement," said 1st District Supervisor Frank Mecham, who joined Supervisors Lynn Compton and Debbie Arnold in denying a minor use permit for Ethnobotanica, a medical marijuana collective seeking to open a dispensary location on Hutton Road in Nipomo.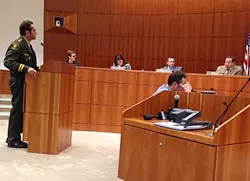 PHOTO BY PETER JOHNSON
WEED WORRIES: SLO County Sheriff Ian Parkinson addressed the Board of Supervisors at a Nov. 3 meeting, and urged them against allowing a medical marijuana dispensary in Nipomo. Parkinson, along with SLO DA Dan Dow, said the store could be a target for violent crime.
The comment from Mecham, who was thought to be the swing vote on the issue, was followed by audible groans and sighs from some of the dispensary's supporters in the audience at the board's Nov. 3 meeting.
The county Planning Commission approved a minor use permit for the planned 2,636-square-foot dispensary in July. Nipomo resident James Bigalow appealed that approval to the Board of Supervisors. His appeal raised concerns about the dispensary causing an increase in crime and an increase in traffic congestion. In comments to the supervisors, applicant Stephanie Kiel said she believed the business met all the regulatory requirements to operate the dispensary.
"We've met all the guidelines and ordinances," Kiel said.
Despite a county staff report advising the board to deny the appeal and uphold the commission's approval of the project, several individuals turned out in opposition to the facility, including SLO County Sheriff Ian Parkinson and SLO District Attorney Dan Dow.
Parkinson questioned his department's ability to respond in a timely manner to the area, located at the southernmost edge of the county, 1 mile from it border with the city of Santa Maria. The nearest sheriff's substation is located in Oceano, and response times could be as long as 13 to 15 minutes, he said.
"I do not think the location is something I can service," he said.
Parkinson also said he believed the facility could potentially draw criminals and cause increased crime, despite a detailed security plan that included a security guard, multiple security cameras, and an alarm system.
"Eventually those products and that cash has got to come in and come out," Parkinson said.
Dow voiced similar concerns about the site becoming a target for crime. He rattled of a series of five cases, which included violent home invasion robberies, assaults, even homicides, where the victims were involved with a dispensary business, and had large amounts of cash and marijuana.
"Places were marijuana is sold are targets for armed robberies and violent crime," he said.
However, when pressed by 2nd District Supervisor Bruce Gibson, both Dow and Parkinson stated that they had no data or statistical evidence to show that the crime rate would, in fact, increase should the dispensary open.
Third District Supervisor Adam Hill, who voted along with Gibson to deny the appeal, also doubted the claims made by Dow, Parkinson, and Santa Maria Police Chief Ralph Martin, who also spoke at the meeting. Hill implied that the opposition and worries about crime were attitudes held over from the country's "war on drugs," which he deemed a failure.
"I have not been convinced by anything presented about the crime aspect of this," Hill said.
The meeting also drew a number of individuals in favor of having the dispensary. That included Rebecca Larson, who said she previously used medical marijuana while she was suffering from PTSD. Larson, a Nipomo resident who lives in a housing tract nearest to the site in question, expressed doubt about the connection being made between the proposed dispensary and the problems and crime and traffic in Nipomo.
"You can talk about traffic and you can talk about crime … it's a situation that currently needs to be addressed," she said. "It has nothing to do with Ethnobotanica … the issues go beyond that."
In the end, the three supervisors still voted in favor of the appeal. Mecham, Arnold, and Compton, who's district includes Ethnobotanica's proposed location, mentioned the concerns brought forth by law enforcement, and opted to wait to see how recently passed state legislation that will regulate medical marijuana pans out.
"Really for me it boils down to our law enforcement, and supporting our law enforcement," Arnold said.
While Ethnobotanica can't appeal the decision any further with the county, there is the possibility that the matter could end up in court. Louis Koory, a local attorney who worked with Ethnobotanica, said the basis for the board's decision wouldn't stand up to scrutiny.
"This was a well orchestrated ambush using good-old-fashioned scare tactics," he said.
Hill made a similar comment at the meeting, raising the specter of the county facing possible legal action over the decision.
"I think we're gonna' get sued, and that may not be a bad thing," Hill said.