After months of fruitless negotiations and with the looming threat that their schedules at Sinsheimer Stadium would be decided by chance San Luis Obispo's two semipro baseball teams have reached an agreement, SLO Parks and Recreation Director Betsy Kiser announced.
"The results are, of course, wonderful," Kiser said in an interview,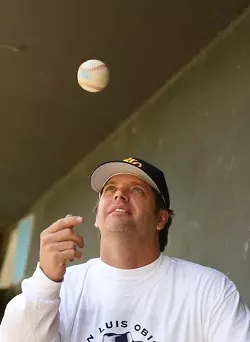 FILE PHOTO
COUNTING DOWN : Tim Golden, owner of the San Luis Obispo Blues, is one of three parties who reached an agreement for upcoming use of Sinsheimer Stadium. Opening day is three months away.
# "because I think a lottery would have been perceived as negative."
Although all sides agreed to the deal, none are necessarily as happy as Kiser.
"We're three months from opening day," said Tim Golden, owner of the San Luis Obispo Blues. "Good or bad, we have to move forward."
Under the agreement, the Blues who have taken the field at Sinsheimer for a dozen years and built a solid fan base along the way will get roughly the same number of game days there as they had last season.
They won't, however, be as easily able to schedule multi-game series with visiting teams. Golden considers that point to be a major obstacle as the Blues participate in the California Collegiate League. He's also worried that pre-season ticket sales might suffer.
The Rattlers, though not in the league this their first season, face the same problem in enticing teams to play, due to the late scheduling. But owner Dave Hite said he'd rather move on.
"I just want to play baseball," he said. "Let's play ball."
By all accounts, the agreement was reached partly because of concessions made by Dan Ainsworth, president of the Central Coast Men's Adult Baseball League, which also plays at Sinsheimer.
"Dan has been a champion in this situation," Hite said. "He has worked hard with both the Rattlers and the Blues."
Still, Ainsworth isn't 100 percent happy either.
"I'm very disappointed in what happened to them, the two semipro teams," he said.
First priority for use of the stadium goes to the youth baseball Babe Ruth League. That hasn't changed. Blues supporters had argued that teams with a history of use at the stadium should have continued to receive priority for scheduling.
At issue during the negotiations was whether the stadium was already full to capacity when the Rattlers who will be coached by former Major League Baseball player and one-time Blues coach Roy Howell asked for access to the stadium.
Under the mediated agreement, both semipro teams will have to play at least some games at less-than-optimal times, such as weekday mornings when it will be more difficult to attract fans.
"I think it was clever of the city, but I think it was dishonest," Golden said of the mediation process. Now, he said, city officials "don't ever have to admit that they caused a problem."
Though the matter is settled for the upcoming season, there's still a question about whether the area can support two semipro teams in the long term.
Rick Maye, a member of the Joint Use Committee that advises the city on stadium issues, has said he will propose that use of the stadium be put to a bid next season.
Kiser said she can't speculate about such matters until city officials see how the 2007 season works. A meeting with the JUC is expected in August.