PHOTO COURTESY OF STILL TIME
ALL GROWED UP : Still Time, formerly The New Longview, has released a killer new album that demonstrates a musical maturity beyond their college-age years. See them at a free in-store concert at Boo Boo Records on Nov. 1 and an album release party at Downtown Brew on Nov. 3.
# Five years ago, a couple of Cal Poly kids living in the Sierra Madre dorm started spending their free time playing cover songs together. It didn't take long for them to realize they sounded pretty good, and soon Dan Curcio and Chris "Haircut" Arntzen began writing original material and enlisting other musicians to put together a full band. The result was called Longview, and they quickly became a local favorite, playing gigs in front of enthusiastic crowds. They even recorded a demo and one of their songs, "High Tide," got picked up by a local radio station, becoming its most requested song!
The band even drew interest from some record labels, and one made an insulting offer of a 90/10 split. They'd front Longview $120,000 to record, promote, and distribute an album, and Longview would pay the money back from 10 percent of sales while the record company pocketed 90 percent and owned all rights to the album until it sold enough copies to recoup the investment. Only after that would Longview see any money. The band decided they'd be better off self-releasing their subsequent recordings.
Meanwhile, Longview learned that there was another Longview out there, so they changed their name to The New Longview, a sly nod to a scene from the spoof rockumentary This is Spinal Tap! in which one faux band member recalled his time in a band called The Originals until they discovered there was an original Originals, so they changed their name to The New Originals. Ha ha! Get it? The NEW originals?
Well, Longview got it, but now on the cusp of releasing their first "real" album and trying to gain legitimacy outside little ol' SLO Town, they consulted with a lawyer and discovered that just throwing the word "New" in front of their name might not be enough to keep them out of legal hot water if this other Longview decided to take action. And so I hereby decree that from now on Longview--New or otherwise--will forthwith be called Still Time, which takes its name from the title of a song on Longview's old demo album.
"In the past few years, I've been trying to understand the concept of time and how quickly it passes or, at times, stands still," Curcio said. "How is it that something that took place two years ago can seem like yesterday, whereas something that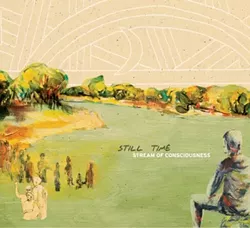 ALBUM ART COURTESY OF STILL TIME
STREAM OF CONSCIOUSNESS : The 14-track album by Still Time, formerly the New Longview, features emotive Ben Harper-like vocals and music that sounds like Dave Matthews and the Counting Crows.
# happened yesterday can seem like two years ago? I think Einstein put it best when he said, 'If you put your hand on a hot stove for a minute, it seems like an hour. Sit with a pretty girl for an hour, and it seems like a minute. That's relativity.' The phrase 'Still Time' is saying--or trying to say--two things at once: 1) That there is still time to become a better person, to fall in love, to learn, to travel, to find your passion 2) that we have the ability to stop time--make time stand still--by taking a step back from school, and work, and the stress of everyday life."
Hmm, sounds like somebody's all growed up, and Stream of Consciousness--a highly polished collection of 14 tracks--also represents the band's new maturity as artists. It features Curcio's distinctive voice, an alive, emotive thing that sounds not unlike Ben Harper's voice--elastic, soulful, potent. Curcio is backed with solid musicianship: Arntzen's intricately played solos, solid rhythm guitar playing and background vocals from Nick Bilich, and a tight bottom end provided by bassist Paul "Pablo" Smith-Stewart and drummer John Vucinich. There's also more than a half-dozen guest musicians, from Rain Fur Rent's violinist Tyson Leonard to underground harmonica hero T-Bone Steak.
The sonically diverse album moves from reggae-influenced upbeat tracks like "9 to 5," an ode to youth whose hooky chorus foolishly promises "We won't stop believing/ We'll be young always/ We know when it's time to be/ Working on a 12 pack instead of 9 to 5."
By the end of the album, it's clear that the lighthearted first half is prologue to the darker, more serious second half in which lyricist Curcio finds himself questioning America's "me first" mentality on "American Dream," and the band's music becomes a dark, swirling psychedelic thing on "People See." The band's real maturity is revealed in the album's last track, "The Fabulous Life": "We grew up believing nothing good in life is free./ All I saw was money when I turned on the TV./ Mama always asked me to go outside and play with friends/ But they'd be watching re-runs of Puff Daddy in his Benz./ Money and fame/ our ball and chain/ Stuck inside this prison/ Just for watching MTV."
"The theme of the album was kind of a long time coming as far as putting all those ideas together," Curcio said. "It's sort of a
PHOTO COURTESY OF MARIEE SIOUX
SOUNDS OF SIOUX : Mariee Sioux--shown here with Native American flute player Gentle Thunder, who appears on her new album--will bring her spiritually rich, lilting, and ethereal sounds to Tridosha Healing Center this Nov. 3.
# coming of age story. The first half of the album is pretty light, but then there's a shift, sort of like playtime is over and it's time to get serious. It's a lot like the college experience. When you start, it's you and friends hanging out and having fun drinking and carrying on, because--you know--Mommy and Daddy have your back and you don't have much to worry about. But eventually you wake up. There's a line in 'Uncle Sam's Waltz' that sums up the album for me: 'There's a real world beyond our American Dreams.' It's the idea that maybe I should put the beers down and take a look at the world beyond my own selfish existence."
Musically, the band sounds a lot like Dave Matthews or the Counting Crows--nice hooky elements to the songs, but a sort of improvisational jam band spirit. After all the band members finish up with Cal Poly, the plan is to hit the road and not stop touring until they've sold thousands of their self-released records and can inspire a major label to offer them a record deal that doesn't make them indentured servants. Judging from this new album, they have a good chance of doing just that. Sonically, Stream of Consciousness rivals any major label release.
"We did the album with Kip Stork at Avalon Digital Recording Studio, and he was really a mentor figure for us throughout the process. He's been in the industry for a while, did the whole L.A. thing for a while, and it wasn't his scene, which is one of the many reasons we get along and see things the same way. But he's extremely talented at what he does, which is why you hear that crisp and professional sound on the album. We loved working with him. If we were Ninja Turtles, he would definitely be Splinter," explained Curcio, lapsing into cartoon nerdism. "The mastering was done by Don C. Tyler of Precision Mastering in L.A., and he's worked with Beck, Cake, Bob Dylan, Elliot Smith, and others--never hurts to name drop a bit!"
Still Time will play a 6 p.m. free in-store performance at Boo Boo Records on Thursday, Nov. 1, but their really big show is their CD release party on Saturday, Nov. 3, at Downtown Brew. Tickets are $8 advance at the venue, $9 advance at Boo Boo's, or $10 at the door. The doors for this 21-and-older show open at 8 p.m. and Troppo will play a set followed by Still Time doing their Stream of Consciousness set (songs from the album, which will be sold that night for only $5!) followed by a costume change into '80s gear for a flashback to the '80s set of all covers like "Pour Some Sugar on Me," "Billie Jean," "Don't Stop Believing," and "The Theme to the Karate Kid." Hiya! Hey, Still Time may be grown up, but they still know how to have fun.
More music
De La Baha plays Saturday, Nov. 3, from 7:30 to 10:30 p.m. at the Inn at Morro Bay. This upbeat Latin jazz combo is perfect for mamboing, cha-chaing, and bolero dancing. Join vocalist Maite, pianist Larry Arone, bassist Clint Iwanicha, percussionist David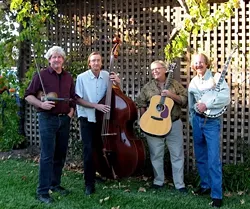 PHOTO COURTESY OF THE NEW FIVE CENTS
GOOD TIME MUSIC : The New Five Cents bring their good time sounds to The Red Barn Community Music Series on Nov. 3.
# Solis, and drummer Mike Raynor and shake it like you mean it.
Mariee Sioux--a former SLO resident--will bring her spiritually rich, lilting, and ethereal sounds to Tridosha Healing Center on Saturday, Nov. 3, at 8 p.m., where she'll be joined by Aaron Ross and Lee Bob Watson. On Faces in the Rocks, Sioux's tender new album, a fellow named Gentle Thunder adds Native American flutes to the singer's acoustic sound. Tickets are $8 for this all-ages show.
The Red Barn Community Music Series keeps the music going with The New Five Cents on Saturday, Nov. 3, at the Red Barn in the South Bay Community Park. The quartet has been plunking away since 1981, providing old time and good time music with Jim Dyer (guitar), Dave Sullivan (fiddle), Don Mohling (banjo), and Geert DeLange (bass). They've been invited to major festivals such as the Strawberry Music Festival, the Grass Valley Bluegrass Festival, and the popular Pinetop Festival in Arizona. There's a 6 p.m. potluck followed by a 7 p.m. concert. A $10 donation is requested at the door.
Steve Key got another West Coast Songwriters Competition lined up for 7 p.m. on Sunday, Nov. 4, at Linnaea's Cafe. The free showcase features local and out-of-town songwriters strutting their musical stuff for your listening pleasure.
Jazz guitarist Frank Potenza and his trio will be the next attraction at the Famous Jazz Artist Series at the Hamlet in Cambria on Sunday, Nov. 4. The Azica Record recording artist has been hailed for his mastery of both the blues and Brazilian styles of jazz. He'll be joined by local bass star Dylan Johnson and Bill Wysaske, an exciting new drummer from the L.A. jazz scene. Concert co-producers Charlie and Sandi Shoemake will also be on hand. There's a 4 p.m. set for $15, a 7:15 p.m. set for $12, or see both for $20. Call 927-0567 for reservations.
Williamsburg is one of the coolest neighborhoods in Brooklyn, and Parts & Labor is one of the coolest bands in Williamsburg. The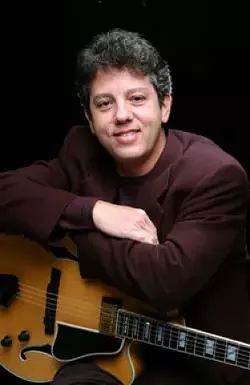 PHOTO COURTESY OF FRANK POTENZA
JAZZ MAN : Jazz guitarist Frank Potenza and his trio will be the next attraction at the Famous Jazz Artist Series at the Hamlet in Cambria on Nov. 4.
# revved up, swirling, indie rock act is, according to Pocket Productions promoter Graham Culbertson, "definitely one of the most energetic shows we have ever done. The band's gotten lots of press from independent magazines and brings a really cool brand of noise rock--[a] different show for us than usual." God Equals Genocide will open at the Monday, Nov. 5, show at 8 p.m. in the Tridosha Healing Center. Tickets are $8 for this all-ages show.
Surf's up when the Arch Dukes play on Tuesday, Nov. 6, at the Frog & Peach with an out-of-town band called Simmerhorn. The Dukes list the Ventures, Dick Dale & his Del-tones, Ramones, Minutemen, the Champs, the Surfaris, the Tornadoes, Man or Astroman?, the Arrows, Black Flag, Circle Jerks, Sublime, the Lively Ones, the Descendents, the Chantays, Davie Allen & Commanche 65, Sergio Mendez & Brazil 66, The Adolescents, Pavement, NOFX, David Lowery & Camper Van B, the Dead Milkmen, and the Beach Boys--among others--as influences. You can hear some new recordings from Avalon studios on their MySpace page at www.myspace.com/thearchdukes. Check it!
Cal Poly Arts has added another performance--on Wednesday, Nov. 7--of the sold-out Movin' Out show, a Tony Award-winning Broadway musical that was conceived, choreographed, and directed by Twyla Tharp, based on 24 classic songs by popular piano man Billy Joel. Told through Tharp's choreography and Joel's songs, the story chronicles five lifelong friends moving through two turbulent decades that change them--and the world around them--forever. "It's Still Rock and Roll to Me," "We Didn't Start the Fire," and "She's Got a Way" all come together to weave a musical backdrop for this dialogue-less visual feast. Call 745-2787 for tickets, from $56 to $68.
Music news
It's fundraising time at Cal Poly's on-campus radio station, KCPR 91.3 FM, which will hold its annual on-air auction from 10 a.m. to 5 p.m. Monday through Friday, Nov. 5 to 9. Listeners are invited to call in a bid on auction packages and items donated by businesses in SLO and Santa Barbara counties. There's always lots of cool stuff at ridiculously low prices, and supporting KCPR is a great cause. The station is an all-volunteer, student-run, nonprofit radio station that has broadcast a variety of music, fine arts, news, and public affairs programming to the SLO area since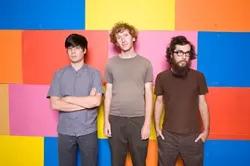 PHOTO COURTESY OF PARTS & LABOR
STRAIGHT OUTTA BROOKLYN : Parts & Labor is one of the coolest bands in Brooklyn's extra cool Williamsburg neighborhood, playing Nov. 5 at the Tridosha Healing Center.
# 1968, and the station depends on private donations to help fund a majority of its operating costs. Tune into 91.3 FM and call 295-9984 to bid on auction items!
Congratulations to local hard rocking band Ragg, which has been nominated for two music awards shows in Los Angeles this year! You can help them win by going online to the addresses below and voting for them. Support Ragg for the All Access Magazine Awards (to be held Nov. 2 at Hollywood's the Knitting Factory) by visiting www.allaccessmagazine.com/vote.php, where you should cast your vote for the following: No. 28--Best Female Vocalist, Rock--Debi Redd No. 33--Best Female Guitarist, Rock--Monique Grajeda No. 36--Best Rock Band--Ragg. You can also support Ragg for the Rock City Music Awards (to be held on Dec. 6 at Universal Walk B.B. Kings, where Ragg is scheduled to perform at the show). Visit vote.sparklit.com/web_poll.spark/1056429, scroll down to find Ragg, and vote, baby, vote.
It's the final curtain for the Community Concert Association, which has been promoting concerts locally since 1937, a time when finding quality live music in SLO was difficult, to say the least. That's when and why the Community Concert Association was formed, selling season subscriptions and using the money to book a series of concerts. A changing market in which quality performers now consider SLO Town a legitimate destination has made the Community Concert Association obsolete, so the nonprofit, all-volunteer organization decided to declare victory and retire from the field after this season, which begins on Friday, Nov. 2 (7:30 p.m., at the SLO PAC), with Viviana and Divas Latinas. Three more concerts follow: The Harry James Orchestra, world-class pianist Davide Cabassi, and finally the Chamber Orchestra Kremlin. There are still seats available. Call 756-2787 for tickets.
CD Reviews

Wooden Shjips--Wooden Shjips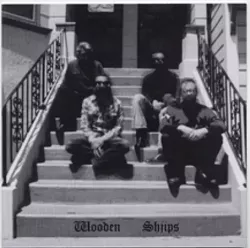 # Taking its name from the honored relic of the naval industry, San Francisco's Wooden Shjips (in this Internet search engine world, the inexplicable extra constant is probably a good thing) charts its course by the stars of a bygone era of psychedelic acid rock. Marrying the amateur looseness of garage rock with the free-form sonic exploration of psychedelia, Wooden Shjips rides a crest of plodding rhythms, fuzzed out guitars, and over-drowned reverb vocals into a territory where hypnotic, extended jams never left the FM dial. "We Ask You to Ride" sails with a driving motorik beat and spooky organ, and once the vocals peek through, they've churned up the ghost of Jim Morrisson's Doors. With each of the five tracks lengthening into longer and longer extended jams, by the time you reach the 10 minute "primitive trance" of closer "Shine Like Suns," you may feel the recovering drudge of pulling your sodden weight from a dance with the ocean.
I'm Not There--Original Soundtrack
# With his self-penned biography and a PBS-aired Martin Scorsese documentary, Bob Dylan is experiencing the attention rarely given to a icon whose heart is still beating. Now, with the arrival of Todd Haynes' loosely based biopic movie I'm Not There, Dylan's chameleon persona gets conceptualized with a multitude of voices and six separate faces. To accompany the film, Haynes has gathered more than three-dozen musicians, stretched over two CDs--from indie acts like Yo La Tengo, The Black Keys, and Sufjan Stevens, to more recognizable names like Richie Haven, Los Lobos, and Jack Johnson--to twist their own version of Dylan classics and lesser-known works. For the most part, it works wonderfully. Hearing My Morning Jacket's Jim James crooning "Goin' to Acapulco" instantly recalls the Band's assistance on the Basement Tapes, while Los Lobos' take on "Billy 1" adds the Tex-Mex flavor, perfectly suited for this Pat Garret & Billy the Kid selection. Fans and non-fans who've traditionally been turned-off by Dylan's warbled voice, both have something to celebrate.
-Malik Miko Thorne, of Boo Boo Records and KCBX's "Night Train."
Glen Starkey has a birthmark in the shape of number 668, making him the neighbor of the beast. Ask him to walk next door and borrow a cup of brimstone at gstarkey@newtimesslo.com.