No amount of wine can solve Paso's problems. Though nationwide popularity of the region's fermented grape drink helped fuel a development boom beginning in the '80s, the recent recession and an apparent lack of long-term planning have left the city struggling to provide basic services and maintain the infrastructure necessary to accommodate a population that's more than tripled in the last 30 years. Also, the water supply is dwindling, and the city can't access its allotted share from the Nacimiento pipeline until a treatment plant is built.
Since the recession, Paso Robles hasn't laid off any employees or cut wages, but the current council did implement an across-the-board attrition plan that would prevent department heads from replacing retirees unless the positions are deemed essential for public safety. Recreation services were reduced, and in February 2011, the council voted to shut down the public pool at Centennial Park, a move that limits opportunities for youth activities in the blistering summer heat.
Despite the stated intent to preserve public safety, the emergency services department is operating with vacancies in 6 1/2 full-time positions, and the police department is down 17 officers and one sergeant, with an interim chief leading operations.
In March, the department's controversial former chief, Lisa Solomon, resigned amid allegations of sexual harassment and implementing ticket quotas. She received a $250,000 severance package, and the city currently faces three lawsuits from officers claiming unfair retaliation after complaining of Solomon's misconduct.
Public works was hit hardest by attrition, with 23 authorized positions sitting vacant while the remaining staff struggles to comply with expensive state mandates and court orders requiring upgrades to the city's wastewater treatment plant and new sidewalks for handicap accessibility.
Paso Robles straddles the Salinas River, but all cross-town traffic is funneled over just three bridges, and members of the public and the municipality frequently describe the city's network of streets as a crumbling embarrassment resulting in serious safety concerns. If passed with just more than half of the vote, ballot measure E-12 will raise the local sales tax by one half of one percent. Council members have declared road maintenance as the money's main channel, but because it's a "general use" tax, they could potentially use it for anything—hiring staff, increasing pay, debt obligation, office supplies. Many residents have voiced opposition to the measure, insisting that the city should have drafted a specific use tax for needed road repairs, even though that would have required two thirds of the vote.
But amid all this turmoil and discord, seven men are seeking positions on the city's governing board, each claiming that he's the city's best hope for a better future. On Nov. 6, the ballot will include challengers Steven Martin and Jim Reed vying for council seats against incumbents Nick Gilman and Fred Strong. Jerry Jones is a qualified write-in candidate whose name won't appear on the ballot. As of press time, Mayor Picanco's only challenger is potential write-in Jeff Rougeot, who pulled papers on Sept. 26 but has yet to qualify. He has until Oct. 23 to collect nomination signatures and submit his declaration of candidacy.
Here's a closer look at each of them:
PHOTO BY STEVE E. MILLER
STEVEN MARTIN:
Steven Martin: the marketing man with a plan
Steven Martin is no stranger to Paso politics. He was a councilman for almost 10 years in the late '80s and early '90s, including a two-year stint as mayor. He told New Times that he left feeling somewhat unpopular, because he wanted to ensure development fees were ample enough to cover the long-term maintenance of the city's expanding infrastructure. At the time, the prevailing mentality preferred cutting construction costs to spur private investment in Paso Robles.
"We shouldn't be charging a dime more than it costs, but we shouldn't be cutting ourselves short either," he said.
Martin owns an advertising and public relations firm and has been working for the last several years on the San Luis Obispo County tourism board (the Visitors Conference Bureau) and as Atascadero's go-to public relations guy, spreading that city's happy news in an effort to attract tourism and economic development. He told New Times that city leaders in Atascadero are "waking up" and planning ahead. He hopes to bring that A-town ethic to his hometown of Paso Robles.
"What I don't see is people asking where we're going to be in 10 to 15 years," Martin said. "Just working on the crisis at hand is not the right way to go."
Martin said he'd like to see Paso Robles join forces with Templeton and Atascadero to promote the region's unique tourism opportunities, focusing on wine, ag tourism, and festivals that set the area apart from the rest of the county. Martin said that tourism is the driving force behind the city's economy, but there's plenty of room for a strong industrial sector as well, and he believes the desire to develop new businesses will return soon. When that happens, the city needs to be ready, with firm design standards in place, he said.
Before venturing into local politics, Martin was a reporter. He lamented that public officials are too often "savaged" by the media, a factor that dissuades many qualified citizens from seeking office. Eventually though, he wanted to do something himself instead of reporting on what others did.
"It was hard sometimes," he said. "[While in office], every talent God gave me was used."
If elected, Martin pledges to include maintenance costs and recreational programs in the city's long-term budget. Both efforts will reduce costs in the long run, he said, because the city won't have to foot the bill for complete road overhauls, and recreational opportunities will help keep kids out of trouble, reducing strain on the police force.
"I can't promise beaucoup programs the day after I take office, but it's certainly something I'd build into our plans," Martin said.
Mostly, Martin said he wants to establish a sense of accountability on the council. He acknowledged that the city needs more revenue and agreed with the idea of the half cent sales tax increase. But he didn't like how it was put to voters as a general use tax. Though it would be more difficult to pass a specific use tax for road maintenance, he said that would have been the right way to go.
"People feel like they've lost ownership of city hall," he said. "I want to create a feeling of accessibility."
Martin wouldn't comment on which departments or programs he would consider cutting if the measure fails or if financial conditions worsen. He said he'd first have to take a closer look at the city's spending details.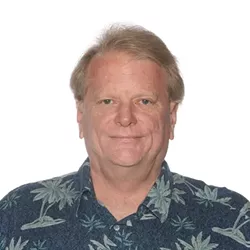 PHOTO COURTESY OF JIM REED
JIM REED:
Jim Reed: an outsider with perseverance
Self-educated, self-employed, and extremely busy, Jim Reed played phone tag and exchanged brief e-mails with New Times for several weeks, simply trying to schedule a half-hour interview for this article. The efforts failed, however, and it was decided in the end that questions answered over e-mail would have to suffice.
Reed has no political experience and proudly identifies himself as an outsider. However, he's been in constant contact with government codes and bureaucracy since he began his construction career more than three decades ago, starting off as a heating and air conditioning installer and quickly becoming a licensed contractor. In 1984, he lost his leg in a boating accident, but that didn't keep him from working. He learned everything he could about Computer Assisted Drawing, a technique that few people were using at the time, according to Reed.
He and his wife moved from Southern California to Paso Robles in 1987, hoping to raise their son in an area free from gang violence. He never thought he'd get into city civics, but frustration finally got the better of him.
"I found myself complaining about our current Paso Robles government bureaucracy too often not to at least get off the couch and make an effort to correct what I view as misguided priorities on the part of our city council," Reed wrote.
He criticized the city's spending habits, noting that the total budget was $32 million in 2003, a time when parks were pretty, pools were open, and streets were in decent shape. Total spending for 2011 was $54 million, with little to show for it, he wrote.
"I personally can't think of any of the recent important decisions made by our city council that I do agree with," Reed wrote. "That's why I'm running for office."
He proposed trimming every department except public safety and capital improvement, focusing his efforts on eliminating unnecessary office support staff. The city's only true duties are keeping citizens safe and providing infrastructure like roads and sewers. Everything else is negotiable, he wrote.
He opposed the half cent general tax, writing that the city should have trusted voters to pass a specific use tax for needed road repair. He said the best way to create a business-friendly environment and boost tax revenue is to charge fair, dependable fees for construction projects.
"The important thing is to keep the development fees and related impact fees consistent and collectible from every project or development," Reed wrote. "This city has a history of deciding fees and even developments on an almost schizophrenic basis over the years."
Nick Gilman: a contractor's best friend
Once upon a time, Paso Robles was a wild, western town known for its hot springs and burlesque bars, a place where nefarious outlaws like Jesse James could escape for a few weeks of solace. Of course, Councilman Nick Gilman isn't old enough to remember those days, but he could hardly call Paso Robles a city when he moved to town back in 1968. Coming from Los Angeles, Gilman said he quickly became enamored with the area's rough frontier flavor.
"This place was an old market town for a hundred years," he said. "That spirit doesn't just go away, and I'm kind of proud of that."
An architect by trade, Gilman said he's always been an advocate of slashing red tape and making it easier for private interests to get projects off the ground. He wasn't in the area for very long before venturing into city politics, first joining the planning commission in 1978, then the Redevelopment Agency, and finally the city council.
Gilman said the city needs to generate its own revenue through internal growth and can't depend on state and federal hand outs.
"If I represent anyone, it's the contractors," Gilman said.
He said that contractors did well for a number of years, but fees have climbed steadily upward in the last decade, driving workers elsewhere and costing the city potential revenue in the long run. While construction costs vary depending on the neighborhood, builders now pay an average of $55,000 in city fees for single-family homes, according to the planning department. Gilman said those fees limit a contractor's profit margin and discourage housing that's affordable for low and moderate income families, especially apartment complexes.
"[The average worker] can't buy a house and support a family here, and that still bugs me," Gilman said. "Fees are a big obstacle, and the city management and I will never see eye to eye on that."
While Gilman is appreciative of the wine industry's contributions, he said he prefers to drink scotch and would like to see the city diversify its economic interests instead of relying so heavily on tourism. He said that there's been little effort at city hall to create a local environment conducive to industry, and that's part of the reason he decided to run for re-election, a choice he almost didn't make.
"The council is disheartening at times," Gilman said. "You really learn how f'ing slow government is."
In city meetings, Gilman is known for setting hypothetical discussions aside and diving into the gritty details of projects and neighborhood plans. If he were to be re-elected, Gilman said his top priority would be maintaining the city's reserve fund, which currently holds $2.5 million but is forecasted to be cut in half for 2013, according to city budget reports. Gilman doesn't want to see the "extra" money wasted on unnecessarily expensive projects.
If faced with the prospect of more budget cuts, Gilman said he'd have to let park maintenance go by the wayside. It would hurt him to see the lush grass at City Park turn brown, he said, but he worried that slashing managerial salaries would only cause good department heads to leave the area in search of better pay, and he said there's just no room to slash administrative support any further. The last departments he'd be willing to shrink are emergency services and public works.
"Emergency services in Paso are right on the edge," Gilman said. "And frankly, our streets are an embarrassment."
PHOTO BY STEVE E. MILLER
FRED STRONG:
Fred Strong: Paso's state-money connection
Fred Strong looks sharp, always. With slicked-back hair, tailored suits, and arms perpetually loaded with stacks of government reports, his presence generally takes over any room with an aura that just exudes politician. But that's not always a bad thing.
Strong stepped on the political stage as a 17-year-old farm boy who helped draft the 18-page Agriculture Act that congress passed in 1954. Then he wrote the first civil rights act to ever be heard on Capitol Hill, though it didn't pass. Strong's subsequent laundry list of civic involvement includes work with the North County's first water committee (the Santa Margarita Advisory Council), the Coast Rail Coordinating Council, Integrated Waste Management Authority, and his current role as a Paso Robles councilman, which he parlayed into positions on the San Luis Obispo Council of Governments, the Regional Transit Authority, the League of Cities, and the National Association of Regional Councils. In 2010, he ran for a seat on the state assembly and lost.
"I never believed in collecting titles, but I do collect work," Strong said. "They send me to represent the city on all of these bodies, because they know I'll do my homework and actually show up. I come back knowing what the laws are and how they'll affect us."
Though he's been accused of being a robot by friends and colleagues, Strong said his ability to serve on multiple obscure boards is simply due to his restless nature and an abundance of free time now that he's retired from careers in the media and private land-use consulting. Most councilmen work day jobs and attend city meetings at night, but Strong is all civics all the time.
"They're playing games with the public," Strong said. "If you're in office, you better know the games or you're screwed."
He went over detailed graphs explaining how revenue makes its way to city coffers and what loopholes the state has tried to use to keep cities from accessing their fair shares, such as the gas tax money (allocated to municipal road maintenance) former Gov. Arnold Schwarzenegger seized to pay for state police, arguing that police help maintain roads by keeping them free of crime. Strong has been hammering the state for years to get that money back and has seen some success in the last few months, including $77,500 used for re-striping roads in Paso Robles
In an odd paradox, Strong claimed to oppose the principles that created the very boards he sits on and, in some cases, directs. He complained that state and federal governments take money away from local jurisdictions only to funnel it back through joint powers boards in the form of grants. If Paso is going to get its fair share, the city needs someone like him to represent their needs on the regional level, he said.
"I sit on these boards not to take power, but to make sure it's dispersed at the local level," Strong said. "Cities used to have control of their own destinies."
As an example, Strong described his efforts to get Union Road repaired. Though his main concern was the street's surface, he helped secure a $500,000 matching-funds grant for a bike path on the road. Then, staffers designed the project in such a way that the entire street needed to be repaved in order to make the street more accessible for bicyclists. It was a more expensive project than a simple repaving, but the city was able to pay less and get more.
Strong said accessibility and accountability are important to him, which is why he brings a quarterly report of his activities to city council meetings and leaves copies for the public.
Duane Picanco: mayor on a mission
Mayor Duane Picanco has 20 years of local political experience divided between the Paso Robles Planning Commission, the city council, and the County's Local Agency Formation Commission (LAFCO). He wants at least two more years in office, and he'll likely get them. His name will be the only one on the ballot under "mayor," and his only potential challenger has yet to qualify as a write-in candidate.
Picanco told New Times Paso Robles needs to be self-reliant if the city is to be prosperous in the future. The short-term outlook for state and federal finances is grim, but he said areas with strong tourism industries tend to do well during recessions.
As mayor, he's been actively meeting with existing businesses and start-ups, encouraging them to fill vacant buildings in Paso Robles. He said he helped bring TJ Maxx and Bev Mo to town and is courting a Santa Cruz-based biotech firm. He said problems with infrastructure are holding the city back, however.
"We need to find money one way or the other; it improve streets," Picanco said. "There's nothing we can't do, if we have the finances."
He didn't say how such finances could be realized, other than hoping for the half cent sales tax to the pass. If it doesn't, he said the city would be in serious trouble.
PHOTO BY STEVE E. MILLER
JERRY JONES:
Jerry Jones and Jeff Rougeot: the 'write-in' stuff
Jerry Jones won't be on the ballot, but voters who remember his name can write him into a seat on the city council. The Navy veteran and retired consultant for the gas industry said friends have pressured him to run for office before, but he never had the free time to make a proper commitment until now.
"I'm not a politician, never claimed to be one," Jones said. "I'm just a commonsense guy. This stuff isn't rocket science."
Jones described himself as "real anal" about numbers and criticized the council for spending recklessly. If elected, he said he would strive to balance the city's budget the same why he does his own checkbook, but he didn't say which programs he would cut. He'd have to take a long, hard look at the financial statements before he could make any decisions, he said. Still, he gets the sense that council members only approve projects that look pretty and feel good.
"They spend money like crazy Indians, not to be derogatory," Jones said.
Jones said that the city needs to take care of its streets and infrastructure before taking on more development projects, adding that he doesn't trust current management to get the job done.
That distrust applied to all areas of the municipality, including the police department. Jones said the resignation of former chief Solomon was handled poorly, that she never should have received such a large severance package, and that he believes the city manager is too involved with running the police force.
"I'd possibly consider turning police duties over to the sheriff," Jones said. "It would remove control from the locals and put in other hands. I don't know, but it might work.
Because he owes no allegiances and has "no cross to bear," Jones said he was best suited to represent the average citizen on the council.
Jeff Rougeot, owner of Rad Tunz Car Audio, is a newcomer to the race and couldn't be reached as of press time. He has expressed interest in being a write-in candidate for mayor and has until Oct. 23 to qualify. ∆
Staff Writer Nick Powell can be reached at npowell@newtimesslo.com.