It's the voice that gets you—a little raspy and smoky. It's a voice that's been compared to Bruce Springsteen and Janis Joplin; a voice that's sold millions of records; that's garnered 15 Grammy nominations and two wins; a voice that, on her newest album This is M.E., Rolling Stone complains/praises, "As always, her voice can walk a fine line between passionate and histrionic, but when she dials it back on the smoldering 'Like A Preacher' it's clear that this honeymoon might be the start of a whole new her."
PHOTO BY DEBI DEL GRANDE
THE ONLY ONE: The one and only Melissa Etheridge plays the PAC-SLO on Nov. 16, delivering both hits and songs from her new album 'This is M.E.'
Did you notice the "honeymoon" line? That's because Melissa Etheridge the performer seems inseparable from Melissa Etheridge the lesbian activist, environmentalist, and celebrity personality, so everyone knows she was married last year to writer, actor, and producer Linda Wallem. Everyone knows she had a long-term relationship with film director Julie Cypher and that the sperm donor for one of their two children was David Crosby. Everyone knows she had two more children via an anonymous sperm donor with actress Tammy Lynn Michaels. Everyone knows she dealt with breast cancer, that she used pot to treat chemo symptoms. Etheridge's life has been dissected by the media, but through it all there's been her music.
You know the charting singles: "Bring Me Some Water," "Like the Way I Do," "Brave and Crazy," "The Angels," "Come to My Window," "I'm the Only One," "Angels Would Fall," "I Want to Be in Love," "I Want To Come Over," and "I Need to Wake Up," but Etheridge's real gift is album-oriented offerings—records that chart her path.
She released her 1993 breakout Yes I Am when she came out as a lesbian. She delivered Skin, which chronicled a dissolving relationship, after her break-up with Cypher. Lucky came out when she began a new relationship with Michaels. The Awakening was released in the wake of her cancer scare. Etheridge's music has mirrored her amazing life—a story of love, loss, triumph, activism, and more love.
This Monday, Nov. 16, you can spend an intimate evening with Academy and Grammy award-winning singer-songwriter Melissa Etheridge in a show called "This is M.E. Solo," in which Etheridge will perform songs from her new album as well as some of her greatest hits at the Performing Arts Center (7:30 p.m.; all ages; $35 to $80; call 756-4849 or online at pacslo.org). This show is brought to you by Cal Poly Arts and Otter Productions Inc.
"I haven't been this excited about making music and creating in ages," Etheridge said in press materials. "Song after song was a great experience."
"Who Are You Waiting For" closes the album. It's the song she wrote for and debuted at her wedding to Wallem.
"I opened a door to my inner little heart and wrote a song," she said. "I sat down at the piano, started writing, and the chorus came out, about how we were friends for years and years, and as we got closer it was 'Who are you waiting for? I'm right here!'"
Expect Etheridge to open the door to her heart to the audience.
Nuttyworld!
PHOTO BY CRAIG NUTTYCOMBE
GONE TO THE DOGS: Singer-songwriter Craig Nuttycombe, with a bunch of his extra talented musical friends, plays a special concert on Nov. 12 at the Steynberg Gallery. I asked for a photo; he sent me one of his dog.
Craig Nuttycombe is best known locally as a member of the Gypsy tango, wild classical, swing, and folk ensemble Café Musique, but he's got a not-so-secret past horn to toot, which he rarely ever toots because he's a super laidback guy. Sorry, Craig, but I'm about to remind everyone of your past.
In the 1960s, Nuttycombe played guitar with the New Dimensions, a classic surf rock outfit. He left the band in '64 and met Denis Lambert when he briefly joined the East Side Kids, a band that re-formed from the remnants of the New Dimensions. The two joined forces and started playing Hollywood clubs as the folk duo Lambert & Nuttycombe, and by 1969, they were signed to A&M Records.
The pair moved to San Francisco and recorded their debut, the sparsely orchestrated At Home (1970), which led to opening gigs for Canned Heat on their European tour. Later they signed to 20th Century, releasing As You Will in 1973. After the pair broke up, Nuttycombe eventually released It's Just a Lifetime in 1978 before sort of going underground, which is to say he moved to the Central Coast.
In the 1990s, Nuttycombe started recording again, right about the same time his old solo work as well as his duo work with Lambert became huge in Japan. Seriously! It's not just a cliché! The Japanese "discovered" Nuttycombe and were eating up his old work like Godzilla ate Tokyo.
More recently, Nuttycombe joined with Café Musique, which has enjoyed great success, but he wrote to me last week to say he's got a need to do his own thing.
"I'm doing an evening of Craig Nuttycombe songs—'Nutty Fest,' if you will—on Thursday, Nov. 12, at The Steynberg Gallery at 7:30 p.m. The reason this might be considered special is that I haven't really gone out and performed as Craig Nuttycombe since joining Café Musique some 10 years ago. I just got a hankering to do an evening of my 'stuff' at my favorite venue, The Steynberg Gallery. Oddly enough, I'm being accompanied by Fred Murray (bass), Eric Williams (guitar and other instruments), and Brynn Albanese (violin)—all members of Café Musique. I'll also have percussionist extraordinaire Brent Lewis (from Joshua Tree) joining me as well as opening the show. I realize this is not the second coming of Christ, but hey, it's the second (or ninth?) coming of Nuttycombe."
The cost is $15, and Nuttycombe will have CDs "spanning the decades." Call 547-0278 to reserve your ticket! I also just heard that singer-songwriter Nicole Stromsoe will also be there. This is going to be a big one!
Producer to the forefront!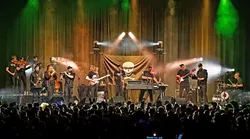 PHOTO COURTESY OF MICHAL MENERT & THE PRETTY FANTASICS
MIXOLOGIST: Indie EDM producer Michal Menert and the Pretty Fantastics play Nov. 13 at SLO Brew.
When I think of music producers, I think about the masterminds behind the scenes—the Phil Spectors, the Jerry Wexlers, the T Bone Burnetts, the Rick Rubins, and the Joe Meeks. Thanks to electronica music, producers are coming out of the shadows and sitting front and center. Look no further than Colorado-based Michal Menert, who plays SLO Brew this Friday, Nov. 13 (7 p.m.; all ages; $15 presale or $17 at the door), in a Numbskull and Good Medicine Presents concert with his ensemble and the Pretty Fantastics.
Menert plays guitar, keyboards, and a variety of other instruments, but his compositions include "obscure vintage samples from both Eastern European and Western vinyl with rich analog synthesis and organic hard hitting beats; a fusion of yesterday's elements and tomorrow's ideas," according to press materials. He co-produced the debut Pretty Lights album, Taking Up Your Precious Time, with Derek Vincent Smith. He also released his first solo album, Dreaming of a Bigger Life, in 2010, and then released the 27-track album, Even If It Isn't Right. This is a must-see concert for EDM fans.
Also at SLO Brew under the Numskull and Good Medicine banner are Bay Area hip-hop and trip-hop duo Zion I this Saturday, Nov. 14 (7:30 p.m.; all ages; $16 presale or $18 at the door); R&B fanatic Nick Waterhouse on Sunday, Nov. 15 (7 p.m.; all ages; $16 presale or $18 at the door); and punk legends Swinging Utters on Wednesday, Nov. 18 (8 p.m.; all ages; $12 presale or $14 at the door).
More music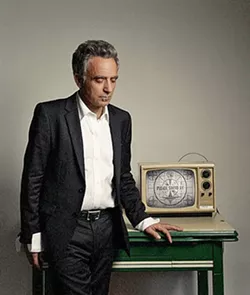 PHOTO BY VALERIE FREMIN
TROUBADOUR: Austin icon Michael Fracasso (pictured) returns to the Steynberg Gallery to play with Shadowlands on Nov. 13.
Local theater actor, KCBX radio host, and singer-songwriter John Pillow plays Socrates Coffee House (5985 Traffic Way, Atascadero) this Thursday, Nov. 12 (7p.m.; all ages free), performing originals and select covers. "It isn't often you'll hear a songwriter whose influences are Springsteen, Pete Townsend, and Beethoven," his wife, sculptor Lindsay Wilcox, said. "Literate, poetic songs of emotional depth, and he can sing too! This is not to be missed. Make it if you're in the area!"
Red Moon Road plays the next Música Del Río House Concert this Friday, Nov. 13 (8 p.m.; $20; call 466-6941 or visit www.musicadelrio.org for required reservations). "Red Moon Road is three awesome young roots/folk troubadours from Winnipeg, who bowled us over in the first five minutes of a live showcase that we wished had gone on for five hours," Fred Munroe, concert organizer said. "Our greatest fear was that they would outgrow doing house concerts before we found a mutually agreeable day in all of our lives. Get your tush here to see and hear them."
Austin's Michael Fracasso returns to the area for a special evening with local favorites Shadowlands in concert on Friday, Nov. 13, at Steynberg Gallery (8 p.m.; all ages; $20; call 547-0278 for reservations). He might have arrived in Texas via NYC, but in the 25 years since, he's become an Austin fixture and touring favorite whose high-lonesome tenor and spellbinding songs have made his music as distinctive as it is remarkable. This will be a great night of singer-songwriter fare.
PHOTO COURTESY OF RED MOON ROAD
ROOTSY: Red Moon Road plays the next Música Del Río House Concert on Nov. 13, bringing their roots/folk sounds.
Can you feel the temperature rising? That's Blame It On The Bossa Nova coming to the SLO Courtyard by Marriott this Saturday, Nov. 14, from 6 to 10 p.m. The special night of food, beverages, and Brazilian music and culture features Téka, the reigning queen of Brazilian music in Southern California; with Mike Shapiro, former drummer for Sergio Mendes; Randy Tico, bassist for Jeff Bridges; and Thomas Zink, former keyboardist for Chaka Khan and Randy Brecker. SLO's own Black Market Trio featuring saxophonist Scott Andrews opens; with bassist Joe Duran and percussionist Sean Sullivan. Special guests include SLO favorites Darrell Voss on vibraphone/percussion and Talia Ortega on flute. Visit www.slojazzfest.org for details and to purchase tickets.
The Painted Sky Concert series presents a great evening of traditional and original folk and Celtic music with Noctambule this Friday, Nov. 13, at 8 p.m. Featuring Marla Fibish and Bruce Victor, their "music is rendered with lush beauty, sensitivity, and humor on an unusual array of strings—various guitars in varied tunings, mandola, mandolin, bouzouki, cittern, tenor guitar—and their blended voices," according to organizer Steve Crimmel, who added this "will probably be the final concert at our Harmony location." Tickets are $18 at available at Cambria Music Box, Boo Boo Records, or by calling 927-8330.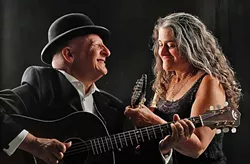 PHOTO COURTESY OF NOCTAMBULE
CELTS!: Painted Sky Concert series presents original folk and Celtic music with Noctambule on Nov. 13.
Monday through Friday morning when I'm sitting in my downtown SLO office clacking away on my computer, KCBX is on my stereo as Morning Cup DJ Neal Losey fills my head with great sounds from old jazz to new indie pop and everything in between. My wife and I are sustaining subscribers to the NPR affiliate, who is celebrating its 40th year of serving the Central Coast with a fundraising event this Sunday, Nov. 15 (4 to 8 p.m.; all ages; $40 at brownpapertickets.com; in their SLO Town studios at 4100 Vachell Lane). The Tipsy Gypsies will perform, Castoro Cellars will be pouring their fine wines, Luna Red will provide some small bites, and you can rub shoulders with local KCBX hosts as well as Kelly McEvers, the new cohost of All Things Considered. Support local radio!
Keep up with Glen Starkey via twitter at twitter.com/glenstarkey, friend him at facebook.com/glenstarkey, or contact him at gstarkey@newtimesslo.com.