If you came off the road into a desolate town and happened onto a hole-in-the-wall juke joint, your dream would be to find Valerie June on stage, guitar (or banjo or ukulele) in hand, laying down her mix of old-school folk, blues, gospel, soul, country, Appalachian, and bluegrass sounds.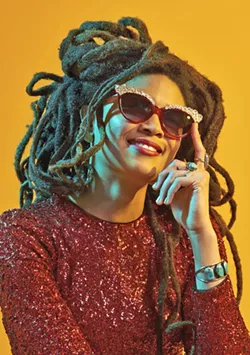 Photo Courtesy Of Jacob Blickenstaff
STRAIGHT OUTTA MEMPHIS Genre-jumping singer-songwriter and multi-instrumentalist Valerie June plays the Fremont Theater on Dec. 2.
The multi-instrumentalist born in Jackson but now based in Memphis, Tennessee, was introduced to gospel in her church and R&B and soul from her father, who owned a construction company but was also a part-time promoter for gospel singers as well as Prince, K-Ci & JoJo, and Bobby Womack. Her first job as a teen was helping her dad hang posters.
The 35-year-old moved to Memphis in 2000 and started recording at the age of 19, eventually becoming part of the Broken String Collective. Later she was featured on MTV's online series $5 Cover, which followed the lives of Memphis musicians trying to make a living.
Her first big break came in 2010 with the release of the EP Valerie June and the Tennessee Express, which featured The Old Crow Medicine Show. Since then she's worked with Dan Auerbach of The Black Keys, who produced her successful 2011 album Pushin' Against a Stone, and she's currently touring in support of her 2017 release The Order of Time.
This Saturday, Dec. 2, Goldenvoice presents Valerie June in the Fremont Theater (8 p.m.; all ages; $25 at Boo Boo's and ticketfly.com). Special Guest Gill Landry will open the evening.
With a voice that shares the bright, reedy quality of Dolly Parton, the mesmerizing stage presence of Tina Turner, and solid musicianship, she puts on a great live show. Rolling Stone placed her new album on their recent "50 Best Albums of 2017 So Far" list and proclaimed it "near-perfect from front to back."
It's full of great tunes including her breakout single "I've Got Soul."
And don't miss opener Gill Landry, who's on the road in support of his newest Love Rides a Dark Horse. This guy's got an amazing voice, and you may know him as his stage name Frank Lemon and his time with The Old Crow Medicine Show.
The new songs are moody and amazing, and he wrote the album about coming to terms with his fiancée leaving him, calling the songs his "map out of the darkness."
This ought to be a great show.
Old-school blues shouter
Photo Courtesy Of Nikki Hill
ROCK AND ROLLER Nikki Hill brings her old school blues shouter and early rock 'n' roll sounds to the SLO Blues Society show on Dec. 2, in the SLO Vets Hall.
The SLO Blues Society hosts the Nikki Hill Band this Saturday, Dec. 2, at the SLO Vets Hall, for a night of bluesy, R&B-inflected rock 'n' roll (8 p.m.; 21-and-older; $25 at Boo Boo Records, Cheap Thrills, or at the door).
Hill, who's got the coolest fashion sense in the world, was born in North Carolina but now calls New Orleans home. She was raised in the church choir but quickly became enamored with R&B and garage rock rumble.
"Nikki transcends easy categorization—a spitfire with the soul-drenched voice of Etta James and the tattooed, untamable aura of a punk rocker," her bio claims. "Just a few years ago, Nikki was a bartender with an affinity for punk and a deep love for classic R&B. At her husband Matt's behest, she stepped out from behind the bar and onto the stage. The response was instant and electric, stunning audiences with the band's muscular sound and Nikki's voice and inimitable charisma."
The band features Matt Hill on guitar, Nick Gaitan on bass, Chuck Cotton on drums, and Laura Chavez on guitar, who was lead guitarist for the Candye Kane band for many years.
Everything you need to understand about Hill is summed up in her cover of Chuck Berry's "Sweet Little Rock and Roller," which shares the raw energy of the original. She's an old-school blues shouter that hails from the earliest days of rock, but she can also exhibit remarkable vocal control.
"It would be easy to just be a blues shouter; that's a lot of fun," Hill said in press materials. "But it's always important and a challenge to get your point across when you're not shouting. I credit learning that vocal control to being in gospel choirs, because that's where you have to be soft or be harsh."
Fans of Chuck Berry, Etta James, Ruth Brown, and Little Richard, don't miss this show! Local blues stylists Code Blues will open the show with their tight sounds. Bring your dancing shoes—there's lots of space to get down.
Hop bots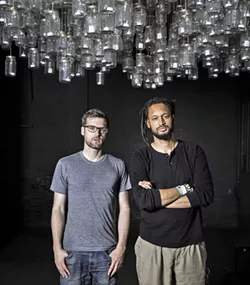 Photo Courtesy Of Flobots
THEY ARE FLOBOTS Ultra hip hip-hop act Flobots play The Siren on Dec. 5 as part of their Rise + Shine tour.
Numbskull and Good Medicine Presents have a trio of shows lined up this week, including hip-hop act Flobots playing The Siren on Tuesday, Dec. 5 (7:30 p.m.; 21-and-older; $15 presale at Boo Boo's and ticketfly.com or $18 at the door), as part of their Rise + Shine tour with opening act Bang Data.
Formed in Denver in 2005 by Jamie Laurie, the hip-hop and rock act has morphed into an ensemble featuring "a pair of intelligent, visionary emcees ... with a battle-hardened, groove-fusing rhythm section, and a classically trained violist," according to their bio. "The result is a sound that explores and expands the frontiers of live hip-hop. Progressive in both style and message, the band's ability to drop from symphonic rock-infused crescendos into stripped-down string-laden breakbeats has earned Flobots a reputation for both originality and authenticity.
"Armed with musicianship, intelligence, and an ingrained sense of rebellion, Flobots are looking to engage a new musical culture, one mind at a time.
If you are thinking, you are winning."
Their single "Handlebars" off their 2007 major label debut Fight with Tools became a mainstay of modern rock radio in 2008, cementing the group's rep as sly observers of celebrity culture—think Cake or King Missile. They're currently touring in support of their fourth album, Noenemies, which offers more dynamic and politically charged tracks.
They say the tour is a "call to action, set to remind us that the division and negativity that currently dominate the national conversation is not in the spirit of human nature—that our true potential is much more positive and welcoming."
"The music on our album is about our power to see each other more fully," the band said in press materials. "We find that there's nothing better for the soul than meeting people face to face. We cannot wait to hit the road."
Photo Courtesy Of Sean Watkins
SINGER-SONGRITER GONE SOLO On Dec. 7, Sean Watkins of the Grammy-winning band Nickel Creek, brings his solo material to The Siren.
You can also see Journey Unauthorized, a Journey tribute band, at The Siren on Saturday, Dec. 2 (9 p.m.; 21-and-older; $15 presale at Boo Boo's and ticketfly.com or $18 at the door), and mark your calendar for next Thursday, Dec. 7, when Sean Watkins of Grammy-winning Nickel Creek plays The Siren (7 p.m.; 21-and-older; $17 presale at Boo Boo's and ticketfly.com or $20 at the door). The singer-songwriter and multi-instrumentalist pens thoughtful observational and autobiographical tunes.
"I loved being in bands," Watkins noted in press materials. "But now that I've done songs that I really like—I'm proud of my last one, and even prouder of this one—that makes a big difference when you're traveling solo, stepping onstage by yourself. It's fun to go out onstage—anything is possible. It's gone from feeling daunting to being hopeful and free."
Drink in the holiday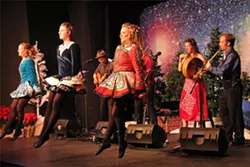 Photo Courtesy Of Winterdance
A CELTIC CHRISTMAS The 12th annual Winterdance Celtic Christmas Celebration featuring Molly's Revenge with Christa Burch and Irish Dancers comes to Los Osos' South Bay Community Center on Dec. 1.
The 12th annual Winterdance Celtic Christmas Celebration featuring Molly's Revenge with Christa Burch and Irish Dancers comes to Los Osos' South Bay Community Center this Friday, Dec. 1 (7 p.m.; all ages; $20 presale at Boo Boo Records or mollysrevenege.com, or $25 at the door. Kids 13 and under are $10).
This is always a crazy-good night of holiday song and dance with a Celtic twist as the performers deliver Christmas songs both old and new, with a band featuring bagpipes, fiddle, whistle, guitar, mandola, bodhran, harmony vocals, and kick-ass dancers!
Rock it!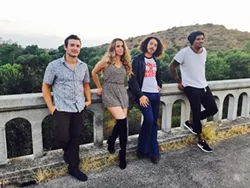 Photo Courtesy Of The Night Howls
SEVENTIES ROCK San Diego-based rockers The Night Howls play the Frog and Peach on Dec. 3.
San Diego-based, female-fronted rock act The Night Howls bring their muscular '70s-style rock to Frog and Peach on Sunday, Dec. 3 (10 p.m.; 21-and-older; free). With hints of psychedelic swirl and Janis Joplin-esque vocals, this band will rock you. Δ
Keep up with New Times Senior Staff Writer Glen Starkey via Twitter at twitter.com/glenstarkey, friend him at facebook.com/glenstarkey, or contact him at gstarkey@newtimesslo.com.