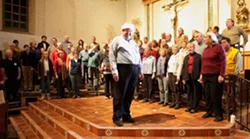 PHOTO BY STEVE E. MILLER
HEAVEN AND NATURE SING!: The Vocal Arts Ensemble performs Joyous Sounds of Christmas on Dec. 5 at 8 p.m. at Cambria Community Presbyterian Church, Dec. 6 at 8 p.m. at Mission San Luis Obispo de Tolosa and Dec. 7 at 3 p.m. at the PAC. Tickets cost $25-$30 for the Dec. 5 concert, $
During the Dec. 7 Christmas concert at Cal Poly's Performing Arts Center, the usual bouncing jolly refrains about sleighs dashing through snow and slinky references to material goods that Santa Baby ought to slide down the chimney will be absent. In their stead, the Vocal Arts Ensemble will fill the hall with solemn—though equally joyous—religious musical fare, including a requiem (mass for the dead) that Musical Director Gary Lamprecht re-appropriated from its original context, a version of "Gloria" that Lamprecht calls "a kick-butt piece," and a composition of "Ave Maria" written by American composer Morten Lauridsen.
The latter is a particularly challenging motet, but nothing the driven performers who comprise the ensemble haven't sung before.
"It's a seven-and-a-half-minute piece, one of the hardest I've ever done and it's the piece they all had to learn to audition for the choir," explained Lamprecht. "And because it's so hard and because they auditioned with it, they love it."
Since Lamprecht retired from his full-time position as a music teacher, he's had a lot more time to commit to his pursuit of new and stirring compositions for the choir. He attends concerts and conferences, and culls selections from CDs that he receives in the mail, deriving greater creative license from the knowledge that, however difficult the music, his 70 or so choir members will master each piece beautifully. As proof of this fact, Lamprecht cites an incident that occurred an estimated 15 years ago. The choir was performing a Russian piece and, because the ensemble sings each work in the language in which it was written—Latin, Old English, etc.—the group was struggling to memorize the text. After a particularly grueling rehearsal, Lamprecht decided that he was going to give the singers a break, and announced that they would perform the piece with the music in front of them. Within hours of making what he perceived as a generous announcement, he had received a handful of phone calls and letters, all complaining that he was underestimating his warblers.
When Lamprecht founded the Vocal Arts Ensemble 32 years ago his purpose was to answer a demand within the county for a year-round choral group. The inaugural concert series featured 32 singers, swelling to 56 by the following spring. Lamprecht estimates the average crooner's age to be somewhere between 45 and 50, insisting that the group is nothing if not eclectic. When they're not singing celebratory anthems about the birth of Jesus Christ they lead seemingly ordinary lives as pharmacists, schoolteachers, musicians, architects, attorneys, and students, among a host of other career paths. But on weekends, and by night, they transform into the classical music equivalent of rock stars, slightly more dignified but no less riveting.
Judy Philbin was in the Vocal Arts Ensemble's very first choir more than three decades ago. She skipped a few seasons, while living abroad and raising children, but music never ceased to carry a powerful emotional sway in her life. Now, it's not uncommon for her to spend several hours on a given evening memorizing the music for an approaching performance. Only after she has overcome this particular hurdle can the true artistry begin.
"Once I know the pieces I can be part of effectively making music," she explained. "From my perspective there's a big leap from everyone singing the same notes and words to crafting something that's moving, musical, spell-binding, that touches people's hearts."
Music spills into every aspect of her life, prompting her to perform with the Central Coast Follies, at Brown Bag fundraisers for the Presbyterian Church, and at retirement homes and private parties.
While Philbin acknowledges that she doesn't always like every piece in a given repertoire, she insists that there's something special about this season's selections. In addition to the aforementioned kick-butt pieces and requiems, the group will perform "Ose Shalom" (a Hebrew piece which means "the one who makes peace"), "What Child is This?", "Gaudette" (a medieval Christmas carol that alternates between Latin and English), and a spiritual titled "Sister Mary Had-a but One Child."
Perhaps the most popular element from the audience's perspective is the sing-along that takes place at the conclusion of the concert. This year, audiences should brush up on the staccato "God Rest Ye Merry Gentlemen," the beloved "Silent Night," celebratory "Joy to the World," and the imperative "O Come All Ye Faithful."
Each piece has its own story. Benjamin Britten, for example, composed A Ceremony of Carols during a 1942 voyage across the Atlantic Ocean. Lamprecht believes that writing the 11-movement piece soothed Britten, distracting him from the perils posed by Nazi sub- marines. It's been a long time since Nazi sub-marines were a threat, but the human ability to derive solace from music, to take comfort in community, endures.
"Music evokes emotion," concluded Philbin. "Music is tied to memories. And the holidays are about memories. And to be sitting in a group in a hall with a hundred or more people around you, there is a sense of community and there is a sense of celebrating together."
---
Arts Editor Ashley Schwellenbach sinks Nazi submarines just by looking at them. Send sunglasses to aschwellenbach@newtimesslo.com.