Get into the holiday spirit during the fourth annual Arroyo Grande Rotary Club Community Christmas and Holiday Sing-Along, which takes place at the Clark Center on Sunday, Dec. 18, at 4 p.m.
"Attendees will be able to hear great area performing groups and join their family and friends in singing all their favorite Christmas and holiday songs," said publicist Curtis Reinhardt. "Delighting the audience again at this year's show will be the Village Carolers of Studio Sing, Sing, Sing. Joining the Village Carolers will be the Arroyo Grande High School A Cappella Choir, the Estero Bay Brass Quintet, and the Grande Bell Ringers from the First United Methodist Church of Arroyo Grande. The dancing Dellos Performing Arts Center Prancers will also delight the crowd, as will a special appearance by Santa Claus, which is being arranged by Rev. Curt Miner."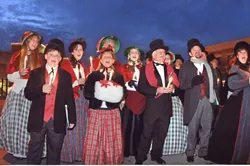 PHOTO COURTESY OF THE VILLAGE CAROLERS
BRING THEM SOME FIGGY PUDDING! : The Village Carolers are one of several groups performing at the Clark Center on Dec. 18 for the fourth annual Arroyo Grande Rotary Club Community Christmas and Holiday Sing-Along.
The audience will be invited to sing along to Christmas favorites such as "Deck the Halls," "Silent Night," "Let It Snow," and "Frosty the Snowman."
"The big crowd pleaser is the singing of 'The Twelve Days of Christmas,'" Reinhardt added, "which traditionally thrills every audience member. The Clark Center lobby will be filled with the festive dulcimer music of Kevin Young prior to the show. A post-show lobby reception will feature complimentary sweets and drinks and the opportunity for kids to meet Santa Claus."
Judith Dunlore, director of the Village Carolers and Studio Sing, Sing, Sing, will act as master of ceremonies.
Tickets ($12 adults; $6 kids and seniors; $30 for families up to six members) are now available from the Clark Center Box Office (489-9444). Net proceeds from this event will be donated to the music and arts programs of various South County schools. Last year's proceeds purchased a marching band parade banner and guitars for the Nipomo High School Music Department.
Go buy your tickets now! Last year's sing-along sold out!
SLO Brew for you
PHOTO COURTESY OF AS I LAY DYING
DON'T DIE!: San Diego-based metal band As I Lay Dying plays SLO Brew on Dec. 15.
SLO Brew kicks off the weekend with San Diego-based metal band As I Lay Dying on Thursday, Dec. 15 (7 p.m.; all ages; $20). The quintet is currently celebrating its 10th year together, during which they've released five full-length recordings. Their newest, Decas, is a nod to their 10 year anniversary. They also enjoyed commercial success with 2009's The Powerless Rise, a follow-up to 2007's Grammy-nominated An Ocean Between Us. On Decas, they offer three new original songs, but the album also has four covers from the likes of Slayer, Judas Priest, and the Descendants. The album is rounded out by a re-recorded medley of songs from the band's debut album Beneath the Encasing of Ashes, and four remixes from other earlier albums.
On Saturday, Dec. 17, Zion I & The Grouch return with their hip-hop show "The Grouch that Stole Xmas" (7 p.m.; all ages; $20 presale or $22 at the door), with opening acts Eligh, Evidence, and Luckyiam. Zion I & The Grouch's newest is called Heroes in the Healing of the Nation, about which The Grouch said, "Anyone changing other people's lives for the better is a hero to me."
Finally, on Tuesday, Dec. 20, check out The Growlers (7:30 p.m.; all ages; $10 presale or $12 at the door), with opening acts Tomorrows Tulips and The Abigails. According to press materials, "The Growlers are a rock and pop group formed in Long Beach, California, in 2006 who are yet to became one of the most commercially successful and critically acclaimed bands in the history of popular music. During their years of stardom yet to come, the band consists of Brooks Nielson (vocals) Scott Montoya (bass guitar, vocals), Matt Taylor (lead guitar, vocals), and Brian 'don't surf' Stewart (drums, vocals). They were managed by their own alter ego Epstein until his death in 2009. Although their initial musical style was rooted in 1960s rock 'n' roll and skiffle, the group works with different musical genres, ranging from ice flossing hip hop to psychedelic rock."
Songwriters at Play
Guitar master Dorian Michael is featured at The Porch this Thursday, Dec. 15 (6:30 p.m.; all ages; pass the hat), and at Sculpterra Winery on Sunday, Dec. 18 (1 p.m.; all ages; pass the hat). The virtuoso performer has played guitar since age 7 and has been a professional player for four decades. The well-known local player calls his music "contemporary traditional." Said Dorian, "Some music makes you feel, some makes you think, and some music is just for the fun of it. I try to get to all those places in the space of a performance."
PHOTO COURTESY OF THE KAREN TYLER TRIO
BEST OF THE BEST: The Karen Tyler Trio is one of several acts performing at the Best of Songwriters at Play 2011 (Part 2) at The Spot on Dec 19.
The Best of Songwriters at Play 2011 (Part 2) will be held at The Spot on Monday, Dec 19 (7 p.m.; all ages; $10). "A typical Songwriters at Play showcase has just one featured artist, but [during this show] all of the performers will share the featured spotlight," said series co-organizer Bonnie Nelson. "It's a celebration of local music, end-of-the-year 'best of' showcase that includes Steve Bernal, Rob Kimball, Valerie Johnson, Al B Blue, Karen Tyler, Young Ireland, Kelly Wildowsky & Michele Casteel, and Bob & Wendy. Cliff Stepp will record the show for later broadcast on The Krush 92.5 FM, which airs Songwriters at Play showcase highlights every Monday from 6 to 7 p.m."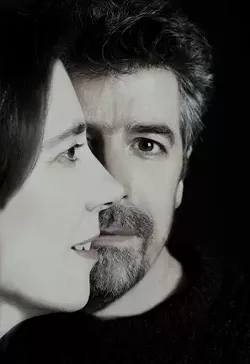 PHOTO COURTESY OF MARKLEY & BALMER
TWO IS ALL YOU NEED: Awesome Texas duo Markley and Balmer plays Dec. 20 at Kreuzberg.
Dallas-based singer-songwriters Lisa Markley (banjo) and Bruce Balmer (guitar) have been described as an "indefinable duo who blend jazz, folk, pop, bop, and the occasional polka into a stimulating mix for your listening pleasure." Reading through the band's press clippings, my favorite was this quote from Jonathan Byrd: "Gilberto Gil and Joni Mitchell fall in love on a road trip across America and look for breakfast in New Jersey." See them at Kreuzberg on Tuesday, Dec. 20 (6:30 p.m.; all ages; pass the hat).
More music …
I love it when a band does my job for me: "My band, Last Tomorrow, will be playing on Thursday, Dec. 15, from 7 to 9:30 p.m. at the SLO Down Pub," wrote Bill Paris. "John Fairweather and I are on guitar, Frank Freeman's on bass, Anya Moore's on flute, and Donny Moore and John Sanders are on percussion. John and Frank played in local rock 'n' roll groups for many years. I played with Elvis Presley in a movie some years back, palled around with John Rubenstein, Stuart Frank, the Morgans, and played folk and Irish music for a couple decades throughout New England before moving here. Anya Moore is a classical flautist. John Sanders is a naturalist and accomplished conga player. Donny, besides playing percussion, knows where to find Chanterelles in Los Osos and how to make deer jerky. Last Tomorrow's musical styles range from blues to rock to American, English, and Irish folk; Elvis, Townes, Darrell Scott, Hank, Yip Harburg, the Dead, the Stones, Johnny Otis and Dylan, old blues and rock." Deer jerky, eh? Nice!
Skip James & Project 41 will hit Frog and Peach on Thursday, Dec. 15, from 7:30 to 9:30 p.m. "The band has been in the studio with local music legend Jimi Macon doing production on our new material," said James. "Project 41 is gonna rock the Frog, that's for sure."
D'Anbino is host to Slim Man this Friday, Dec. 16, from 8 to 10 p.m. Slim Man, a pop and jazz singer-songwriter, has been called the male Sade. Rolling Stone's J.D. Considine said Slim Man's style is "a near perfect example of how jazz and soul can be combined as pop." Tickets are $10 ($5 for Record Club) at the door.
Jazz, pop, rock, folk, and fusion act Counterpoint plays D'Anbino on Saturday, Dec. 17, from 8 to 10 p.m. "The concert will include a section of specially arranged Christmas favorites to accent their signature blending of jazz standards, with work by artists such as Earth, Wind, and Fire; Doobie Brothers; Ambrosia, and others," said concert organizers. Counterpoint will be accompanied by the rhythm section of Human Nation. Tickets are $10 ($5 for Record Club) at the door.
This Sunday, Dec. 18, enjoy "America's music" when the Basin Street Regulars (11 a.m.), Royal Garden Swing Orchestra (1 and 3:15 p.m.), and the Pacific Swing Band (2:15 p.m.) perform in the Pismo Veterans Memorial Building, 780 Bello St. ($5 and $10 cover). "This is our First Annual Holiday Jazz Party, so bring some hors d'oeuvres or desert to share, preferably bite sized," said organizers. Call 481-7840 or visit pismojazz.com for more info.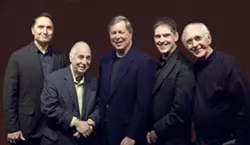 PHOTO COURTESY OF THE FAMOUS JAZZ ARTIST SERIES
HERE'S TO GEORGE!: On Dec. 18, the Famous Jazz Artist Series presents its annual tribute to the George Shearing Quintet.
And if you need some more jazz, head up the coast to the Hamlet in Cambria on Sunday, Dec. 18, for the Famous Jazz Artist Series' annual Tribute to the George Shearing Quintet. "George Shearing, along with Dave Brubeck and Miles Davis, was one of the icons of modern jazz music from the '50s on, and this musical tribute will showcase three former members of his famous quintet," said series organizer and vibraphonist Charlie Shoemake. The quintet will include Shoemake, Ron Anthony on guitar, and Colin Bailey on drums—all former Shearing sidemen—with Joe Bagg on piano and Luther Hughes on bass. Vocalist Sandi Shoemake, one of the co-producers of the series, will also appear. There's a 4 p.m. show for $15, a 7:15 p.m. show for $12, or see both for $20. Call 927-0567 for reservations.
On Wednesday, Dec. 21, hit Frog and Peach and check out The Deathtower at 10 p.m. "Perhaps you could mention its a 'Happy Hanukkah Show,'" said band member Jesse Peay, who filled me in on the band's doings. "We've signed a deal with Klickpush.com to have our music distributed online. They're currently offering our EP Legend of Jaron for $1.99 and our free single 'Georgia Peach.' The exposure from signing with this company is somewhere in the millions (since they advertise with online gaming), so we're really excited about that. We've also been very busy playing on the Central Coast, and we're going to be playing our first Los Angeles show at the Airliner with C-Gak (the drummer from RX Bandits) and Fierce Creatures Dec. 19." Learn more about this up-and-coming act on facebook.com/thedeathtower. The band's music is also available at Boo Boo Records and Cheap Thrills.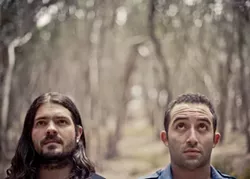 PHOTO COURTESY OF THE DEATHTOWER
NOT AS SCARY AS THEIR NAME : On Dec. 21, hit the Frog and Peach to check out The Deathtower.
Nick & Sonya Diane Jones return to the area for a series of shows at local retirement communities for what they're calling their "Have Yourself a Merry Little Christmas Tour." See them on Wednesday, Dec. 21, at 1:30 p.m. at Emeritus at Creston Village in Paso Robles; and at 6 p.m. at Casa De Flores in Morro Bay. They also play Thursday, Dec. 22, at 3:45 p.m. at Las Brisas Retirement in SLO, and on Friday, Dec. 23, at 3:30 p.m. at the Manse on Marsh in SLO. All the shows are free and open to the public.
Local CD reviews!
This is just a quick note about two great genre CDs that were just released, right in time for Christmas.
Smooth jazz fans will want to grab a copy of The Cool Bounce by Mitchell Dean, a collaboration between pianist Brett Mitchell and percussionist Dean Giles, who get some help from flugelhornist Jeff Elliot (3rd Force, Less McCann), percussionist Victor Bisetti (Los Lobos), and saxophonist John Phillips (The Carpenters). The snazzy record also features Dave Becker, Adam Levine, Barry Pohlmann, and Glen Jackson.
And if y'all love cowpunk as much as I do, get yerself a copy of West Coast Cowpunk by The Sons of KD Elder. It's an all-too-brief five-song EP that features four stompin' good originals and a cover of the public domain traditional "In the Jailhouse Now." If you like beer, boots, women, and hellraising, you'll be in good company!
Both albums are available at local record stores.

Keep up with Glen Starkey via twitter at twitter.com/glenstarkey, friend him at Myspace.com/glenstarkey, or contact him at gstarkey@newtimesslo.com.