On its worst days, the Nipomo Mesa can be home to the most polluted air in the nation. Tiny dust particles from the Oceano Dunes choke the area with a plume that endangers the lungs of thousands. For 97 days of 2017, the air quality on the mesa violated safe standards, according to the county's Air Pollution Control District.
Yet many who live and work in the area are unaware of this threat, how it impacts them, and how to best protect themselves. At least that's what SLO Tribune reporter Monica Vaughan said she discovered while researching the problem as a fellow with the USC Center for Health Journalism. Over several months of reporting, Vaughan interacted with hundreds of affected residents through an online survey and by canvassing neighborhoods.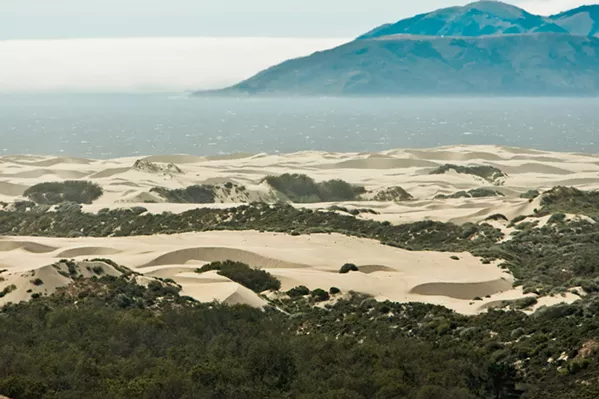 File Photo By Steve E. Miller
UNHEALTHY AIR The Nipomo Mesa community is invited to a free public event on Sept. 4 to learn more about the region's air pollution, which can be some of the worst in the nation.
"I was reaching out to impacted community members and asking, 'What do you want to know and what are you experiencing?'" Vaughan told New Times. "And what I found is there's just a really big gap in information between what public officials and what some community members know, and what the rest of the people who live, work, and go to school on the Nipomo Mesa know."
Vaughan hopes to help bridge that information gap with a free upcoming community event she's organized for area residents on Sept. 4 at Mesa Middle School in Arroyo Grande from 5:30 to 7:30 p.m.
The event will feature an interactive panel discussion focused on three key topics: Why dunes pollution poses a health risk; how you can find out when the air quality is bad; and what steps you can take to protect yourself and your family. Panel members will include SLO County Public Health Officer Penny Borenstein, Air Pollution Control District Officer Gary Willey, retired pulmonologist Dr. Robert Lapidus, and pediatrician Dr. William Morgan.
Child care, Spanish interpretation and translation, and light refreshments will be provided.
Vaughan said dust pollution from the Oceano Dunes is kind of like smoke from a wildfire or dust from a construction site. Tiny particles are inhaled, get past the upper respiratory system, and travel into the lower respiratory system, where they do their real damage.
"They can actually inflame the very sensitive tissue in the bottom of our lungs," Vaughan explained. "When the particulate matter touches the lung tissue, it creates scar tissue. ... That's a part of your lung that will never be used again in your life."
In her reporting, Vaughan talked to Nipomo Mesa community members whose children developed asthma after moving to the area. Twenty residents reported suffering from lung disease. In several of those cases, the disease was contracted despite the person's having never smoked or been exposed to bad air quality before the mesa, Vaughan said.
Science has linked exposure to particulate matter with higher rates of respiratory problems—from asthma to lung disease. On a broad population level, research shows that it lowers lifespans. On a case-by-case basis of individual health issues, though, it's hard to determine exact causes.
"No doctor generally is going to say this [disease] is because of your air pollution," Vaughan said. "There are just too many factors. ... But we can apply scientific research that's been done on a much larger scale to understand what the implications might be."
Community members can monitor their environment's real-time air quality in a few ways. A free smartphone app, called AirVisual, tracks air quality across the country. slocleanair.org also has air monitor reports and alerts. For residents without internet, hazy conditions are usually a sign of a bad air day.
"When the air is bad, the best thing to do to protect yourself is go inside, turn on air filters, and close windows and doors," Vaughan said.
The Sept. 4 event will focus on educating and spreading awareness about the problem—not on policy and politics.
"That was a really hard decision, but I think it's a good decision because we want this event to be as welcoming and inclusive to people who don't know anything about the issue," Vaughan said.
Fast facts
• On Aug. 29, Women's March SLO hosts a panel—Run, Win, Make a Difference—to empower women to run for office. Panel members include city council members from across the county: Erica Stewart, Maria Garcia, Mariam Shah, Susan Funk, and Dawn Addis. The event will be held at United Church of Christ in SLO and runs from 5:30 to 8:30 p.m. Δ
Assistant Editor Peter Johnson wrote this week's Strokes and Plugs. Send tidbits to strokes@newtimesslo.com.