It's should be clear, mild, and maybe a little bit breezy when Americana band Micky & The Motorcars takes the stage at BarrelHouse Brewing Company's Paso Robles location at 6 p.m. this Thursday, April 27, for a Numbskull and Good Medicine Presents show (all ages; $15 presale at ticketfly.com or $18 at the door).
Founded in Challis, Idaho, the earthy, upbeat quintet has since relocated to Austin, and all told they've recorded six studio albums as well as Live at Bill Bob's Texas. Their newest, 2014's Hearts from Above, is their most successful to date, reaching No. 17 on the Billboard U.S. Country Chart, also making it to No. 3 on the Heatseekers Chart. This is a band on the rise.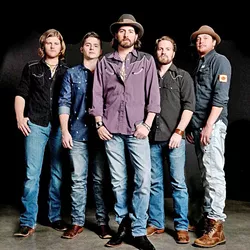 PHOTO COURTESY OF MICKY & THE MOTORCARS
AMERICANA DREAMERS: Micky & The Motorcars bring their folk, country, and rock sounds to Paso's BarrelHouse Brewing on April 27.
Featuring brothers Micky (vocals, acoustic guitar) and Gary Braun (vocals, guitars, mandolin, harmonica), the band also includes Joe Fladger (bass), Dustin Schafer (lead guitar), and Shane Vannerson (drums, percussion). According to their bio, Micky and the band deliver "honest, raw emotion and energy bleeding through Micky's heart straight out into the crowd. Anyone who has ever loved and lost or loved and drank or loved at all knows exactly where he's coming from and what he's talking about in a sincere, piercing way."
The songs do stick with you, with tight musicianship, Micky's authentically rich voice, and well-crafted lyrics. "When I'm down on my luck/ And drowning in my head/ There's nothing I can do// Another Lonely ghost town/ Another empty bed/ I was a fool for losing you// It's a long road to nowhere/ Where a million miles ago/ I reach for you," Micky sings on "Long Road to Nowhere."
For the Braun boys, music has always been a family affair. They grew up "playing music with their older brothers (Reckless Kelly's Willy and Cody Braun) and father (full-time musician, Muzzie Braun). The boys' paternal grandparents were both full-time musicians as well, and the boys watched their father play in his own Braun brother band with their uncles Billy and Gary."
This road-tested band now travels about 200 days a year, bringing their unique brand of Americana to fans around the country. This should be a great night of music and craft beer!
Surf-jazz juggernauts!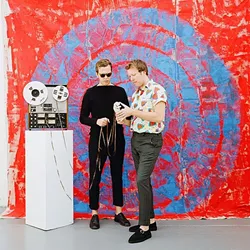 PHOTO BY MONTEREY INTERNATIONAL
MUSIC FOR CAMBRIA: Surf-jazz act Mattson 2 (pictured) will be joined by Ray Barbee to play a second annual benefit concert at the Hearst Ranch Warehouse on April 29.
Surf-jazz duo Mattson 2 will unite with Ray Barbee to play a second annual benefit concert at the Hearst Ranch Warehouse this Saturday, April 29 (doors at 5p.m.; music at 6:30 p.m.; tickets are $50 available online at cambriaeducationfoundation.org).
The venue, perched above the Pacific 5 miles north of Cambria, offers the perfect setting for twin brothers Jonathan and Jared Mattson's melodic and jangly jazz-surf originals.
According to press materials, "Jared plays the guitar with a style that's heavily influenced by Pat Metheny and Bill Frisell as well as Johnny Marr of the British pop-band The Smiths. On the drums, Jonathan follows with what he describes as a twin intuition that keeps both musicians connected during performances with an improvisational style likened to musical mindreading. Barbee, who often joins the twins during performances, adds dimension to the sound on bass and lead guitar. His music has been featured on NPR and has been used in a number of surf videos."
The three recorded in Japan in 2007, resulting in the album Ray Barbee Meets the Mattson 2.
"Following their 2016 performance for the Cambria Education Foundation to benefit Cambria students and teachers, the Mattson brothers took a personal interest in the schools and the Central Coast area," organizers added.
Jonathan now acts as a middle and high school music teacher in the Coast Unified School District. Jared is a music educator for the Children's Creative Project.
"I believe getting into music at a young age helps kids feel like they have meaning and purpose," Jonathan said. "Learning an instrument helps children form an independence and an identity in the world in general—not just in creative circles. The confidence, contentment, and self-esteem a student gains from developing musical talents can help combat negative traits all too common in youth such as peer pressure, low self-esteem, and lack of self-confidence."
Funds raised will support the Cambria Education Foundation, a nonprofit organization that supports the teachers and students of the Coast Unified School District.
On a side note, the brothers' new album, Chaz Bundick Meets The Mattson 2, has reached No. 1 on Contemporary Jazz Billboard charts.
Bluegrass bonanza!
PHOTO COURTESY OF RICKY MONTIJO
FRESH TRACKS: Ricky Montijo and the Mojitos release their righteous new record The Sauce Pot Sessions on April 28 at The Pour House.
It's still a couple of weeks out, but if you're planning on camping and immersing yourself in the 19th annual Parkfield Bluegrass Festival, now's the time to get your passes and plan your campout in picturesque Parkfield on Thursday, May 11 through Sunday, May 14 (info and tickets at parkfieldbluegrass.org).
Parkfield, known as the "Earthquake Capital of the World," hosts this festival every Mother's Day weekend, drawing bluegrass fans from all over who hang out in this charming hamlet for four days of concerts, workshops, children's activities, camping, and music jams. You can get day passes or stay the entire weekend. If camping's not your thing, plenty of hotels are within driving distance.
This year's lineup features a Sawmill Road reunion, the always amazing Cache Valley Drifters, the young but smoking hot Lonely Heartstrings Band, Snap Jackson & the Knock on Wood Players, Pacific Drive, Blue Summit, The Blue "J's," Have More Fun Stringband, The Hossettes, Dim Lights, Ynana Rose, Honeysuckle Possums, Amber Cross, Robin Fischer, and Gerry Higbies "Kids on Stage."
This festival is fun for the whole family! For budding performers, "join the instrumental, vocal, and dance workshops for young and old led by featured band members, and even an Earthquake workshop and a barn dance on Friday, May 12, at 10 p.m. in the Community Room," organizers added. "Returning this year will be the walking tour of the San Andreas Fault lead by a United States Geological Survey geologist and the popular Friday night Barn Dance in the Community Center. Café Shows will again be offered for late nighters!"
More music …
Ricky Montijo & The Mojitos are hotter than a pistol right now and ready to release their third album, The Sauce Pot Sessions, on Friday, April 28, in Paso's The Pour House (8:30 to 11:30 p.m.). The album kicks off with the danceable party song "Dances When She Drinks" that showcases how tight and slick this band is, but on the next track they slide into the sultry blues song "Baby I'll Beg." They bring the sass on "Funk in a Country Bar," a great narrative song about a funk band playing a country bar à la the Blues Brothers at Bob's Country Bunker. If you're looking for some great R&B played by pros, check them out!
PHOTO COURTESY OF JIMBO SCOTT
MOONDANCERS: Songwriters at Play hosts a Tribute to Van Morrison on April 29 at the Steynberg Gallery, with nine acts including Oakland's Jimbo Scott (pictured).
Festival Mozaic and the Paderewski Festival have collaborated to present pianist Jocelyn Swigger's The Chopin Project Concert at the Historic Paso Robles Inn, featuring Swigger performing all 27 Chopin Études on Saturday, April 29 (3 p.m.; all ages; $40 tickets available at festivalmozaic.com). The famously difficult Études—or exercises for piano—were written by Polish composer Frederic Chopin and published during the 1830s, their aim being to develop a new playing style. Swigger began studying and practicing them in 2010, and said in press materials, "The biggest surprise has been how fiendishly difficult they are, and also how fulfilling they are. I'm not tired of playing them, and I feel like I learn something from them every day. I don't believe I'll ever feel like I've mastered them. Each time I perform them, I don't know for sure what's going to happen. It makes it exciting for me and for the audience."
Songwriters at Play hosts a Tribute to Van Morrison this Saturday, April 29 (7 p.m.; all ages; $15 tickets at brownpapertickets.com/event/2899428), at the Steynberg Gallery. "Sir George Ivan Morrison, known as Van Morrison, is a Northern Irish singer and songwriter who has been inducted into both the Rock and Roll Hall of Fame and the Songwriters Hall of Fame," co-organizer Bonnie Nelson-Key explained. "Our tribute will include many of his pop hits, including 'Moondance,' 'Into the Mystic,' 'Crazy Love,' 'Wild Night,' 'Caravan,' 'Tupelo Honey,' 'Jackie Wilson Said,' and many more." Performers include Oakland's Jimbo Scott, L.A.'s Paul Inman's Delivery, local acts Matt Yaki, Shannon Savage, Max MacLaury, Jim Conroy, John Sandoval, the duo Smugglin' Cousins, and more. Host Steve Key will kick off the event.
Stunningly talented roots quartet The Mystery Trees return to D'Anbino Wine Cellar on Saturday, April 29 (8 p.m.; 21-and-older; $10). The four players—Kenny Blackwell and Dorian Michael (electric guitars), Ken Hustad (bass), and Bill Severance (drums)—are all incredibly busy professional musicians, and they don't get a chance to play together too often, so don't miss your chance to hear a great mix of rockabilly, blues, and roots rock. "It's music of the American South played with depth and heart. It's hillbilly blues power," said the band.
PHOTO COURTESY OF THE MYSTERY TREES
MYSTERY MEN: Stunningly talented roots quartet The Mystery Trees return to D'Anbino Wine Cellar on April 29, delivering "hillbilly blues power."
The Coalesce Bookstore hosts the Eco Rotary 3 Band Concert and Fundraiser this Sunday, April 30 (1 p.m.; all ages; $20 tickets at 772-2880), featuring Zen Mountain Duo and Wine Country Troubadours, as well as Jerry Leggett and The Hub, a traveling peace-building effort of the Rotarian Action Group for Peace. Also expect a silent auction, sale of reusable bags made from recycled plastic bottles, and delicious refreshments for sale. Proceeds benefit all Eco Rotary Club projects, including the National Estuary Program, Piyall Learning Center, Rancho El Chorro Outdoor Ed, Bayshore Bluffs Park, and Club Peace building efforts.
This Monday, May 1, marks the 10th anniversary of Toan's Open Jam at the Frog and Peach (8 p.m.; 21-and-older; free). "I have eight local bands performing to commemorate this occasion," Toan—an amazing guitarist—said. Hear Anthony Roselli, James Rivers Band, Trouvillain, Baywood Jones, Gerald Purify, St. James Infirmary, Noach Tangeras Band, and Explode the Machine.
Early bird ticket prices end soon!
First of all, Castoro Cellars' annual art and music festival called Beaverstock has been forced to change its name because owners of the Woodstock Music Festival threatened to sue, which means Beaverstock has gotten big enough to draw the ire of an East Coast music festival. Woo hoo! Go Castoro Cellars! (P.S. Everyone be quiet about Woodstock's Pizza. I can't take any more change in my life.)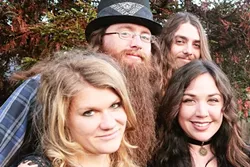 PHOTO COURTESY OF THE NOACH TANGERAS BAND
TOAN'S ARMY: May 1 marks the 10th anniversary of Toan's Open Jam at the Frog and Peach, and he's celebrating with eight bands including the Noach Tangeras Band (pictured).
Second, Beaverstock has changed its name to the Whale Rock Music and Arts Festival, which is a terrific name. Good job, branding department.
Final thing! If you want to get a sweet deal on the two-day festival happening Sept. 16 and 17, order your festival passes by May 1 because prices go up on May 2. This year's lineup features Michael Franti & Spearhead, Jamestown Revival, Turkuaz, Las Cafeteras, Hot Buttered Rum, The Surfers, and more!
Keep up with New Times Senior Staff Writer Glen Starkey via Twitter at twitter.com/glenstarkey, friend him at facebook.com/glenstarkey, or contact him at gstarkey@newtimesslo.com.
Correction: May 1, 2017
Ethan Tucker will not perform at SLO Brew, as previously reported.