Two people cram their lives into separate boxes to a frantic, angry beat. A gay man, fed up with his own shyness, tries on new identities in a boutique clothing store. A virgin, sick of being chaste, longs for sex. And the player, at the height of his game, just keeps on playin'.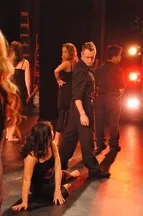 PHOTO BY JIMMY DE
DRAMARAMA : Rachel Salerno plays Roxanne (left, on the floor) whose marriage woes help to fill therapist Faith's book on love addiction, in CORE Dance Company's most theatrical performance to date.
They're the perfect love-addiction case studies, and their dramas will color therapist Faith Turner's definitive volume on the subject. So begins Confessions of a Love Junkie, CORE Dance Company's most ambitious project to date.
"I really wanted to do something that everybody can relate to, and that is love," explained Zheila Pouragabagher, the show's director, co-creator, and producer. "Everybody can connect with love and loss. … And so that's where it started, with the idea of love, and then the idea kind of unfolded over time."
Pouragabagher teamed up with choreographer Suzy Miller when creating the show's storyline. The result is a highly entertaining narrative dance show that manages to squeeze four stories and 16 colorful dance numbers into two breathless hours. Confessions represents the new dance company's first foray into acting—and its first show exclusively for grownups.
"I think it's good to recognize that we have adults that live in this community that don't necessarily want to go and see something that's PG- or G-rated," Pouragabagher said. "It's an adult theme; it's mature content, something that can stimulate them intellectually."
PHOTO BY STEVE E. MILLER
VIRGIN DANCE FANTASY : Dancer Hailley Cooper, as Virginia the virgin, is held aloft at a rehearsal of CORE Dance's Confessions of a Love Junkie.
Pouragabagher also plays Confessions' therapist, who opens and closes the show with her commentary on love addiction and acts as a common thread among the show's four vignettes.
Confessions reveals what life would look like if dance were the accepted medium of storytelling. When Virginia, the virgin—played by Hailley Cooper—tells the therapist about the dream she had last night, her description quickly morphs into a professionally choreographed fantasy romp, set to Natalia Kills' sugary "Wonderland." (Sample lyric: Will you wake me up boy/if I bite your poison apple?)
Dancer, choreographer, and circus performer Jesus Solorio, originally of Paso Robles, was called upon to create the sassy dance number.
"Her conscience is telling her, 'No, don't do it until marriage,'" Solorio explained, "and the other side is telling her, 'Go for it! It feels good! You become a woman!' And in the end, she decides that she's going to do it; she's going to take the leap."
PHOTO BY JIMMY DE
BREAKIN' UP! : Dancers Rachel Salerno and Edgar Garcia play unhappy couple Roxanne and Paul, who seek advice from therapist Faith (Zhiela Pouragabagher).
Solorio, who now lives in Los Angeles, has performed on the television series So You Think You Can Dance and Dance Your Ass Off and can even be spotted in an early episode of Glee.
Faith encourages unhappy couple Roxanne and Paul, played by Rachel Salerno and Edgar Garcia, to express their frustrations in nonsense syllables, and their gibberish exercise quickly transitions into Korn's angry "Freak on a Leash."
At the recommendation of his best friend Virginia, fresh-out-of-the-closet Benjamin (Todd LeMay, who delivers a spot-on performance) enters the therapist's office. Having come out well past the first blush of youth, Benjamin struggles with identity. Still tormented by religious views of morality, a notion embodied in one scene by the hilarious Sisters of Perpetual Repression, Benjamin yearns for the brazen, confident lifestyle led by other gay men.
His scene in a fancy boutique, trying on fake fur coats and rainbow mullet wigs to Cake's cover of "Mahna Mahna" (or is it "Menomena?") is a visual metaphor of his exploration of identity.
Then comes Judas, the avowed player. Courtney Winder, as the kid dragged into therapy by his concerned mother, is fantastic. She wants him to meet the right woman; he swears he'll never settle down. And his scene at a club, complete with break-dance solo (it's hip-hop night), solidifies this.
DANCE YOUR BLUES AWAY: CORE Dance Company's Confessions of a Love Junkie plays at The Spot, located at 116 W. Branch St. in Arroyo Grande, from Aug 4 to 14. Tickets cost $18. Call CORE Dance at 541-2669 or send an e-mail to coredance.cc@gmail.com.
While there's plenty of inherent comedy in Confessions, the show, like its chief subject, is not without poignancy.
As struggling husband and wife Paul and Roxanne, Garcia and Salerno's vignettes may be the most gripping. Packing their personal effects into boxes labeled "his," "hers," and "us," the pair squabbles over items of little value. In a moment of would-be reconciliation, the two appear to collapse into one another's arms, but they come just close enough to shove the other away, like magnets whose polarity has been reversed. They tangle over the box labeled "us" until it tumbles on its side. It's empty.

Arts Editor Anna Weltner lifts us up where we belong. Send eagle cries to aweltner@newtimesslo.com.