The recently elected officers of the Grange Hall in San Luis Obispo spend most of their time cleaning up messes. Some are physical: weeds and trash in the back yard area, stained walls, and dirty dishes. Others are more bureaucratic in nature, like their lapsed status as a 501 C (8) nonprofit fraternal organization, a commercial kitchen that didn't meet county health standards, city taxes that never got paid, and missing liability insurance to protect themselves from lawsuits. Also, there's that lawsuit from a woman who was injured on the property several years ago and claims to have been mistreated by Bill Moneymaker, the former Grange Master.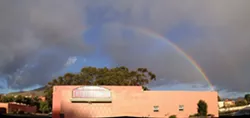 According to several officers who spoke at the club's Feb. 11 business meeting, most of the Grange's problems stem from Moneymaker's tenure; he ran the hall almost exclusively as a comedy nightclub for several years.
"This place was neglected for years," current Grange Master Eric Michielssen said. "We're just trying to get back in shape a little bit at a time."
New Times was unable to locate Moneymaker for comment.
The Grange began in 1867 as an agricultural advocacy group. Nationwide, it played a major role in bringing mail service to rural areas, and in California, early Grange organizations fought the railroads to keep fees low for transporting produce.
The local hall was built in the 1950s and features a stage, a huge dance floor, a smaller meeting space, a commercial kitchen, a backyard barbecue pit, and ample parking. The California State Grange technically owns the property, but local officers manage its upkeep and decide how it's used.
They haven't always operated with agricultural interests in mind, which angered some members. In 2010, internal disputes led to officers from the state Grange coming to San Luis Obispo in order to padlock the doors and shut down the comedy club. Moneymaker promptly stepped down, and the accounting records from his tenure can't be found, according to current treasurer Linda Lefferts. Interim leadership was only recently replaced by a steady board.
None of that sits well with Dave Essex, whose relationship with the Grange is a little complicated. He told New Times that his fellow officers tried to force him out of the Grange as an officer in November for asking too many questions, but he also said they didn't follow the proper process to boot him. Either way, he claimed the new leadership is using problematic patterns of behavior and that they aren't using the facility for proper Grange functions.
"They just see a building that's worth $2 million and think, 'Gee, for $30 in membership dues, I can control this space,'" Essex said. "Once they take it over, they can charge themselves a low rental fee and use it for whatever they want."
The other officers told the tale of Essex's departure a little differently. They said he accused people of embezzlement and interrupted discussions at the November meeting, hurling insults and slurs. They said they asked him to leave, and when he didn't, they had no choice but to call the police. Later, they voted to ban him from the club, but Essex claims they merely approved his ability to transfer his membership to another area.
At their Feb. 11 meeting, the remaining officers said they're dedicated to providing the Grange Hall as a venue for community enrichment and denied any allegations that they've misappropriated funds.
"Every family has things in the closet," hall steward Brian Aunger said, "but the old history is just that: old history."
There simply isn't any money to embezzle from the Grange, officers said. Instead, individual members have funneled their own money into the facility over the last few months in order to repaint the hall's exterior, replace the light fixtures for energy efficiency, and renovate the kitchen, which finally passed a county inspection on Feb. 6 and received a permit to operate commercially. Lefferts said the members will eventually be reimbursed, but not until the Grange is on firmer financial footing.
While some money comes to the Grange through dues paid by its 33 members, most of the revenue the club needs for utilities and property taxes comes from renting the hall facilities to community groups and private parties. Discounted rates are given to organizations that benefit the community and promote rural interests, Michielssen said, and many jump at the chance.
The Grange reinitiated a farmers market in July, was host to a seed exchange and lecture on Feb. 10, and provides a space for square dancing every Wednesday. Bob Banner of HopeDance Films screens educational movies on site, and a Jazzercise class was in session on Feb. 11, when Aunger announced that new member Virginia Marum, who owns Vert Foods, will be renting the kitchen at a cheap rate to prepare and sell healthy boxed meals made from local produce. She said she hopes to expand her use of the Grange to include cooking classes.
Every Tuesday, discussion groups like the SLO Permaculture Guild (which promotes sustainable energy) and SLO Money (which negotiates micro loans for local entrepreneurs) are allowed to use the hall for free.
"I put in my time so that we can offer the Grange to worthwhile groups that are helping the community," Michielssen said. "We want to be the sustainability center for the community."
Staff Writer Nick Powell can be reached at npowell@newtimesslo.com.