2: "Two Megapixels," an exhibit of iPhone photographs taken by Steve E. Miller, runs through April 30 at San Luis Art Supply, 1116 Morro St. An opening reception takes place April 9 from 7 to 10 p.m.
L
ike so many fateful artistic journeys, Steve E. Miller's decision to exhibit photographs taken with his iPhone began on Facebook. Miller, New Times'
staff photographer, is never without his camera. He's a hulking, Jesus look-alike metal head with a camera perpetually strapped to his shoulder. Last spring, he purchased an iPhone 3G, unwittingly supplying himself with a second lens he could always have on hand.
Miller didn't immediately set out to take photographs with his phone. He started when a commercial photographer developed an iPhone application called Best Cam. For a mere $2.99, the program significantly improved photo quality, allowing for color and contrast modification. Miller began using his iPhone to take photographs around town, mostly outdoor shots filled with texture and shadow. When he posted the images to Facebook, the response was enthusiastic.
"So many people were astounded that these pictures were coming from the iPhone," he explained. "I started selling limited editions of them."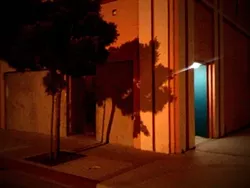 PHOTO BY STEVE E. MILLER
PARKING GARAGE SHADOWS:
That led to the idea to exhibit his iPhone photos at Neal Breton's Morro Street store, San Luis Art Supply. The scale of the store is compatible with the diminutive scale of the iPhone images. Despite the fact that he takes photographs every day, Miller hasn't had an exhibit since 2004. He cites as the primary obstacles the high cost of printing and framing a large body of work, coupled with lack of viable venues for a photo show.
But "Two Megapixels"—both the show's title and the size of images taken on an iPhone—is a little less polished, and deliberately so. Miller selected 25 iPhone images, sized at 4-by-5 inches and printed on 8.5-by-11-inch paper. Solving the always-difficult riddle of how best to display the art, Miller suggested hanging wooden rods from the ceiling. The photographs are attached to the rod via a clothespin. They're also bagged and ready to go to the first willing customer. The 25 images are sold in editions of 25, with the price set on a sliding scale based on how many images are still available. For example, the first print of a given photo sells for $5, the second for $6, the third for $7, and on until the 25th sells for $29. For anyone accustomed to the way local artists price their work, this might sound unorthodox, but Miller insists it's common practice among photographers in other communities. It makes sense that the fewer there are available, the more valuable they become, he points out.
PHOTO BY STEVE E. MILLER
RAINY CHAIR :
Breton's hope is that a collector with foresight will buy a group of the photographs to piece together a book. After all, purchasing all 25 photographs at their cheapest sets a collector back a mere $125. Whether that happens or not, the proprietor and painter is pleased Miller chose his store as an exhibit venue.
One of the benefits of technology like the iPhone is that it's something of an equalizer among photographers. While hardly cheap, it's a lot less expensive than a professional quality camera and equipment. And there isn't a whole lot of technical know-how or post-editing.
"It's a one-button-push kind of situation. And if it doesn't turn out, well the photo's dust," Miller said. "It's like shooting on film. If it's good, I'm done. And if it's not good, then move on. One of the biggest pains is having to sit in front of the camera. I'd much rather be out taking pictures."
PHOTO BY STEVE E. MILLER
WALL SCENE:
The iPhone's size also poses an advantage. One of Miller's photos depicts what looks like a tunnel with a blinding light at the end. In reality, the tunnel is simply the gap in a Dumpster a forklift would use to lift it into the air. The size of a normal camera would have made such a shot practically impossible, but with an iPhone, Miller managed to make a trash bin look like a passageway to the afterlife—which is actually pretty standard of Miller's photography. He specializes in the minute details that most people don't even see, much less spend any significant length
of time examining.
The show's subject matter doesn't contain a narrative thread or character; in fact, people are altogether absent from the photos. The only real cohesive element is Miller's attention to the little things, the details, the shadows, the reflections.
It's not necessarily a new idea to put together an exhibit comprised of iPhone images; according to Miller, iPhones now represent the most uploaded camera on Flickr. But SLO County hasn't seen much in the way of these exhibits. So put your skepticism on the back burner (for a few hours, at least) and prepare to look at Dumpsters in a whole new light. If nothing else, you'll never find fine art photography for less than $5.
Arts Editor Ashley Schwellenbach is waiting for an iWriting program to turn her words into poetry. Send tech-savvy ideas to aschwellenbach@newtimesslo.com.