Fans of female singer-songwriters and fans of gritty Americana roots music both have something to smile about this week, because Jade Jackson is releasing Vintage Heart and The Ragged Jubilee is releasing American Moan.
PHOTO COURTESY OF JADE JACKSON
WHOLE LOTTA HEART : Santa Margarita chanteuse Jade Jackson plays an album release party for Vintage Heart on March 5 at Boo Boo Records.
Jade Jackson, who hails from tiny Santa Margarita, is ridiculously gorgeous, almost too beautiful to take seriously, but dismissing her talent as only skin deep would be a grave mistake. Her angelic voice feels like a secret whispered in your ear, but it can soar into a blaze of sound.
On Vintage Heart, her loves and losses are laid bare at the feet of the listener. "Fools Gold" is about being burned by love—an angry, rebuking song I wouldn't want to be on the wrong end of. My favorite track is "Don't Run Away," which chronicles the growing distance between a single mother and child as the child grows up. Its potent emotional maturity belies Jade's youth.
On Saturday, March 5, Jade will perform an album release party at Boo Boo Records from 2 to 4 p.m. (free; all ages).
Arroyo Grande's The Ragged Jubilee is a gritty, raw, frequently dark rock act with a front man—Ethan Burns—whose ravaged voice takes a page from the Tom Waits playbook. On American Moan, he sinks his teeth into a series of 11 blues-addled, infectiously burning songs that have the urgency of Pearl Jam but the heart of Neil Young.
On Saturday, March 5, The Ragged Jubilee plays an album release party at SLO Brew (7:30 p.m.; all ages; $10 presale or $12 at the door). Briertone opens. See what else is happening at SLO Brew at dtbrew.com.
Travelin' man
The Cadillac Angels' newest CD is a smokin' hot barn burner that kicks off with front man Tony Ridge's take on the traditional tune "Lonesome Traveler," here turned into a loungy slow blues number. What follows is a series of travel-themed tunes like "Big Train," "We Gotta Move," and "I'm Wandering."
"We'll be hosting an all-ages show at Boo Boo Records on Friday, March 4, at 5:30 p.m., and then a 21-and-older show at the Frog and Peach on Saturday, March 5, starting at 10:30 p.m. Both shows will promote our new CD Lonesome Traveler," Ridge said. "To counter those greedy Wall Street and OPEC push-the-panic-button jerks, we'll sell our CD for just $5 instead of the usual $10. All members of Congress will of course pay $50 each, and Supreme Court justices will pay $100 each for our new CD."
Sounds fair to me.
The best show ever!

PHOTO COURTESY OF CAFÉ MUSIQUE

TEARJERKERS : Café Musique's stirring, impassioned sounds will fill a Los Osos house concert on March 5.
Café Musique had me crying like a baby a couple weeks ago when they played Sustenance Cooking Studio. Between Brynn Albanese's expressive violin and Piper Heisig's unadorned but emotionally stunning take on Leonard Cohen's "Hallelujah," it was pretty hard to stem the water works. Yet the band is also a hoot, joshing with the crowd, tearing it up with arrangements so full of unexpected turns that I was in a sonic knot.
The group performs again on Saturday, March 5, in an intimate house concert
in Los Osos.
"It's been nearly a year since we've been out to Los Osos," said accordion player Duane Inglish. "Please come spend an evening with us at a beautiful private residence in Los Osos. Your first drink and hors d'oeuvres are provided with your ticket."
Tickets ($20) must be RSVPed through Casey McDonald (704-8792; kcmacd@gmail.com), who will give you directions to the venue.
Nomad
San Francisco-based singer-songwriter Mike Gibbons has that wandering spirit. The nomadic adventure seeker's newest album, Marigolds: The Bangkok Sessions, was recorded in Thailand, where he spent five years in the '80s as a child and returned in the fall of 2009 with his wife to spend one year living, writing, and recording.
Good timing! It was Bangkok's most intense and violent period of civil unrest in decades, which led to the creation of a multitude of characters.
"There's a little peace-loving hippie, a contemplative Buddhist, a guilty Catholic, a psychedelic shaman, an over-privileged child, and a world wizened sage; all these characters flowing together and spilling out in my music," Gibbons said.
PHOTO COURTESY OF MIKE GIBBONS
ON THE MOVE : Catch peripatetic performer Mike Gibbons on his Marigolds Tour on March 6 at the Frog and Peach.
Catch Mike Gibbons on his Marigolds Tour on Sunday, March 6, at the Frog and Peach (10 p.m.; 21-and-older; free).
The girl with
the golden voice
PHOTO COURTESY OF AMANDA HOLMES
GOLDEN : Saucy singer-songwriter Amanda Holmes plays March 8 at the Steynberg Gallery as part of Steve Key's Songwriters at Play showcase.
Saucy singer-songwriter Amanda Holmes is returning to the area on Tuesday, March 8 (6:30 p.m.; all ages; $5), as part of Steve Key's Songwriters at Play showcase at Steynberg Gallery.
"I must tell you, two years back you wrote about me in your article calling me 'big voiced' Amanda Holmes," Holmes reminded. "I've been using that quote in my bio ever since!"
Crap! Now I have to outdo myself. Hmm. Let's see …
Amanda Holmes' immediately engaging voice moves effortlessly from plaintive to lilting, wrapping itself around her thoughtful compositions and begging you to enter her world of loves lost and found. On "Came to Us in Mexico," with lyrics by Brittany Crawshaw, Holmes beckons listeners to join her: We waited for the sun to rise, sunk our feet into the sand/ Held the horizon in our eyes, let time trickle through our hands/ I wouldn't trade a moment, only wish that I could hold each still/ Don't take for granted, the world turns and always will.
She also sets the Rudyard Kipling poem "If" to music on her new EP, Chasing the Sun, her fourth release.
The week's other Songwriters at Play showcase is Sunday, March 6, at 1 p.m. at Sculpterra Winery with L.A.-based artists Austin Hartley-Leonard and Jamie Drake. Austin recently released an EP, Everywhere I've Never Been, which debuted at No. 4 on the iTunes singer/songwriter chart. Jamie made her mark on the L.A. scene for her "Year Long Residency" at the legendary Crane's Tavern "Beachwood Rocker" night, where she set a goal to play every week.
Laissez les bons temps rouler!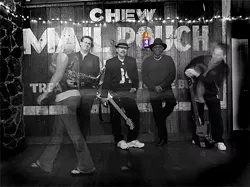 PHOTO COURTESY OF BURNING JAMES
MARDI GRAS! : On Fat Tuesday, March 8, celebrate Mardi Gras with Burning James and the Funky Flames at the Z Club.
Tuesday, March 8, ain't just any old Tuesday. This one's the fat one, people, and what better way to celebrate Mardi Gras than to get your groove on to blues mechanics Burning James and the Funky Flames at the Z Club?
"The Funky Flames have the music of James Brown and the Meters as their spiritual center but also play great dancing blues and soul classics," according to front man James Scoolis. "The Funky Flames are a tight and talented quartet, recently formed from members of several successful SLO County bands (House Red, Body, and Code Blues). On this night, the Flames will have several special guests joining them on stage, as well as beads, balloons, and some great food selections—barbecued Creole oysters and Bon Temp Phil's famous red beans and rice with cornbread. Doors for this ragin' party open at 6 p.m., music starts at 7 p.m. Costumes and masks are encouraged. $10 cover. Laissez les bon temps rouler!"
More music …
Don't forget about Candle's album release party on Thursday, March 3, at SLO Brew. The band's new album, The River You Drink From Will Drown You, is an engaging collection of no-depression tunes ranging from somber ballads to hoedown hooters (7:30 p.m.; all ages; $8). Oh My Land, Ryan Delmore, and Box of Shadows open.
If you're up in Big Sur on Thursday, March 3, the amazing bluegrass and beyond act the Cache Valley Drifters perform a rare indoor winter concert at the Henry Miller Library. Visit henrymiller.org for ticket info.
Students in Cal Poly's Opera Workshop will present two performances of "Classic Scenes from Opera and Broadway" in the Pavilion of the Performing Arts Center at 7:30 p.m. on Friday, March 4, and 3 p.m. Saturday, March 5. Tickets cost $6 for students and senior citizens and $10 for the public. Call 756-2787.
Fingerstyle guitarists Dorian Michael, Jennifer Martin, Tim Pacheco, Martin Paris, and Jeff Miley play a special concert on Saturday, March 5, at 7:30 p.m., in Cuesta College's gorgeous-sounding new Cultural and Performing Arts Center. In additional to original compositions, you'll hear tunes by The Beatles, Leo Kottke, Duke Ellington, and various folk and blues masters. Tickets cost $10 for the general public and $7 for seniors and students from any school. Call 546-3195 or buy at the door.
Actor and stage director Josh Machamer will be the guest artist for Cal Poly's Winter Band Concert at 8 p.m. on Saturday, March 5, in Harman Hall of the Performing Arts Center's Christopher Cohan Center. This annual concert will feature the university's 55-member Wind Ensemble and 70-member Wind Orchestra performing "Music for the Moment." Tickets cost $8 to $19. Call 756-2787.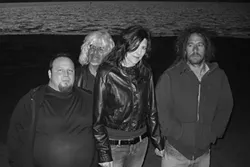 PHOTO COURTESY OF MEDDLING GRETEL
NEW ON THE SCENE : Mettling Gretel—featuring Christine Rhoades (vocals), Paul Duggan (guitars), Jambo Vera (bass), and Luis Munge (drums)—plays its debut gig at Camozzi's Saloon on March 5.
Brand new original rock act Meddling Gretel plays Camozzi's Saloon on Saturday, March 5 (9 p.m.; 21-and-older; $5), with Abstract and Hawkins Chemical Table. "It's our first show and we're the headliner," noted Meddling Gretel guitarist Paul Duggan, a veteran local player joined by vocalist Christine Rhoades, bassist Jambo Vera, and drummer Luis Munge.
The Cal Poly Symphony's Winter Concert celebrates the talents of student soloists and showcases the best music from movies of the last century in a performance at 3 p.m. on Sunday, March 6, in Harman Hall in the Performing Arts Center's Christopher Cohan Center. Jake Wise (materials engineering major) will play Gabriel Fauré's "Elegy for Cello and Orchestra." Maritza Spieller (music major) will play Alexandre Guilmant's "Morceu Symphonique" for trombone and orchestra. Theresa Riforgiate (music major) will sing "Quia Respexit" from J.S. Bach's "Magnificat." Patricia Rosas (music major) will perform "Chacun à son goût" from Johann Strauss' "Die Fledermaus." Call 756-2787 to order tickets.
On Sunday, March 6, one of America's leading jazz guitarists, Ron Eschete, plays The Famous Jazz Artist Series at the Hamlet. Ray Brown, Dizzy Gillespie, and Milt Jackson are a few of the legendary players he's performed with. Bassist Luther Hughes and vibraphonist (and series co-producer) Charlie Shoemake will accompany Eschete as they pay tribute to one of the pioneer modern jazz groups, the Red Norvo Trio, which utilized guitar, vibes, and bass instrumentation. Vocalist Sandi Shoemake will also be on hand. There's a 4 p.m. show for $15, a 7:15 p.m. show for $12, or see both for $20. Call 927-0567 for reservations.
Montreal-based performer Jon Cohen, who used to play with Canada's The Dears and the Social Register, now performs under his own moniker: The Jon Cohen Experimental. "We have a new record out called Behold," Cohen said, "and we've been touring the album this summer and fall across the Maritimes, Quebec, and Ontario, playing festivals like Pop Montreal and NXNE and to all kinds of audiences." He'll play Tuesday, March 8, at Last Stage West.
The SLO County Jazz Federation presents its annual Young Jazz Scholarship Awards Concert on Thursday, March 10, at Steynberg Gallery. This is an opportunity to hear six of the county's highly accomplished young jazz musicians, along with an all-pro rhythm section led by Adam Levine on guitar, Dylan Johnson on bass, and Darrell Voss on drums. The concert begins at 7 p.m. and tickets cost $5. All proceeds go to the Jazz Federation's scholarship fund.
Buy your tickets now!

PHOTO COURTESY OF SHERYL CROW

GET HER WHILE SHE'S HOT! : Tickets for the OPTIONS Music Festival at Avila Beach on May 22, featuring headliner Sheryl Crow, go on sale March 5 through vallitix.com.
The OPTIONS Music Festival at Avila Beach 2011 has an awesome headliner this year, one I don't think has ever played around here before. Sheryl Crow!!! I've dug her music since she burst onto the scene in 1993 with Tuesday Night Music Club. Since then, she's become an international superstar and political activist.
"Crow's current and seventh album is 100 Miles from Memphis, which was released July 20, 2010," said OPTIONS Marketing Director Jacqueline Delaney. "After being released, it was the Billboard 200's second-highest debut. Unlike her previous albums, 100 Miles from Memphis favors a vintage Memphis-styled and soul-inspired record."
Tickets for the May 22 (1 p.m.; all ages) Avila Beach Resort concert go on sale on Saturday, March 5, at 11 a.m. through vallitix.com.
This concert will benefit OPTIONS, a Central Coast nonprofit dedicated to helping persons with disabilities since 1984. For more information regarding sponsorship opportunities or the event, e-mail or call Jacqueline Delaney at jdelaney@optionsfs.org or 772-6066, Ext. 101, or direct at 674-6764. ∆
Keep up with Glen Starkey via twitter at twitter.com/glenstarkey, friend him at Myspace.com/glenstarkey, or contact him at gstarkey@newtimesslo.com.