The troublesome silk floss tree in San Luis Obispo's Mission Plaza has been dealt a death sentence, but, in true Catholic form, it could find life after death.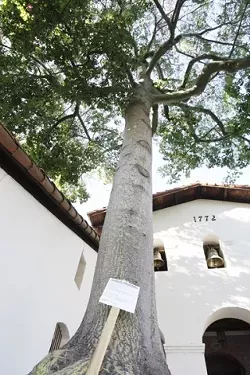 PHOTO BY STEVE E. MILLER
DEATH AND LIFE : A recent vote by San Luis Obispo's tree committee condemned the silk floss tree in Mission Plaza to destruction--but its spirit will live on through its progeny.
# Members of the city tree committee voted unanimously on Nov. 26 to remove the tree, which stands at the historic Mission San Luis Obispo de Tolosa's entrance, without trying to relocate it.
The tree has been the subject of some recent controversy when its roots were discovered to be cracking the walls of a planter attached to the mission. Although city officials worried that the roots could compromise the structural integrity of the building, there was also the matter of destroying a "historic tree," as the floss tree was deemed in 1986. The city--as well as the church and even the tree removal service--considered removing the tree more or less intact for replanting, but decided that such a process would likely cause more damage to the structure, and the tree's long term survival was questionable.
City Arborist Ron Combs said that the tree is believed to be around 50 years old, and conventional wisdom dictates that it could probably only live another 100 years under the best conditions. Relocating it, he said, would dramatically cut its lifespan.
Instead, its loss will be mitigated with another floss tree planted in the same area. The city will also employ Cal Poly staff to make several clones of the tree that can be placed around San Luis Obispo.