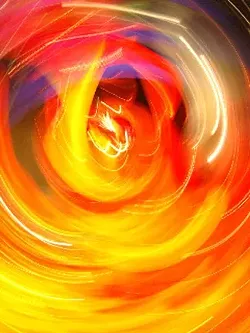 PHOTO COURTESY OF LORI K. OLIVER
CHARLIE'S ROSE : By Lori K. Oliver
Lori K. Oliver's free motion photography technique was the result of a "happy accident." While she attempted to capture the colored lights in Disneyland's New Orleans Square, someone accidentally bumped into her. But the resulting photograph "looked kind of cool," Oliver said. "I started to experiment, right then and there, with different movements. I noticed I could stretch and swirl the light by altering the speed and the span of the motion. Then I began to seek out new light sources, although to this day Disneyland is
one of my favorite places
to shoot."
The experimental photographer recently discovered a new source of inspiration in puddles. Lights reflected in puddle water "lie one layer beyond the obvious," she pointed out. "Look a layer beyond, and you'll see the neon lights in the window above are reflecting on the surface of that water. Now move the camera." The only real rule in free motion photography? No flash.
Most of Oliver's happy accidents don't make the final cut; an estimated one in 200 photographs becomes part of her collection.
Her images are titled not on the basis of what they actually are, but the ideas they invoke. The watery Swim is not an image of water, for example. The adorable Night School evokes a school of fish, though the actual subject of the image is unknown. Charlie's Rose (pictured) was named after Charlie's stalker Rose on Two and a Half Men.
Catch Oliver's show Oct. 9 and 10 at the Kinship Center in Templeton, as part of ARTS Obispo's 2010 Open Studios Art Tour. Her work can also be viewed online at freemotionphotographs.com or at freemotionphotographs.smugmug.com.