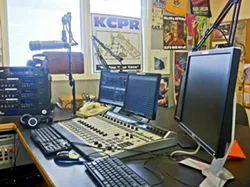 PHOTO COURTESY OF PARKER GLENN
RADIO RESHUFFLE?: After a controversial fundraising incident involving two KCPR DJs, university administrators and students are now involved in a behind-the-scenes tug-of-war over how best to regulate the 46-year-old station.
Some battles commence with a bullet, some begin with an invasion, and some are just inevitable.
On April 21 of this year, Cal Poly students Logan Cooper and Sean Martinez started a battle by posting on Facebook.
"Logan and I are doing a little fundraiser to support KCPR and all of the cool stuff it does," Martinez wrote on the Facebook page for the duo's sex talk radio show Getting It In. "For only $20 dollars [sic], you can have a week of sexy snapchats featuring the hosts of Getting It In!"
After weeks of silence, the fundraiser was brought to the attention of Cal Poly's administration in mid-May.
"That's when it got really bad," Cooper told New Times. "The fundraiser was suddenly blown up to be a much bigger deal than we thought it deserved to be."
Though Cooper said he wasn't surprised that the university reacted negatively to his idea of sending explicit pictures as a fundraiser, he clarified that the idea was meant as a "sex-positive" effort—independent of KCPR—to help out the radio station and expand on a primary theme of Getting It In: that "sex and nudity are not a shameful or bad thing."
"We weren't hiding anything, and we would have totally stopped if people told us the idea was wrong, but nobody did," Cooper said. "The people saying this idea was fundamentally morally wrong, though—that's a little much."
After the revelation of the fundraiser, Cooper and Martinez were suspended from the station, suspended from their on-campus jobs, and were the subjects of a Title IX (sex discrimination) investigation by the Dean of Students' office.
Cooper said the Title IX investigation ended with no formal charges, and the university simply objected to the fundraiser happening under the auspices of Cal Poly. The duo is still suspended from KCPR, however.
"The administration basically just said 'don't do that again,'" Cooper said. "What's funny is that we never even sent any Snapchats—we only had one person who was interested, and we didn't go through with it."
Though the firestorm over the specific fundraiser incident has largely died down, the Getting It In hubbub sparked a preexisting internal university debate about the direction (and future) of KCPR.
Numerous New Times inquiries on the subject of KCPR—addressed to relevant Cal Poly faculty and staff—were invariably redirected to university spokesman Matt Lazier.
"KCPR has long been and continues to be an important hands-on learning experience for many Cal Poly students from a variety of academic programs. As with all of our programs, we are always evaluating how we can optimize the educational aspects of the station, with an eye toward the best possible Learn by Doing experience for all students who take part," Lazier wrote in a prepared media statement.
However, additional interviews and internal emails obtained through a California Public Records Act request reveal a much more complicated situation.
"This is entirely unacceptable … I am beginning to believe that we should sell the radio license (we have had an offer)," Doug Epperson, dean of Poly's College of Liberal Arts, wrote in a May 19 email about the fundraising incident. "What were they thinking and how could it go so far with faculty completely unaware!!!"
In another May 19 email, Epperson wrote "Unless you [KCPR faculty adviser Richard Gearhart and journalism department chair Mary Glick] can provide a concrete organizational plan and structure that will preclude something this extreme from happening in the future, I see no need to keep KCPR. I'm very serious about this.
"It is just one problem after another at a much greater frequency and magnitude than the other student media outlets without nearly the educational value of the other media outlets," Epperson continued. "It can only boil down to poor student selection and/or poor faculty oversight, neither of which is acceptable."
When asked by New Times if he stood by his statements, Epperson said that he wrote them "to get people's attention," added that "the status quo is unacceptable," and mentioned that Cal Poly "will explore all the options." He declined to enumerate any other KCPR incidents that contributed to the "much greater frequency" of problems.
"We are conducting a full analysis of KCPR to determine how to best integrate or align them with the rest of the journalism department," Epperson said. "No changes will happen until we complete that analysis."
Gearhart and Glick both declined to comment for this story.
In a June 2 email to a Poly alumnus, however, Glick wrote "we have plans to put together a 'Blue Ribbon Panel' this summer of alumni and friends of KCPR to guide us in devising a more formal structure for oversight of the station."
Glick also opined—in a May 19 email—that "KCPR needs the attention of a manager—preferably a faculty member with professional experience who can maximize the station's potential."
In the same message, Glick added that, in her opinion, KCPR has "only minimal connection now to the educational goals of the journalism program."
When asked for his point of view regarding potential increased university regulation and/or termination of KCPR, Cal Poly student and station General Manager Parker Glenn said he has concerns.
"KCPR could benefit from more resources and guidance from professionals in the field, not regulations," Glenn wrote in an email to New Times. "I do not believe I am the only one who credits the station as the reason they stuck with Cal Poly … this is an experience that would have likely been limited, had the university imposed more regulations."
Glenn said that station staffers are involved in an ongoing discussion with the university administration about KCPR's future. He doesn't believe KCPR will be shut down and added that he "never felt the station was improperly supervised."
Former KCPR business director Roxanne Hoffman also responded to a request for comment from New Times, in which she defended the status quo of KCPR as a cultural necessity for SLO County and characterized the fundraising incident as an "isolated incident gone awry."
"The faculty chair [Glick] claims KCPR has no educational value but overlooks years of it being a resource for people to cultivate knowledge and engage with mediums of art," Hoffman wrote.
"Even if I'm at a school to study engineering and may not come back to SLO once I graduate, I want to know I tried to save the community I was a part of and the community in which future students can thrive," she added.
Ultimately, lips are sealed regarding specifics of how or when Cal Poly might instill greater oversight of KCPR, and the future direction of the 46-year-old radio station is uncertain.
"Everyone here puts KCPR first, and I want to keep the station on the air no matter what," Cooper said. "It would really be a shame if this 'incident' was the thing that brought down the station."
Staff Writer Rhys Heyden can be reached at rheyden@newtimesslo.com.