Unlike Wolfgang Amadeus Mozart, violinist Scott Yoo hadn't composed a single concerto by the time he was 4 years old. Yoo turned 7 without having written a symphony, and by the age of 12 he had not one opera to his credit. But don't get the wrong idea. The music director and principal conductor for the 35th Annual San Luis Obispo Mozart Festival is no slouch, either.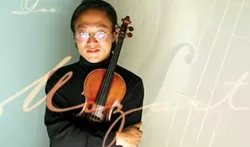 Christopher Gardner
ROCKSTAR VIOLINIST: Scott Yoo rocks the house from New York to Hong Kong, and this month he'll delight the Central Coast with his virtuoso musicianship in the 35th Annual Mozart Festival.
#Yoo, like Mozart, began studying music at the age of 3, and he quickly demonstrated a rare ability to mimic classical compositions he heard on radio or on TV. As a 12-year-old, Yoo was performing violin concertos with the Boston Symphony. And today, the young musician travels the world conducting international orchestras and performing with the Metamorphosen Chamber Orchestra, which he founded in 1994.
Curtis Pendleton, executive director for the SLO Mozart Festival, is thrilled to see Yoo return to the Central Coast after his spectacular appearance in last year's festival as both a violinist and a guest conductor. The 34-year-old virtuoso, whom Pendleton describes as a "rockstar violinist," is expected to bring a young and vibrant energy to this well-established summer concert series.
A New Yorker with a passion for the Red Sox and a degree in physics from Harvard University, Yoo adds a more cosmopolitan flair to the event by drawing an international pool of talent to the Central Coast. Rather than the typical lineup of artists from L.A. and San Francisco, this year's gala will feature world class musicians from coast to coast and around the world.
Yoo's also spicing up the menu with a more colorful assortment of musical entrees. Besides the straight-ahead staples of a symphonic program, this year's gala will include the Bright Gem traditional Japanese ensemble playing the sounds of koto — a Japanese horizontal harp.
And in addition to performing and conducting numerous concerts during the festival, Yoo will also attend what he expects to be a mind-blowing performance from the Uri Caine Jazz Trio at Martin & Weyrich Winery on July 23.
Yoo was kind enough to make time in his busy schedule to speak with New Times about his career in music, and for an overachiever from the East Coast, he came across as surprisingly open, entertaining, and easy to talk to.
New Times : Curtis Pendleton has called you a "rockstar violinist," in reference to your whirlwind world tour schedule. What's your schedule been like leading up to this festival?
Scott Yoo: In March I conducted in Denver. I went to Kansas City, Nashville, Chicago, Toledo, Phoenix. I went to Omaha, I went to Europe, I went to Tallinn, Estonia, and then I had a couple weeks off and went to Colorado for three weeks. I just got back from Colorado yesterday.
And after [San Luis Obispo] I'm going to San Francisco, Indianapolis, Seattle, Utah, and then I'll need a break. And I'm going to Hong Kong next year for about 2 1/2 weeks.
It's kind of the life of a freelance musician ... People who present music these days want to hear a lot of variety, so they don't want to hear the same person over and over, so they're constantly flying in guest artists.
It's great for me because every time you go to a new place, you learn something. You learn how a different orchestra works, you learn something about yourself, you make some new friends.
New Times: So when you travel, you're conducting as well as performing?
Yoo: Mostly conducting, and some violin playing.
New Times: I understand that you started studying music at the age of 3; Mozart started at about that same age, right?
Yoo: Everybody says Shirley Temple was a genius, but Mozart was the original Shirley Temple. When he was 5 years old, this guy was world famous. People were saying this is the next big thing, and they were right. They were totally right.
The thing about Mozart is that he didn't fizzle out. He got better and better and better and better, until he died at the age of 35. Which is weird for me because I'm approaching 35, and just looking at what he accomplished in those short years, it's frightening ... He didn't even have to think about it. This stuff just came out of his pen.
New Times: So when did you first know that you wanted to be a musician?
Yoo: When I was a little kid, my parents used to watch "Masterpiece Theatre," and they played this tune, it's actually a march by Lully ... [humming the theme song]. And when I was 3, I could play it on the violin.
I could play things I heard on TV, basically, and my parents thought it was cute. They thought it was unusual. And so they gave me a lot of violin lessons. And like any parents, they wanted me to practice, and it kind of became a chore.
Then, when I was about 8 years old, the first piece that I really loved playing was this Mozart violin concerto, and I really got into it, and from then on I was really crazy about playing the violin. That music really changed my life.
New Times: I also saw that you have a degree in physics from Harvard. How does that relate to your music?
Yoo: Nothing — it's just a good conversation piece, like having a really expensive coffee table book.
New Times: So you don't use it?
Yoo: I'm actually giving a guest lecture at Cal Poly on physics.
Actually, the great thing is, when I went to Harvard, I met a lot of students who were really interested in music, and they really reshaped and reformed my concept of what a life in music is really about.
New Times: Looking at the program for this season, there are a lot of interesting and innovative arrangements, like the jazz ensembles. What are some of your favorite pieces from this program or of music in general?
Yoo: Well, Mozart is my favorite composer, so I feel like this is a really nice job for me. Whenever I guest conduct orchestras I always ask to do some Mozart. I mean, the guy was just so new, and there's so much freshness.
When you hear a great tune, like a great pop tune, for the first time, you get a certain thrill from the first time that you don't get the second time or the fifth time or the 20th time. I think I get that thrill almost every time, even from something I've heard 30, 40, or 100 times. It's just that good. It's just fresh every time, it's new every time. That's what I like about it. You can get a charge out of Mozart that you may not get out of Brahms or Tchaikovsky. It's just so fresh, it's amazing ... .
On the 20th we're playing the Mozart "Symphony No. 28," and in 1997 it was the first time I'd had that, which is weird. And I got a tape of this symphony and just couldn't believe how awesome it was. ... There isn't a drum set, but it's kind of like rock and roll. There's so much action in that symphony. It says what it needs to say, and then it's done. "Off the charts" is not even the right word. It's beyond that. This guy just had something that nobody else had. Incredible.
New Times: This is probably the most important classical music event that we have here in San Luis Obispo. What is it that you want audiences to walk away from these concerts with?
Yoo: I want them to make friends with the music. What I love about classical music is that after I get to know a piece, I think, god, what a shame if I never got to know that piece. It's kind of like making a friend.
It's like Ethiopian food. It's great. What if you never had Ethiopian food? You'd still live, but it's better that you had it and you like it. You don't eat it every day, but you can go to it once and a while, and it's there, and you like it.
I think it's the same with these pieces. People are going to come here, and I don't expect them to like everything. But if they make a friend with a piece, and they're like, "That's a piece that I really, really like — I want to hear that again," that just makes their life a little bit better. And that's the idea here, we're trying to introduce people to their new friends.
That's what I love about classical music. I mean, there's so much good stuff out there. I know it's a little intimidating, you go to the record store and there's zillions and zillions of things. And how do you choose? But that's the whole point. Just pick something, and if you like it, then it's a friend for you.
There's 6 billion people on the earth, and how do you choose which friends you're going to make? You don't. You just bump into people, and some people become your best friends. We're social animals, and you have to have friends.
And music is also like that. If you make friends with the Beethoven Third Symphony, that's going to be a friend for you for the rest of your life, and you're going to be able to call on that friend. And that for me is why I do music, to have those friends.
---
Mozart Madness
With so many concerts taking place across the county — including several free performances — there's no excuse to miss out on Mozart Festival 2005, running July 15-24.
Friday, July 15: The Modern Mandolin Quartet performs FREE at Mission Plaza at noon, and the Mozart Festival Orchestra plays the PAC at 8 p.m.
Saturday, July 16: The Rosen Sisters play for FREE at The Village at the Oaks in SLO at noon, The Bright Gem Ensemble plays for FREE at the Buddhist Temple in SLO at 3 p.m., The Cypress String Quartet plays Spanos Theater at 3 p.m, and The Modern Mandolin Quartet plays Castoro Cellars winery at 7:30 p.m.
Sunday, July 17: Chamber Players play Spanos Theater at 3 p.m., and Mozart Festival Baroque Players host An Evening in Salzburg at Chapel Hill, Shandon at 7:30 p.m.
Monday, July 18: The Rosen Sisters play for FREE at the Atascadero Lake Gazebo at 11 a.m., and The Modern Mandolin Quartet plays the Chapman House-by-the-Sea, Shell Beach at 3 p.m.
Tuesday, July 19: The Rosen Sisters play for FREE at Castoro Cellars at noon, and Mozart Lovers Serenade performs an all-Mozart program at the Mission at 8 p.m.
Wednesday, July 20: Duo Solare plays for two FREE concerts at Cypress Ridge Golf Course at noon and Edna Valley Vineyard at 3 p.m., and Chamber Players play Grace Church in SLO at 8 p.m.
Thursday, July 21: Duo Solare plays for FREE at See Canyon Fruit Ranch at noon, and The Director's Circle: Scott Yoo performs some his own favorites in an intimate chamber music setting at Grace Church in SLO at 8 p.m.
Friday, July 22: The Rosen Sisters play for FREE at the Chapman House-by-the-Sea at noon, and Mozart Festival Orchestra performs Classically Jazz at 8 p.m. at the PAC.
Saturday, July 23: The Rosen Sisters play for FREE at Baywood Pier at noon, Uri Caine Jazz Trio plays Martin & Weyrich Winery at 7:30 p.m., and Chamber Players play the Mission at 8 p.m.
Sunday, July 24: Mozart Festival Orchestra performs the Closing Concert at 3 p.m. at the PAC.
For complete concert information, call 756-2787 or visit www.mozartfestival.com.
Arts Editor Jeff Hornaday can play musical chairs with his eyes closed. Put him in his place at jhornaday@newtimesslo.com.