PHOTO BY STEVE E. MILLER
RUSSIAN DYNASTY: Vice President of the Central Coast Beard and Mustache Club Yence Pedersen and Sergeant of Arms Peter Kanavalov use their Russian heritage to put the Duck Dynasty men on notice.
I was sitting on a bench outside of Mo/Tav waiting for the Motown Brodown Movember event to commence when an older, bearded man approached me and asked me to open his bottled coffee drink. I'd come across him downtown before and apparently he's an artist, seemingly homeless, but he owns an iPad with his artwork ready to display.
He claimed to me that he was Eugène Delacroix reborn, perhaps expecting that this lowly photographer might not know this giant of French art. I responded that I, too, was a reborn artist. In fact, I am the reborn (perhaps) mightily long-tressed and bearded Albrecht Dürer.
PHOTO BY STEVE E. MILLER
CLEAN SHAVEN BUT STILL ROCKIN': Two man band Rebel Empire rocked out much to the crowd's delight while the event was building up to the beard and mustache competition.
Jerome, who claimed to be Delacroix, rebuffed me until I whipped out my trusty iPhone and pulled up an image of Dürer and showed him. Granted, my tresses have nothing on the greatest engraver of all the Renaissance, but Jerome was aghast to find out that I was born exactly 500 years after Dürer passed away (no joke, folks). So began the evening of showcasing the most manly of things, finely coiffed facial hair.
Movember began as a movement down under in Australia ten years ago in 2003, and it has spurred a worldwide movement to give light to the problem of prostate and testicular cancer amongst men in all the countries of the world. According to cancer.org, 1 in 36 men will die of prostate cancer in the United States, and this is the same number as the rate of death for women with breast cancer. In an attempt to help the cause, Mo/Tav has held a Movember event for the last three years, this year being the fourth.
PHOTO BY STEVE E. MILLER
MO SISTA!: The official Movember movement has dubbed the women who help out the cause as Mo Sistas, and here Rosie Bruiser (wife of CCBMC President Mustache Pete) showcases the competition trophies handmade by Sierra Sinner.
The Central Coast Beard and Mustache Club came on board to promote the event this year and invited men from all over the county and California to participate in raising money for the cause and to showcase their facial hair in a competition. Many of you probably have noticed the president of the club, Mustache Pete, around San Luis Obispo because he sports a lengthy beard and even more lengthy waxed and curled mustache that's admired by any man who has an ounce of testosterone in his body.
Mustache Pete and his wife Rosie Bruiser organized this year's competition, and a good 150 people were packed into Mo/Tav for the hairy and raucous celebration. Oddly enough, this lowly photographer was the only longhaired and bearded man in attendance, which maybe was because Suicidal Tendencies was playing at SLO Brew the same night, so I felt part of the whole thing yet a little more special at the same time.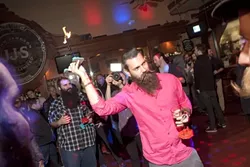 PHOTO BY STEVE E. MILLER
CROWNING THE CHAMPIONS: CCBMC President Mustache Pete shows off his pink shirt and a first place trophy that's about to be delivered.
The more hair the better, right?
This all is definitely a great cause to contribute to, and I know that many, many more men around the county and across the country actually did participate in the Movember movement; but probably if a little more organization and promotion were put into the event it would have garnered even more attendance and money to help out the cause to stamp out cancer on all fronts. A great effort was put forth by all involved, though, but as I left the event I considered the fact that if there was a machine behind Movember like there is behind breast cancer awareness, maybe even more men would be able to be helped, so remember this event so you can participate next year! At press time, more than $2,500 was raised for the cause.
PHOTO BY STEVE E. MILLER
SLO LOST: Apparently members of the CCBMC weren't allowed to compete in the contest, so two Fresno natives (very nice guys by the way) John (left) and Stephen (right) won best mustache and best beard respectively.
DONATE ANY TIME OF THE YEAR!: Visit us.movember.com to get involved in raising awareness and money for prostate and testicular cancer research and treatment, and learn all about the organization and upcoming events.
Steve E. Miller is New Times' staff photographer. Contact him at semiller@newtimesslo.com.