It's just three actors in one room, but that's all Wine Country Theatre's production of Moonlight and Magnolias needs to hold audience members' attention.
The 2004 comical farce by Irish playwright Ron Hutchinson (Against the Wall, Slave of Dreams) is loosely based on true events that happened in old Hollywood in 1939. Lisa Woske (public relations director for Cal Poly Arts) helms this adaption, with Chad Stevens playing David O. Selznick (producer of films like A Tale of Two Cities, David Copperfield), a big-shot producer who halts the filming of Gone With The Wind five weeks in to ask writer Ben Hecht (Tony Costa), famous for writing hits like Underworld in a matter of weeks, and The Wizard of Oz director Victor Fleming (Ed Cardoza) to do a complete overhaul of the script in just five days, using only dialogue from the book it's based on.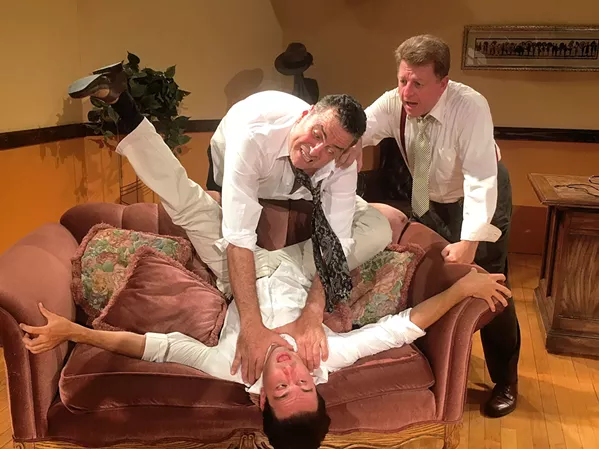 Image Courtesy Of Wine Country Theatre
DEADLINE Director Victor Fleming (Ed Cardoza) strangles writer Ben Hecht (Tony Costa) while film producer David O. Selznick (Chad Stevens) interrupts the two during a five-day rewrite of the screenplay of the classic film Gone With The Wind.
It's a fast-paced, madcap bottleneck of a show that takes place entirely in Selznick's MGM office, in which he essentially locks himself with Hecht and Fleming and a supply of peanuts, bananas, and water to rewrite the script that he's convinced will be a hit if they can only get it right. The set is richly painted and adorned with plush oversized chairs and the sound of Hecht's click-clacking typewriter. It feels like the Golden Age of Hollywood all right.
Image Courtesy Of Wine Country Theatre
WRITER'S BLOCK Ed Cardoza, Jo Jackson, Chad Stevens, and Tony Costa try to survive writing the Gone with the Wind screenplay in Wine Country Theatre's comedy, Moonlight and Magnolias.
Hutchinson cleverly draws parallels between the world of Gone With The Wind and present day to show the absurdity of Margaret Mitchell's story and the pervasiveness of racism throughout America's history. He looks at a nation at war with itself then and with the "axis of evil" in 1939, examining racism through the persecution of black and Jewish Americans using the text and Hecht's and Selznick's experiences as Jewish men working in Hollywood. Hecht pointedly calls several other producers around town and asks them if Selznick is Jewish or American. They unanimously choose the former category, and Stevens' face falls a little more with each successive answer.
Image Courtesy Of Wine Country Theatre
WORD PERFECT In 1939, the Golden Age of Hollywood, producer David O. Selznick (Chad Stevens, left) halts filming on Gone With The Wind in order to completely rewrite the script with writer Ben Hecht (Tony Costa) and director Victor Fleming (Ed Cardoza).
Costa, Cardoza, and Stevens play off one another well, taking turns as the straight man and comic as each slowly becomes a bit more crazed the longer they're inside working on the script. Stevens leads the trio as the producer desperate for a hit if he's going to keep working in this town and keep up with the Joneses. Cardoza is gritty and bitingly funny as the chauffeur turned director who may or may not have slapped Judy Garland on the set of The Wizard of Oz. And Costa is the idealistic newspaperman turned screenwriter who has read only a mere page of Gone With The Wind and doesn't think much of it.
There are no surprise endings or plot twists to be had here. Gone With The Wind gets made (earning Selznick his first Oscar) and goes on to be a smash hit and classic in American cinema. The allies prevail in World War II.
Instead, what Moonlight and Magnolias offers audiences is a fascinating, imaginative peak behind the curtain to see just how the cinematic sausage gets made and what some of the brightest minds in Hollywood thought about their craft while it was still in process. Δ
Frankly, my dears, Arts Writer Ryah Cooley doesn't give a damn. Contact her at rcooley@newtimesslo.com.