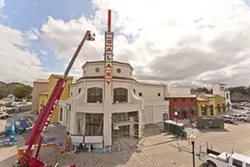 PHOTO BY STEVE E. MILLER
HAPPY DAYS: Atascadero's new movie theater is slated to open in conjunction with the San Luis Obispo International Film Festival.
The official opening of Galaxy Theatre Atascadero is still more than a month away, but it's already being viewed as the city's financial savior.
"It's been so exciting to see what [Galaxy Theatre] means to the city of Atascadero," said communications consultant Maggie Cox. "It's the anchor that the community has been waiting for, and it's a game-changer for all Atascadero businesses."
The state-of-the-art theater will offer moviegoers the latest in technology with all digital projections, digital sound, and five 3-D screens. In all, the theater boasts 10 wall-to-wall screens—all of which are equipped with stadium-style seating. Galaxy Theatre also offers D-Box technology (in which the seats move with the action) and two VIP lounges that will serve hot food, cold beers, and local wines for guests 21 and older.
"Galaxy really strives to make going to the movies a complete entertainment experience," Cox said. "The Galaxy people paid precise attention to details, right down to the popcorn, which is premium and uses 100-percent real butter. The technology is absolutely leading edge. This place is not like anything you've ever seen around here. Even the bathrooms are large and beautiful."
The cinema will also feature an impressive video game area and rooms available for community screenings, business conferences, and social events. The endeavor is part of the Colony Square project—which was partially funded through a $1.5 million loan from the city's Redevelopment Agency—and is expected to bring 80 jobs to the area.
"We're very excited about what Galaxy is bringing to our downtown," Atascadero Mayor Roberta Fonzi said in a press release. "Galaxy is a great addition to our community; by stepping up to support two of our leading organizations, we know that Galaxy is a company that really wants to be a part of the new Atascadero."
The theater will officially open to the public on March 18. However, anyone eager for a sneak peek can buy tickets for the San Luis Obispo International Film Festival on March 5.
"It's going to be a destination for moviegoers around the county, and it will bring a new energy and vitality to the people in the city of Atascadero," Cox said about the theater. "I think it's the boost everyone in Atascadero has been waiting for. It really ties together everything that the city has done to reinvent itself."
Fast Facts
Join the Sierra Club's Pole Cats group and learn how to use trekking poles correctly during a hike across the Islay Hill Open Space on Feb. 19 at 10 a.m. Hikers will enjoy spectacular views of Edna Valley. For more information, contact David Georgi at 458-5575. …
Braille Institute is bringing its new Mobile Solutions Van to The Palms at 55 Broad St. in San Luis Obispo on March 1 at 10 a.m. The 30-foot van features a wheelchair lift, LCD televisions for instructional videos, and demonstration areas for the latest in low-vision devices. Visitors can receive free low-vision rehabilitation consultations and learn more about Braille Institute's library services. To make an appointment, call 682-6222, Ext. 1203. ∆
Intern Kai Beech compiled this week's Strokes and Plugs. Send ideas for consideration to strokes@newtimesslo.com.