"We don't want to be one of the stores that take, take, take. We give back to the community we want to be as community-oriented as possible, and that usually comes back to help us down the road."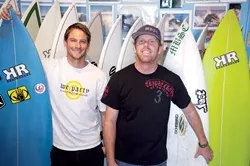 PHOTO BY JESSE ACOSTA
STOKED : Anthony Randazzo and Nate Ditmore , founders of Morro Bay Surf Company, have been gearing up for their first-ever Central Coast Invitational.
# This seems to be Anthony Randazzo's mantra: give to get or just give to have a good time. Randazzo, together with friend Nathan Ditmore, opened Morro Bay Surf Company (MBSC) in 2000 after graduating from Cal Poly. Being from the area, the pair was keenly aware of competition among surf shops, but sought to bring the community something a little different.
"We thought there was a need for a small-town, core surfing shop," Ditmore said.
Since its emergence almost six years ago, MBSC has expanded to include a sister shop: the Los Osos Board Shop. Located about a half mile up Los Osos Valley Road from the community skate park, it's become a popular venue for kids after school.

"We try to have a positive effect on them." Randazzo said. "I don't think their parents have any idea how much influence we have on their kids. We're the ones talking to them about education, and how important college is. We tell them if they want to ride for us, they have to have good grades. And we give good-grade discounts too."
The shop has also put on a series of surf lessons and camps designed for small groups with emphasis on safety, technique, and etiquette. So far, they've seen more than 400 students of all ages go through the camps.
"People were so excited about it," Ditmore recalled. "It took us back to our childhood. At the end of the summer, we started doing camps for kids with special needs and high-risk kids. It's been a great experience. It keeps us stoked."
Their latest adventure camp was built to accommodate a special population, including one student with autism. The camp incorporated direction from local special education and adaptive P.E. teachers with experienced surf instructors. Students worked at their own pace. For some kids, just getting in the water was a big achievement. Others were standing up and catching waves.
"We're really excited about expanding that," Randazzo said. "We got so much positive feedback, and watching everybody in action it was one of the highlights of my career."
Unfortunately, the camps aren't cheap. The cost of equipment and staff gets passed onto the participants. In that vein, MBSC is seeking a nonprofit status to promote the program at schools and offer sponsorships. The long-term goal involves more camps more frequently, at little or no cost to the parents.
For the warm-weather weekend, MBSC hopes to honor a different part of the surf community. Their first-ever Central Coast Invitational, scheduled to be held at an undisclosed location, will bring 50 of the best surfers from North and South County to battle for a little cash, some prizes, and bragging rights.
"We have some of the best waves in the world," Randazzo said, "and a lot of underground talent too. The Central Coast has a more soulful atmosphere. Most of the people on the list almost take pride in being an underground, lurkey surfer. Most of these guys are just out there every day with smiles on their face."
An awards ceremony for the legends of surf contest will coincide with Surfrider's Annual Free Fall Art benefit on Nov. 11. Check out art from more than 35 local artists, and enjoy wine and live music from 11a.m. to 5p.m. at the Cayucos Vet's Hall.
If you find that you're not on the surfers' list, don't take it personally. The list isn't meant to be exclusionary it's a work in progress. If you really want to compete next year, you can try for a wild-card spot. Three winners from MBSC's Annual Triple Crown, set for the first week of December, will get to compete next year. The '06 Triple Crown is open to everyone, with classes for girls, groms, and even amputees.
"I love living here," Randazzo said. "It's fun and it's challenging. It forces you to be really creative."
For more information about camps and classes, or to find out about upcoming contests, visit morrobaysurfcompany.com or call 771-8271. For more information about Surfrider's Free Fall Art benefit, call 771-9134 or check out Arts Briefs on page 53.
Kylie Mendonca compiled this week's Strokes and Plugs. Send your business news to kvelie@newtimesslo.com.