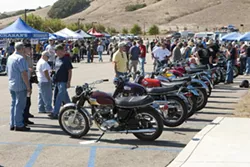 PHOTOS BY STEVE E. MILLER
SHOW BIKES : Vintage bike aficionados wander between a line of classic bikes and vendors' booths during the recent annual SLO Classic Motorcycle Show at Mountainbrook Community Church.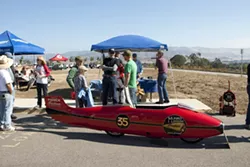 PHOTOS BY STEVE E. MILLER
MUNRO SPECIAL : Burt Munro's World's Fastest Indian, the customized 1920 Indian Scout that set three speed records at the Bonneville Salt Flats, is on display.
It's Saturday, Oct. 13, and the sun is shining and a light breeze is blowing across the hilltop parking lot of Mountainbrook Community Church, carrying with it the smell of barbecuing ribs from the Ribline and occasionally the smell of gas and burning oil from ancient motorcycles, some nearly 100 years old and still running.
It's the annual SLO Classic Motorcycle Show, a gathering of bikers and bike lovers who appreciate the classics, where collectors display their perfectly restored bikes made by Triumph, BSA, Vincent, Matchless, Norton, and other British manufacturers. But there are also Harleys, Indians, Moto Guzzis, BMWs, Bultacos, Ducatis, and more—bicycles, mini bikes, sidecars, fairings, motorcycles parts, everything a bike nut could want.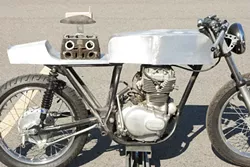 PHOTOS BY STEVE E. MILLER
FRANKENBIKE : This fabricated café racer is one of several one-of-a-kind bikes on display.

THEY'RE A CLUB, NOT A GANG!: The Central Coast Classic Motorcycle Club was formed in 2005 with the goal to bring vintage motorcycles riders together to discuss the hobby, go for rides, and share knowledge of maintaining old bikes. Originally focused on British bikes, they have members who ride German, American, Japanese, and Italian bikes, too. The club is open to anyone who enjoys classic bikes, and they meet on the first Sunday of every month at Budget Café (3121 S. Higuera St., SLO) at 11 a.m. You can learn more on their website, centralcoastclassicmc.com.
Grand marshal and show bike judge Craig Vetter slowly makes his way through the long line of bikes, meticulously looking at every aspect of every one to determine the best. A little later, guys on vintage bikes will compete in the motorcycle games, the agility course, the slow drag race, loudest bike, and more.
Guys in leathers blend in with attendees in shorts and flip-flops, people gather around gleaming bikes to ooh and ahh, parts buyers and vendors haggle over prices. If you like motorcycles, this is the place to be. Motorcycle heaven!

Glen Starkey takes a beating and keeps on bleating. Keep up with him via twitter at twitter.com/glenstarkey, friend him at facebook.com/glenstarkey or myspace.com/glenstarkey, or contact him at gstarkey@newtimesslo.com.