When the historic Fremont Theatre closed its doors in late January, the surprise was a wake-up call to San Luis Obispo moviegoers, who, during a few days of initial confusion, feared a beloved staple of their city had shuttered for good.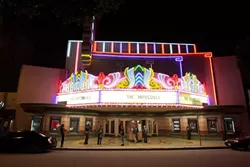 PHOTO BY STEVE E. MILLER
RE-OPENING NIGHT : Following a brief closure in early February, the iconic Fremont Theatre in downtown San Luis Obispo is back up and running after a one-year lease agreement was reached in time for Valentine's Day—but what kind of venue will it be in 2014?
Two weeks later, the single-screen theater was back up and running, just in time for a Valentine's Day movie date.
But significant challenges remain for the theater that's historically been known more for its first-run theatrical releases than its infrequent concert events. And changes proposed by the building's owners—Rob Rossi of Rossi Enterprises and John King of King Ventures—as well as the chief executive officer of the company that operates the theater, Bruce Sanborn, of The Movie Experience, are seeking to bring more butts into the theater's nearly 1,000 seats.
Sanborn told New Times that the theater's box office has suffered in recent years, and running movies alone isn't paying off.
Now, as the theater is preparing to play host to the King Vidor award ceremony as part of the 20th Annual San Luis Obispo Film Festival, theater management is working with Rossi and King at bringing in more concerts and other events, ones that can pay exponentially more than any film screening, even if a movie packs the house.
Despite undertones of disagreements between the tenant and the owners—each of whom say they want to see the historic and popular theater thrive—the parties reached an agreement in early January to continue serving the community on a one-year lease, set to expire in February 2014. The temporary agreement, however, will see an increased emphasis on concerts and private events, outweighing first-run and classic theatrical releases, Sanborn said.
"This year is an experiment for them," Sanborn told New Times.
Rossi couldn't be reached for further detail on the upcoming events, but King told New Times that there doesn't seem to be much interest in movies at the location.
"We're reevaluating what to do with the property," King said. "But as of right now, the theater is kind of a loss."
The problems facing the theater are many, including repairs and upgrades both ongoing and needed in the near future. So far, both parties say they've sunk a lot of money into the building and it isn't feasible for anyone involved to continue to do so with a dwindling audience.
Sanborn said there are other challenges facing the Fremont, too. Another hurdle—one shared to a lesser extent with the Downtown Centre just blocks away, also run by Sanborn—is the parking situation. Not only is parking in the downtown core limited, but many visitors are turned off by paying for a spot in a parking garage.
"The parking is a real killer for us. People will go to other theaters just for the free parking," Sanborn said. "How do you compete with a shopping center in Arroyo Grande that has free parking right in front of the theater?"
Sanborn told New Times that he's seeking help from the public to let the owners know, through box office sales, that they want to continue to see the theater survive. He said he's toying with the idea of perhaps a "Save the Fremont" social media group to raise awareness.
"First, we will have to see if the people want the theater to survive downtown," he said.
Since the demise of a proposed plan to bring a small IMAX theater to an adjacent parcel, Sanborn said the theater is implementing small service-related changes—including the recent acquisition of a state-of-the-art, 48-frames-per-second, 3-D digital projector—to provide the jolt needed to rekindle some of the interest in the Fremont that flared briefly upon news of the temporary closure in January.
The trick, he said, will be maintaining that fire.

Staff Writer Matt Fountain can be reached at mfountain@newtimesslo.com.