For many people, learning to play a musical instrument like the piano or guitar seems like a daunting and all but impossible task. But according to Dan Ernst, owner of Grand Central Music Conservatory in San Luis Obispo, there is light at the end of the tunnel.
"Music is just like anything else: What you put into it is what you get out of it," he said.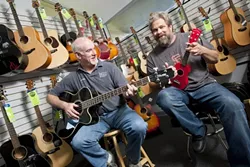 PHOTO BY STEVE E. MILLER
THE DAY THE MUSIC THRIVED : Floor Manager Andy Morris (left) and owner Dan Ernst have relocated Grand Central Music Conservatory to a smaller but more functional space.
The Grand Central Music Conservatory has recently moved to a new location at 659 Tank Farm Road. The new space is 2,500 square feet, half the size of the former location, but the loss in square footage is countered by a gain in functionality, according to Ernst and his wife Kathy. He designed the interior of the shop with the intention of improving the customer experience, taking a scientific approach to the layout.
"It is nice actually being able to incorporate the studies of how people move through the store," he said.
The rectangular building's floor plan is split: lesson rooms to the left along a long hallway and a showroom to the right. The showroom is chock full of guitars, ukuleles, amps, keyboards, and just about everything else both new and used capable of producing sound. Because Ernst also runs an eBay store, he makes sure all his prices are comparable to ones found online, which allows his customers to walk out knowing they received a fair deal. The conservatory does consignment and repair as well, some of which is done in store by Ernst. They also provide all the equipment needed for do-it-yourself weddings, including lights and sound.
Ernst has been playing guitar since he was 5 and has played in a band consistently since he was a freshman in college some 25 years ago. Since Ernst bought the business in 2005, he has remained focused on one simple goal: bringing music to the people.
The facet of the Grand Central Music Conservatory that distinguishes it from any other retail music store is that you can take lessons from local professional musicians on site.
"Teaching music is what keeps me in it," Ernst said. "I don't teach myself, but I love the fact that we facilitate it because it has such a positive affect on so many peoples' lives."
Ernst's wife Kathy provided some insight on the necessity of a music conservatory: "Within our community, specifically in these tough economic times, the music in the schools is so limited because of budgets. You hear schools are cutting this or cutting that. We give parents that option."
But it's not just the youth who are taking lessons at the conservatory. Because all ages are welcome, senior citizens are getting in on the action as well.
"For the older generation, it is keeping the mind active," Kathy said. "We have a fair amount of senior citizens in here playing the ukulele or guitar."
The Grand Central Music Conservatory will hold its grand re-opening on March 3 from 10 a.m. to 5 p.m. The event will include food, live music, teacher demonstrations, and a raffle of a variety of goods including an Ibanez electric guitar. Raffle tickets are $3 each or two for $5, and all proceeds go to the local nonprofit group Jack's Helping Hand. Check out grandcentralmusicstore.com or call 785-0275 for more information.
Fast facts
The San Luis Obispo Botanical Garden is offering an event titled Shades of Green: Local Groups that Grow Our Neighborhood on March 24 from 1 to 3 p.m. in the Oak Glen Pavilion across Highway 1 from Cuesta College. Organizers are inviting the public to meet with five community groups that strive to better local neighborhoods: Small Wilderness Area Preservation, GleanSLO, Cuesta Student Grassroots Club, San Luis Obispo Botanical Garden, and Transition Towns. Refreshments, information booths, and docent-led garden tours will be available. Admission and parking are free. For more information, call Lindsey at 541-1400, Ext. 304.

Contributor Jack Johnson compiled this week's Strokes & Plugs. Send your business news to strokes@newtimesslo.com.