After semi-ignoring them for years, I've become a fawning, gushing, ridiculously enthusiastic fan of Café Musique. Maybe it's because they make me laugh and cry every time I see them. OK, over-share. In any case, now it's your turn to catch the wonder of Café Musique.
PHOTO COURTESY OF CAFÉ MUSIQUE
SO EURO!: Café Musique, in a photo from its trip to France last year, will play Steynberg twice on March 24 and Cambria Presbyterian Church on March 25.
"As usual, the band's up to its typical high-jinks with new tunes, new shows, and new trips," said accordionist Duane Inglish. "Coming off our busiest year yet (which included a trip to France and appearances at several music festivals), Café Musique is gearing towards a trip to Portugal in May 2013 and is in the studio working on our third album. The March concerts will include several new tunes along with all the favorites from our previous albums. We invite everyone to come on by for what promises to be yet another series of fun and musical adventures."
If you've never witnessed these folks firsthand, the incredibly talented quintet takes listeners on sonic trips to Gypsy camps, impassioned tango liaisons, French cafés, and other exotic locales.
See them Saturday, March 24, at 3 or 7 p.m. in Steynberg Gallery ($20; call 547-0278); and Sunday, March 25, at 2:30 p.m. in Cambria Presbyterian Church (2250 Yorkshire Dr.; $20 general, $15 students, kids younger than 12 get in free; call 541-4141).
True Brew
I'm most excited about the return of Todd Snider at SLO Brew on Tuesday, March 27 (doors at 7 p.m.; 21-and-older; $22 presale or $25 at the door), with David Jacob Strain opening, but you can read more about that show in Art Bash! on page 41. SLO Brew's got a whole lot more going on this week, too.
Set Your Goals and Cartel play on Friday, March 23 (doors at 6 p.m.; all ages; $13 presale or $15 at the door). Bay Area act Set Your Goals walks a fine line between pop-punk and hardcore, mentioning acts such as New Found Glory, the Movielife, and early Saves the Day as influences. Atlanta-based pop rock quintet Cartel has toured the world and had a smash hit with "Honestly," which got more than 35 million plays on Myspace!
PHOTO BY CAITLAN VAN HORN
SOUTHERN GOTHIC ANGEL : Lindsay Fuller (pictured) will open for Amy Ray of the Indigo Girls on March 24 at SLO Brew.
Amy Ray, the more rockin' half of the Indigo Girls, will play an evening of her highly engaging solo music on Saturday, March 24 (doors at 7 p.m.; 21-and-older; $16 presale or $20 at the door). For fans of the Indigo Girls, there's no mistaking Ray's voice on her all-too-brief 10-song CD Lung of Love, which was released last month. To call the album diverse is an understatement, as it delivers everything from guitar-driven rave-ups to Appalachian come-to-Jesus throwdowns. "I have a compass—morally, physically—and am pulled in different directions," she said in press materials. Southern Gothic guitarist and singer Lindsay Fuller, whose upcoming ATO Records debut, You, Anniversary comes out March 27, will open for Amy Ray. I heard this new album, and it's a stunner! Mournful, poignant, deeply moving, she reminds me of the emotional resonance of Nick Cave or Patti Smith.
Punk heroes Pennywise return to SLO Brew on Sunday, March 25 (doors at 7 p.m.; all ages; $20 presale or $25 at the door), with Guttermouth opening. Back in 1988, Pennnywise sprang out of the fertile punk breeding grounds of Hermosa Beach, the same little coastal town that spawned Black Flag, the Circle Jerks, and the Descendents. Must be something in the water, eh? Guttermouth formed the very next year in 1989 in nearby Huntington Beach. Both these acts were major players in the '80s So-Cal punk resurgence.
Dance revolution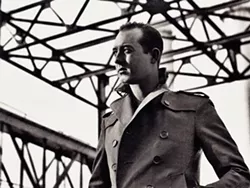 PHOTO COURTESY OF WOLFGANG GARTNER
PRODIGAL SON: Los Osos kid turned international house music superstar Wolfgang Gartner returns to play the Madonna Expo Center on March 29.
Dance music fans probably don't need me to tell them, but Wolfgang Gartner is returning to the area to throw down a thumping good night of electro and house music on Thursday, March 29, at the Madonna Expo Center from 7 p.m. to 2 a.m.
Electronic music producer and DJ Wolfgang Gartner (aka Joey Youngman) may have grown up in humble Los Osos and attended Morro Bay High, but since then he's done some very big things. The Grammy-nominated artist now resides in Austin and travels the world delivering blistering evenings of dance music to hungry fans.
This is only his second trip back to our area since he blew up in the dance music world. Last April, he played to a packed and enthusiastic crowd at The Grad, so this concert at the much larger Madonna Expo Center should accommodate even more dance music fans.
Wolfgang's version of Beethoven's 5th catered to the 4 a.m. crowd; he had eight No. 1 tracks on Beatport; he did remixes and collaborations with Britney Spears, Timbaland, and Black Eyed Peas; and his performances at Coachella '10 and Electric Daisy Carnival's '10 and '11 are legendary. His newest album, Weekend in America, topped the charts when it came out.
"I have to make something that's never been made before; have to make the best thing that I've ever done in my life—otherwise it gets stagnant or worse," he said in his press bio.
Presale tickets are $35 (plus a $5.55 service charge), available on wantickets.com.
Spanky at Play
PHOTO COURTESY OF SPANKY BALDWIN
PISMO SPANKY! : Spanky Baldwin headlines The Porch on March 22 for Songwriters at Play.
Spanky Baldwin's been kicking around the local music scene even longer than me, playing in everything from Grateful Dead-inspired bands to old-timey music combos. The dude can rip on six- and 12-string guitar, banjo, and ukulele, which he will on Thursday, March 22, when he's the featured performer at Steve Key's Songwriters at Play showcase at The Porch. The evening also includes Santa Margarita's own Don Lampson, longtime local musician Craig McNichols, and Portland-based singer-songwriter Lyman Louis (6:30 p.m.; all ages; tips appreciated).
Rising star Alfa Garcia headlines at Sculpterra on Sunday, March 25 (1 p.m.; all ages; tips appreciated). She's been touring around the country, playing places like the Lincoln Center. Born in the Philippines and raised in New Jersey by a single mom, she started on classical piano and violin but at 13 taught herself guitar. She's been compared to Jewel, Fiona Apple, and Joni Mitchell. Guitar wiz Dorian Michael and Portland's Lyman Louis will also perform.
If you're a fan of A Prairie Home Companion, you've already heard Virginia-based husband-wife duo Laura Wortman and Kagey Parrish, aka The Honey Dewdrops, who play Tuesday, March 27, at Kreuzberg (6:30 p.m.; all ages; tips appreciated). Guitar, mandolin, and banjo combine for some soulful folk songs. "Our songs are about the human experience, and we try to write and perform in that spirit—it's an expression of life, songs that people can see themselves in," Wortman said.
More music …
The Steynberg will be host to jazz pianist, vocalist, and composer Cynthia Hilts on Friday, March 23 (8 p.m.; all ages; $15), to perform an evening of jazz standards and originals. "Whether riffing on made-up improvisations or calling out to the gods for affirmation, Cynthia Hilts is conjuring unique music in her mind, and executing it in enjoyable ways that mark her an original," according to press materials.
There's an awesome singer-songwriter doubleheader heading to Linnaea's Café on Saturday, March 24, when UK-based The Good Intentions and So-Cal's Dafni will share the intimate stage. "They'll be in California recording as well as touring to promote their last album, Someone Else's Time, produced by Rick Shea," Dafni said. "Incidentally, the Good Intentions just won a British Country Music Award for the 'Best Americana Act of the Year.' Also, I'll be debuting some new tunes that I'm pretty excited about!" Dafni's great, the Good Intentions' album sounds great—should be a great show!
PHOTO COURTESY OF THE CLAUDIA RUSSELL TRIO
LET'S GET INTIMATE : The Claudia Russell Trio returns to play a house concert on March 25.
Claudia Russell returns for her second visit to Música Del Río with Bruce Kaplan on guitar and Mark Petrella on bass by her side on Saturday, March 24, at 7:30 p.m. "You may have heard these folks backing up Claudia often on Song Town at KCBX Public Radio or on their first visit here," said concert organizer Fred Munroe. "Either way, we know you will be very glad they found their way to Atascadero once again. Claudia has an expressive voice that is as much at home on a whispery folk ballad as a full-tilt Buddy Holly-styled romp. She plays a style all her own: eclectic folk music with traces of all her musical loves—blues, western swing, rock, and county. Claudia's performance is truly heartfelt and cleverly entertaining." Call 466-6941 to reserve your $15 ticket. Ted Waterhouse will be opening the show and perhaps sitting in for a couple of tunes with Ms. Russell.
Ann Kelly plays D'Anbino on Saturday, March 24, from 8 to 10 p.m. to deliver her "dark, sultry, deeply emotional vocals," says proprietor Carmine Rubino. "She performs a unique blend of pop, jazz, and blues. Ann will be joined by Emmy Award-winning keyboardist Mark Ross, Emmy Award-winning Danny Pelfrey on sax and guitar, guitarist Adam Levine, bassist Bill Wingfield, and drummer Dean Giles of Human Nation." Admission is $10 ($5 for Record Club members).
The Swan Thief is prepared to steal your heart with its incredibly sensitive über-emo shoe-gazing opuses, or is that opusi? Doesn't matter. Featuring Chase Hall, who raised a minor kafuffle a few weeks back with his commentary explaining how local music audiences are lazy, have overly short attention spans, and have no interest in "good" music (read, Chase's music), the Swan Thief will play Saturday, March 24, at 8:30 p.m. in Kreuzberg for free, dig? Go show him you care!
PHOTO COURTESY OF BOSEN & SEUDE
LIFE OF BRIAN : Ex-local musician Brian Bosen returns with his new duo Bosen & Suede for three shows: March 24 at the Creeky Tiki, March 25 at Frog and Peach, and April 5 at Linnaea's Café.
Maybe you remember Brian Bosen from his Ice Cream Song, "Pretend It's That Summer," which appeared on the 2009 NTMA CD. He's since moved on to greener musical pastures, but he's returning to town for three shows this week. "I love the Central Coast, and I'm stoked to be able to play three shows there while on tour with the amazing Craig of Suede," Bosen said. "All the shows are free, and right in downtown San Luis Obispo. We would love for you to come out and see Bosen & Suede, help support our tour, and give us some high fives." See Bosen & Suede on Saturday, March 24, at the Creeky Tiki at 8 p.m.; Sunday, March 25, at Frog and Peach at 10 p.m.; and Thursday, April 5, at Linnaea's Café at 8 p.m.
The SLO County Band (now celebrating its 138th anniversary!) will perform its Annual Spring Concert on Sunday, March 25, at 3 p.m. in the First United Methodist Church (275 N. Halcyon, in Arroyo Grande). Under the baton of Conductor Leonard Lutz, the concert is called "20th Century Music & the Concert Band," and will include works by composers ranging from Gustav Holst ("1st Suite in E flat") to Lalo Schifrin ("Mission Impossible") and from sources as diverse as Alfred Reed ("Slavonic Folk Suite") to music from Disney's Aladdin. There's no "official" admission charge for the concert, though a $10 per person donation at the door will be suggested because this show will act as the band's primary fundraising event for the year.
The Big Variety Night series returns to Linnaea's Café on Sunday, March 25, from 6 to 10 p.m. With Ted Waterhouse as host, the evening will feature local acoustic music luminaries: Heartbreak Hill (Jody Mulgrew and Erin Inglish), Ranchers for Peace (Charles and Ray Duncan), Two Swingin' Doors (Ynana Rose and Ted Waterhouse), and "wonderful old-school folk-country singin' and songwritin' wonder" Amber Cross, along with a bunch of other excellent acts in a series of short sets. Best of all, this little gem of a night is free!
Singer-songwriter Grover Anderson, who hails from Murphys up in the Sierra foothills of Calaveras County, is heading to Linnaea's Café on Wednesday, March 28, where he'll share the stage with Descendants of Prospectors. "I've played at Linnaea's a few times in the past, but this is the first time I'm going as part of a tour," said Anderson, a two-time finalist in the Road to West Beach Competition. "My previous shows in the area occurred when I was a student at UCSB." His musical influences range from Josh Ritter to Garth Brooks, Jason Mraz to Creedence Clearwater Revival.
Keep up with Glen Starkey via twitter at twitter.com/glenstarkey, friend him at facebook.com/glenstarkey or myspace.com/glenstarkey, or contact him at gstarkey@newtimesslo.com.